How To Delete Spam & Trash (Instead of Archiving) Fast in iOS (Gmail)
This article explains how you can quickly delete all spam and trash Gmail email messages (instead of archiving) on your iPhone or iPad using the iOS Mail app. This article also includes how you can move individual messages to the Trash folder easily if you want to.
By default, the iOS Gmail Mail options include "Archive" instead of "Delete". You may not want to Archive messages as it does not mean "Delete". It means that you are storing messages you're done with, e.g, you read it.
So where do archived messages go? They go to the All Mail folder. Archiving does not delete anything. It actually means that you are saving the message.
Do you want to replace the Archive setting with delete options so that you can delete spam or trash folder emails easily? Then this article is for you. Here is how:
This article has two sections:
Turning on the Delete options in Settings
Emptying Trash and Spam folders in the Mail app
See also: iOS Mail: No Sender & No Subject Bug, Fix
1. Turn on Delete & Turn off Archive
Follow the steps below to activate the delete setting. When this is enabled, Archive options will be replaced with Delete options. For example,
when you swipe left, you will see the Trash option
when you tap 'Edit' in Inbox, you will see the Trash option
when you tap 'Edit' in Trash or Junk, you will see the Delete option
when you open a message, you will see the Trash icon to delete
1. On your iPhone or iPad, tap Settings > Passwords & Accounts
2. Tap your Gmail account
3. Tap your Account and Advanced
4. Find the 'Move discarded messages into' section.
5. Select 'Deleted mailbox'.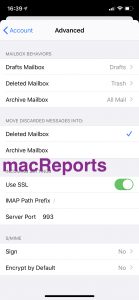 6. Tap Account (top-left corner) and tap Done (top-right corner) and close the Settings app.
7. Close the Mail app and then reopen it.
See also: Email Stuck In Your Outbox? Unable To Send & Delete? Fix
2. Delete Gmail Messages and Empty Trash and Junk Folders
Now "Delete" is activated.
1. Tap Junk or Trash
2. Tap Edit
3. Select messages to delete or tap Select All
4. Tap Delete
See also: Mac Mail App: Gmail Not Working? Fix