Your Purchase Could Not Be Completed, Fix
If you see the following message, when you try to buy apps, subscriptions or in-app (in-app purchases) content, here is how to resolve this:
Your Purchase Could Not Be Completed
For assistance, contact iTunes Support at www.apple.com/support/itunes/ww/.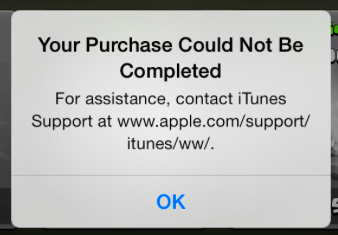 The app store has more than 1,5 million apps. Some of them are free (may offer in-app purchases) and some are paid. You can download and/or buy apps to your iOS device; iPad, iPhone, or iPod touch; from the App Store. If you can't; there can be several reasons for this error. For instance:
Your Apple ID may be associated with too many credit cards.
Your credit card may be blocked
You are trying to buy something that you are not allowed to buy. For instance, some apps or content may not be available for all countries.
Your account information may not be matching the credit card information on file with your bank.
See also: App Store Shows White Blank Screen
The best way to resolve this is to contact Apple, as the error message suggests. Please follow the steps below to contact Apple.
1-Visit expresslane.apple.com
2-Select iTunes (or if you do not see iTunes, click Billing & Subscriptions)
3-Select iTunes Store
4-Select Purchase and Billing (or Subscriptions & Purchases)
5-Then select "Unable to Purchase from iTunes Store"
6-Select how you want to contact Apple: email, chat or schedule a call. Choose one and contact Apple. You can email Apple support by selecting the Email option. Apple will reply promptly via email. You can schedule a call date and Apple will call you or you can start a live chat session with Apple support.
If you do not want to contact Apple, you may try the following troubleshooting tips:
1-Tap Settings > iTunes and App Stores > Apple ID > View Apple ID enter your Apple ID and password then tap OK. View 'Payment Information' and make sure that payment account information is correct and up to date. Enter your security code and expiration date.
2-Restart your device
3-Log out of the iTunes store by going to Settings > iTunes & App Stores > Apple ID > Sign Out. Then sign in.
4-Go to Settings > General > Restrictions. If you enabled Restrictions previously, make sure that you are allowed to (a) access 'iTunes Store' and (b) make 'In-App Purchases'. iOS 12 has changed the "Restrictions" settings.  Now it is called Screen Time. Simply tap, Settings > Screen Time > Content & Privacy Restrictions > You will need to enter your password which is your old Restrictions password > iTunes & App Store Purchases and Allow "In-app Purchases" and "Installing Apps".
If you are still having issues, you may want to contact Apple. Apple offers live chat support.
[updated December 27, 2018]