How To Recover Unsaved Word Docs – macOS
Are you writing a paper but you somehow lost the paper? Do you want to recover unsaved Microsoft Word files?
Microsft Word can create AutoRecover (.asd) files if this option is enabled (this feature is explained below). Because of various reasons (e.g. computer-system crash), AutoRecovery may fail to save your documents. For instance, if you experience a power loss while you are writing your paper on your Mac, or if your Mac shuts down, or crashes, unexpectedly, your document may be lost.
The purpose of the article is to help you if you are trying to locate your unsaved, lost, damaged and deleted Microsft Word files.
See also: Pages: Can't Open Document
Here is how you can find them:
Locating Unsaved Word Document on Mac
Method 1: TEMP Folder
Mac OS creates temporary files located in your computer's Temporary or TMP folder. Your lost file may be located in this folder. To find this folder;
1-Launch Terminal (Applications > Utilities > Terminal).
2-Enter this command and press enter:
open $TMPDIR
3-This will open your tmp folder.
4-Now, open the folder named: "Temporaryitems". Your document may be here.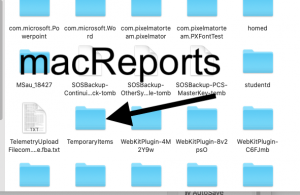 The files you find here will be a .tmp file. Look for files named "Word Work File" inside this folder. You can open them with TextEdit, for example. They are not .doc or .docx files.
Method 2: Look For AutoRecover files
You can locate your AutoRecover files (you can change where these files are saved, see below). Here is how:
1-Go to Finder > Go > Go to Folder and enter:
~/Library/Containers/com.microsoft.Word/Data/Library/Preferences/AutoRecovery
You may find your lost document here.
2-These documents' names will be like "AutoRecovery save of <filename>".  Find the document that you are trying to recover. Please note that, as you may notice, they are not Word files. Find the document you want to open and right-click (or control-click) it and then select Open With > Microsoft Word.
Note that not all documents may be recoverable. Save your documents while editing to avoid losing data. You may also want to turn on AutoSave.
AutoRecovery Options:
You can change AutoRecovery options. There are basically two options for you to adjust:
You can change how often Word AutoRecovery creates these backup files. Open Word, and go to Word > Preferences > Save. Here you can change the AutoRecovery frequency settings:
In the other setting, you can adjust where these AutoRecovery files are saved on your Mac. Again, on your Mac, go to Word > Preferences > Personal Settings > File Locations > AutoRecover files > Modify and then choose your desired location.
Final Notes
See also: Outlook for Mac Not Working: Freezes or Crashes, Fix
You can reduce the risk of data loss in case of a crash, freeze or user error.
Microsft Word offers another very useful feature that will help you avoid losing data in the future. It is called AutoBackup.  You can turn this on by going to Word > Preferences > Save and then check the"Always create backup copy" option.
As stated above, AutoRecover and AutoSave options are not the same things. AutoRecover may help you, for example, if Word or your Mac crashes. AutoSave, however, saves your Word documents automatically every few seconds.
See also: Mac White Screen: How To Fix Your Mac That Won't Turn On