How To Recover Lost Safari Bookmarks – iCloud
iCloud lets you sync and store data with your Mac, iPad or iPhone, including your bookmarks. If you have iCloud configured, your bookmarks will appear across all of your devices. This means if you update your bookmarks (e.g., adding or removing bookmarks) on your iPhone, your new bookmarks will sync between all of your Apple devices (Mac, iPhone, iPad etc). This also means that If you have deleted your Safari bookmarks by mistake, you may be able to get them back.
This article explains how to recover lost or deleted iCloud bookmarks. This can be done by restoring your bookmarks.
Note that you can only restore your bookmarks  if they are deleted within the last 30 days.
Here is how:
1-Go to iCloud.com
2-Enter your Apple ID and password.
3-Click Settings
4-Click Restore Bookmarks, under Advanced
5-A new window will open. You will see your archived bookmarks. Restoring your archived bookmarks will replace your current bookmarks.  Also note that restoring your bookmarks will not remove your current bookmarks. If you restore your bookmarks, your current bookmark will be archived too. Now click Restore.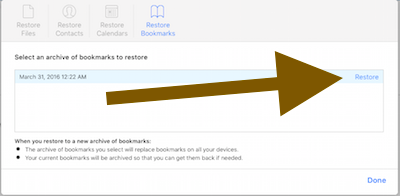 6-A new information popup will appear saying: The archive of bookmarks you selected will replace bookmarks on all your devices. Your current bookmarks will be archived"  Click Restore again.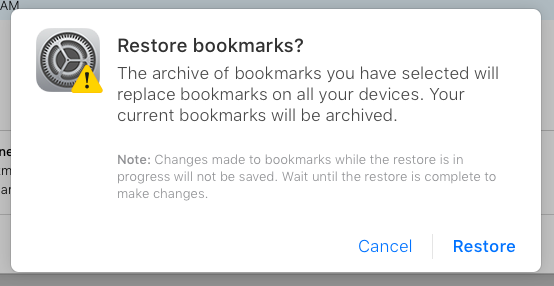 See also: iCloud: Cannot Delete Backup, Fix