Lost Mode Says Pending? What Does It Mean?
Lost Mode is a security feature of the iCloud Find My app. Lost Mode locks your iPhone, iPad, Mac, or Apple Watch when you want to safeguard your personal information against others. You can turn off or on Lost Mode remotely. This mode can be used when you've lost your device. When your device is in Lost Mode, it will be locked and you can set a message to display on the lock screen in case someone finds it.
Lost Mode says Pending
You can enable or disable Lost Mode by going to https://icloud.com/find. You can also do these using the Find My app if you have other devices if you have other Apple devices that you're currently signed in to with the same Apple ID.
When you activate Lost Mode, your device will be locked immediately if the device is online. This means that the device is turned on and connected to the Internet.
However sometimes, your device cannot be locked immediately if the device is offline. This means that the device is turned off and not connected to the Internet.
If your lost device is offline, then the Lost Mode status will say pending (see the screenshot below). This means that the missing device is offline and thus iCloud could not communicate with the device yet. However, as soon as your device becomes online, your Lost Mode command will take effect.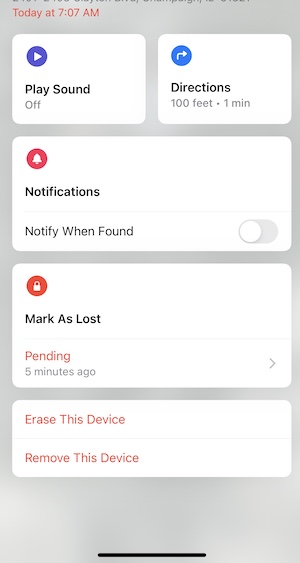 What happens when you turn on Lost Mode
The following happens when you use this mode:
Apple will send a confirmation email to your Apple ID email saying the device has been locked.
Lost Mode will put your device in Low Power mode for maximum battery life.
You will be asked if you want to place a custom message on its lock screen like "This iPhone has been lost, please call or email me 555 555 10 10 or [email protected]".
Apple Pay will be disabled for the locked device.
If you find the device, you can enter the passcode to turn off Lost Mode. You can also turn off Lost Mode by using the Find My iPhone app on iCloud.com.
You can still call or FaceTime the lost device. But the device won't display message alerts or other notifications.
See also: