Software Update Is Required To Connect To Your iOS Device, Installation Failed; Fix
You may see this alert message: "A software update is required to connect to your iPhone (or iPad)" when you connect your device to your computer with a USB cable. 
See also: iTunes backup password?
The popup message says:
"A software update is required to connect to your iOS device. Would you like to download and install this update now? Use of this software is subject to the original Software License Agreement(s) that accompanied the software being updated." (see image below):

This message usually means that iTunes does not recognize your iOS device because your iOS device is running a newer version of the iOS software that your Mac supports.
You need to click the Install button to download and install the software. However, many users report that downloading the update starts then they get this message saying "Installation failed. Can't install the software because it is not currently available from the Software Update server" (see the image below):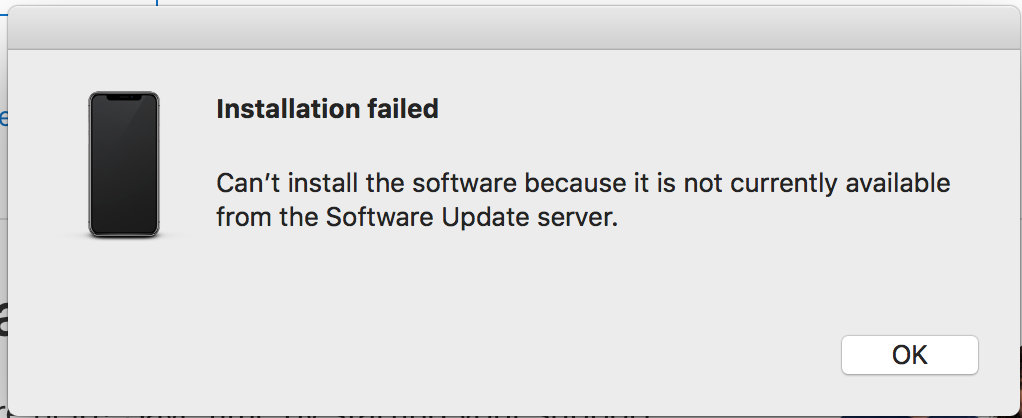 If you are experiencing this problem also, here is what you can do to troubleshoot:
Do these steps in this order: Close iTunes on your Mac and then disconnect your iOS device and wait a few seconds and reconnect your iOS device. iTunes will start automatically.
Update everything. First try to update your Mac. To update your Mac, open System Preferences, and then click Software Update. Your Mac will check for updates and if there is an update available, click Update. You may also check the "Automatically keep my Mac up to date" box. Update your iOS device by going to Settings > General > Software Update. If you are using a Windows computer, then ensure that you are using the latest version of the iTunes software. If you downloaded iTunes from the iTunes web site (not from the Microsoft Store) then:

Open iTunes
From the menu bar, click Help
And click Check for Updates
If there is a newer version, update iTunes

Ensure that time and date preferences on your iOS device and your Mac or PC are set correctly. Make sure that your iOS device and your Mac is showing the correct time and date. You can have your iOS and Mac devices to adjust Date & Time settings automatically. Here is how:

On your iOS device, go to Settings > General > Date & Time and turn on Set Automatically. Check to see if your device is showing your correct time zone. If there is a time zone update, you will see an alert message saying "updated time zone information available" simply tap Restart.
On your Mac, go to System Preferences > Date & Time. And check the box for "Set date and time automatically" box. If the box is gray, then you will need to enter your admin password to make changes.  Simply click the "Click the lock to make changes" icon.

Your USB cable may cause this problem. Make sure that your cable is Apple certified. Try a different lighting cable. You may also use a different a different USB port on your computer.
Resetting the System Management Controller (SMC) on your Mac may resolve your problem. Apple's documentation explains how you can do this.
Reset VRAM or PRAM on your Mac. Here is how:

Power off your Mac
And turn on your Mac and immediately press and hold the Option, Command, P, and R keys about 20 seconds.
If iTunes doesn't see your iOS device, here is what you can do.
See also: How to cancel iTunes purchases