How To See The Full Web Site Address In Safari URL Bar
By default, macOS Safari only shows the domain name of the web site you are viewing. It does not show the full, complete url. For instance, when you visit https://macreports.com/disable-auto-play-videos-safari-macos/, Safari's address bar will only show macreports.com, as you can see below: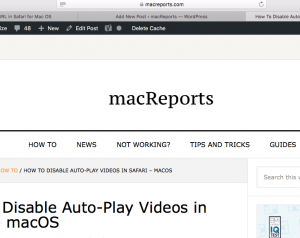 You may want to change this setting for various reasons. For instance, you may want to know the exact url that you are visiting. Here is how you can change this setting:
Show full web site address in Safari
Launch Safari
Click the Safari menu
Click Preferences
Click the Advanced tab
The first menu item is "Smart Search Field". Then click to check the checkbox for "Show full website addresses". 
Now you can close the preferences window.
Now you are seeing the full web site address.
See also: