The Creator Of This List Has Upgraded These Reminders Error (iOS & macOS), Fix
Is the Reminder app not working for you? Are you getting the following error message:
The creator of this list has upgraded these reminders.


This article explains how you can resolve this problem.
Apple improved the Reminders app. Apple introduced a lot of new features and improvements. Starting iOS 13 and macOS Catalina, the updated Reminders app no longer supports the CalDAV standard. CalDAV is an Internet protocol used to sync calendars. Thus new upgraded reminders are not compatible with un-upgraded reminders. What this means is that, for example, if you use the upgraded iCloud reminders on your iOS device with iOS 13 or later, you cannot access this reminder on your macOS Mojave, until you upgrade to macOS Catalina. And this is why you are seeing this error message.
If you upgraded your iPhone to iOS 13 or if you upgraded your Mac to macOS Catalina, you will be asked to upgrade when you open the Reminders app for the first time. But this upgrade is optional. Here is how you can upgrade the Reminder app on your iPhone or Mac:
See also: Can't Remove iOS Apps (No 'X' Button)? Fix
How to upgrade the Reminders app
Note that updating your iOS or macOS software will not update the Reminder app. You will have to do that separately, which is pretty easy.
1. Open the Reminder app on your Mac or iPhone
2. If this is the first time that you open the app after upgrading to iOS 13 or macOS Catalina, you will see a screen saying "Welcome to reminders", click the blue Continue button.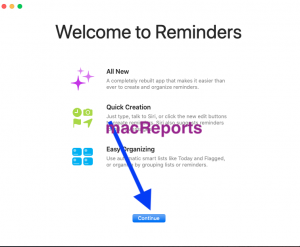 3. And the next screen will tell you if any of your devices needing an upgrade. Here you can choose to 'Upgrade Now' or 'Upgrade Later'.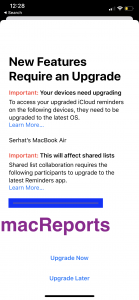 If you choose the "Upgrade Later", there will be a blue Upgrade button, so that you can upgrade anytime.
See also: Your Setup Couldn't Be Started Because Of An Unexpected Error, Fix