WhatsApp Says Calling or Ringing, What Do They Mean?
I use WhatsApp a lot to make calls. Since it uses the Internet via Wi-Fi or cellular data, it does not count against your cellular plan, and thus it is free apart from the Internet costs, which is almost free. It is especially useful if you need to call internationally because regular international phone calls can get very expensive. Regardless of the device category, like iPhone or Android, you can call anyone. The only bad thing is that both parties must have the WhatsApp app installed on their devices.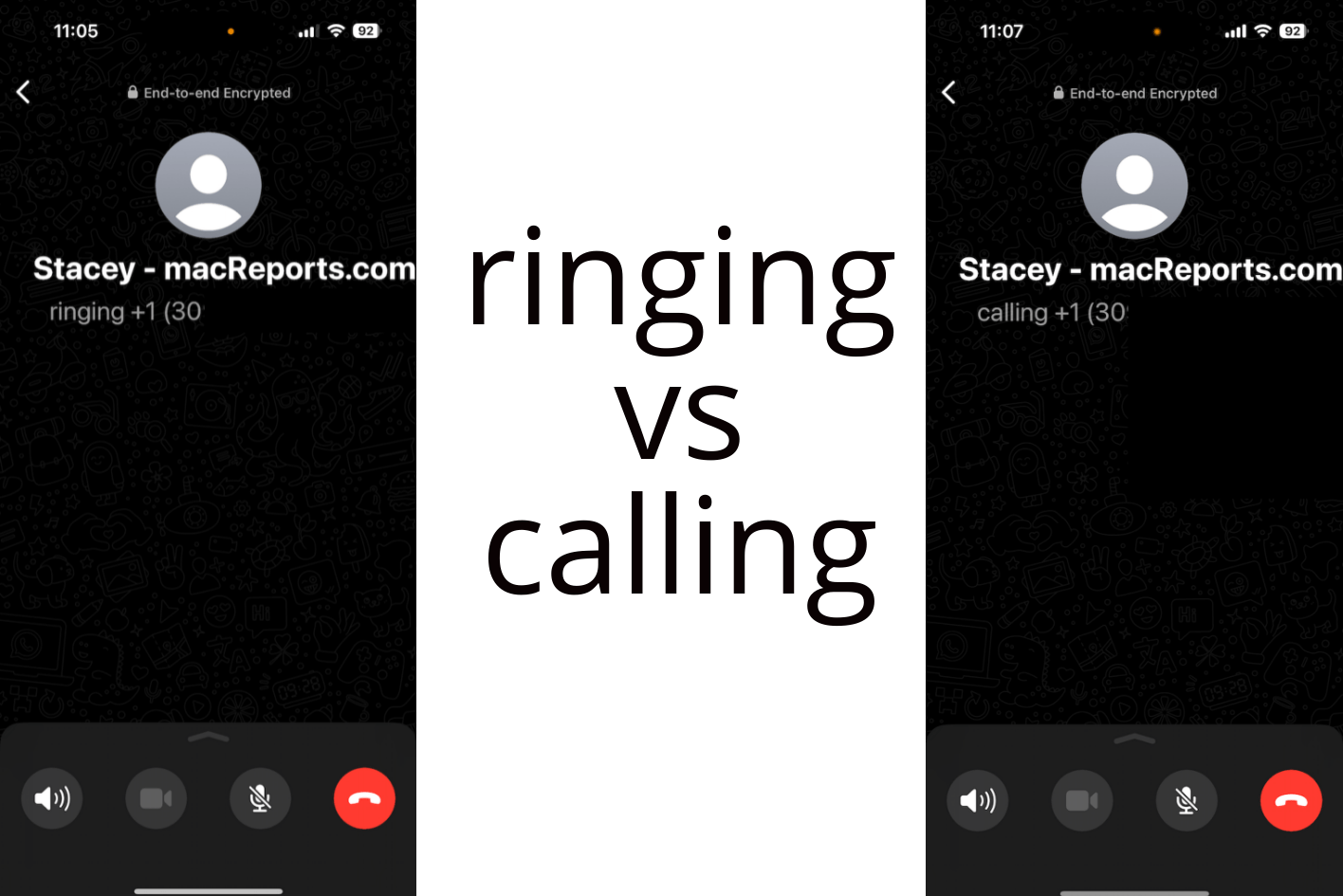 When you place a call on WhatsApp, either voice or video, you will see a text saying Calling or Ringing on the screen, as you can see in the screenshots above. They both mean different things. Here are what they each mean.
What does Calling mean in WhatsApp?
The call first will say Calling and then may turn into Ringing.
Calling means that you are calling, but this also means that the recipient's phone is not being notified. In other words, the recipient's phone is not ringing. So the recipient does not know you are calling.
If you only see the Calling message when you call someone, this may mean one of the following:

The recipient may have blocked you on WhatsApp.
The recipient's device is turned off.
The recipient's device is offline or has no Wi-Fi or cellular data connection.
WhatsApp's cellular connection or Wi-Fi connection is blocked. For example, if you want to, you can disable Cellular Data for WhatsApp by going to Settings > Cellular > WhatsApp on your iPhone.

The recipient will only know you called them after seeing the Missed Call notification in the WhatsApp chat screen after the recipient's phone comes online again unless you were blocked by the recipient. If you were blocked, the recipient will not know you called.
What does Ringing mean in WhatsApp?
The Calling message usually turns into the Ringing message after a short period of time.
Ringing means that the recipient's phone is actually ringing. In other words, the recipient is being notified of the call.
If you see the Ringing message, this also indicates that you are not blocked.
The recipient's phone has a working Internet connection and is available.
The recipient is probably aware of your call if the phone is nearby.
The Missed Call notification will also be placed if the call is not answered.
Related articles