Your Setup Couldn't Be Started Because Of An Unexpected Error, Fix
You may experience problems with your iCloud Mail, Contacts, and Calendars in Outlook on Windows. One of the most common issues is the setup error message below:
See also: How To Transfer Photos & Videos From iPhone & iPad To Computer (Mac or Windows)
Your setup couldn't be started because of an unexpected error.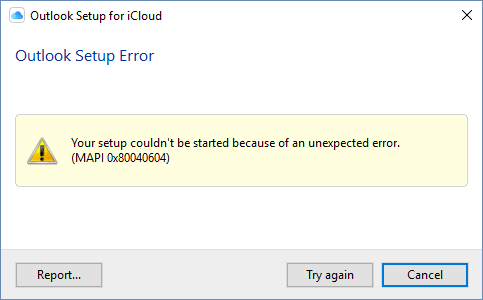 This is an annoying problem because the set up process will stop.
This article explains how you can troubleshoot this Outlook setup error:
Please try each step until your issue is resolved.
1. Restart.
Restart your computer.
2. Sign out and then sign in
Click Cancel and close this message
On the iCloud Control Panel, click Sign Out
And then sign in.
3. Calendar, Contacts, and Reminders
If you see this error message when you attempt to sync your Calendar, Contacts and Reminders. Then try these steps:
Exit Outlook
Launch iCloud for Windows
Unselect the Mail, Contacts, Calendars & Tasks checkbox and click the Apply button. And wait about one minute.
Now select Mail, Contacts, Calendars & Tasks, and click Apply.
Open Outlook and test.
See also: Open, Edit & Create a Keynote File (.Key) In Windows & Microsoft PowerPoint
4. Remove and reinstall
Follow the steps below:
Open the iCloud for Windows control panel
Uncheck everything (Mail, Contacts, and Calendars)
Then log out
Uninstall iCloud for Windows
Reinstall iCloud for Windows (you can download from Apple)
Login
And check Mail, Contacts, Calendars
5. Delete all contacts 
If you are still experiencing this problem when you attempt to sync your contacts, try this tip. Before proceed, however, you may want to backup your contacts. Here is how:
A. Create a backup:
Click File > Open & Export > Import/Export.
Click Export to a file and then select Outlook Data File (.pst)
Click Next and select Contacts
Save the file
B. Delete all contacts:
Open Outlook
Click the users icon (bottom of the page)
Select All Contact (left pane)
Select Delete
Close Outlook and open iCloud for Windows
Select the boxes Mail, Contacts, and Calendars
Then click Apply. This will make all the contacts that are on your phone/iCloud account to transfer back to Outlook.
See also: How To Open Winmail.dat Attachments