The macOS Installation Couldn't Be Completed Error Fix
This short article explains what you can do when you encounter the "The macOS installation couldn't be completed" error message.
The error message says:
"If you continue having a problem installing macOS, the installation log may help you diagnose the problem. To save the log, click Save log. To start installing macOS again, click Restart. To start up your computer using a different disk, choose Startup Disk from the Utilities menu." See the image below: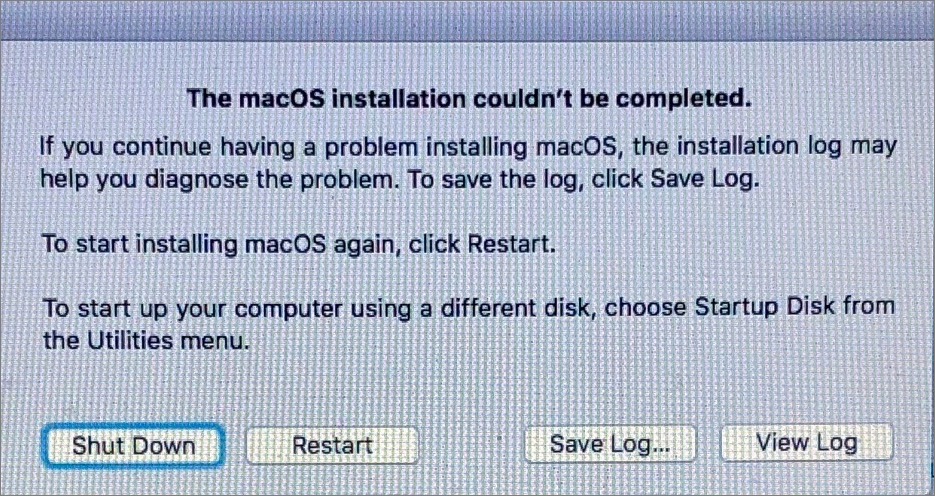 The error message has four options: Shut Down, Restart, Save Log and View Log. It is highly likely that restarting your computer will produce the same error message.
Updating your Mac is usually very simple process. However, in some cases, you may encounter errors like this one. Please note that it has been reported that this issue may occur even when no upgrade or update is initiated. Your Mac stuck in the middle of a macOS update and your Mac will not start up? Here is how you can fix it:
Note that before trying anything, you may want to backup your device. 
Fix:
The first thing you should try is to start your Mac in safe mode. You can do so easily: Simply restart your computer and as soon as your computer begins restarting, press and hold the Shift key, until you see the Apple logo. This will put your computer in safe more. Try to update or upgrade your Mac now.  If this does not work, read on.
The next thing you should try is to start up your Mac using Startup Manager. Here is how:
Turn off your Mac
Turn on your Mac
Immediately after turning on your Mac, press and hold the Option (alt) key
You will see the Startup Manager popup, now you can release the Option key
Select your regular/standard (usually Macintosh HD) disk and click the arrow icon under it and hit Enter.
If you are still having this issue, try repairing your disk. Here is how:
Restart your Mac, and while your computer restarting, immediately press and hold the Command and R keys until you see the Apple logo, then you can release the keys.
macOS Utilities will launch
Select Disk Utility and click Continue
Run First Aid.
If First Aid says the Disk is OK, then, on your computer, go to System Preferences> Users & Groups> and click the Login Items tab, if you see any third party apps there, click the minus icon and remove them. And try again.
If nothing above helps, follow the steps below:
Depending on the macOS version you are trying to install, try using the macOS combo update. These update files are available on Apple websites. They are big files so it will take times to download and install.
Locate the macOS combo update (you can find the downloads here)
and Click Download
Once the download is completed, double click to run and to see if this completes the installation.
If you are still having problems try this.
Power off your Mac.
Power on your Mac and immediately press and hold Command (⌘)-R (see also: How To Back Up Your Mac That Won't Boot)
Release the keys when you see the Apple logo or a spinning globe icon
You will see the macOS utilities window
Select "Reinstall macOS". This will install the latest macOS that was installed on your Mac. And click Continue and follow the onscreen instructions.  See also: Reinstall Mac OS