The Quickest Way to Turn on Your iPhone Flashlight
Sometimes you find yourself walking into a place that's too dark to see. Maybe there is a light switch… somewhere. Your iPhone has a flashlight, and if you are prepared to go into a dark place, it's not much trouble to turn it on from your Lock Screen. But sometimes you need a light quickly, or sometimes you only have one hand available, and it isn't so easy to hit that flashlight button and hold your phone with the same hand. No matter, there is another option to turn on your flashlight, and it can be quicker and easier than the Lock Screen button — using Back Tap.
Your iPhone's Flashlight
Before we go through setting up Back Tap, We'll go through the other ways you can turn on your flashlight.
The Lock Screen button
You've surely seen it and probably used it before. When you wake up your iPhone, and you see the Lock Screen, you'll also see two buttons — one for the Camera and one for Flashlight. To use the flashlight, just press the button (slightly longer than a tap), and do the same to turn it off again.
In Control Center
The other common place to access the Flashlight is from the Control Center.
Open Control Center by swiping down from the top-right corner of your iPhone (or up from the bottom of the screen if your iPhone has a Home button).
Find the Flashlight button and tap on it. If you want to change the brightness, press the button and tap to increase or decrease brightness.
Tap the Flashlight button again to turn it off.
Use Back Tap to turn on Flashlight
Set up Back Tap
Open Settings.
Tap on Accessibility.
Tap on Touch.
Scroll down and tap on Back Tap.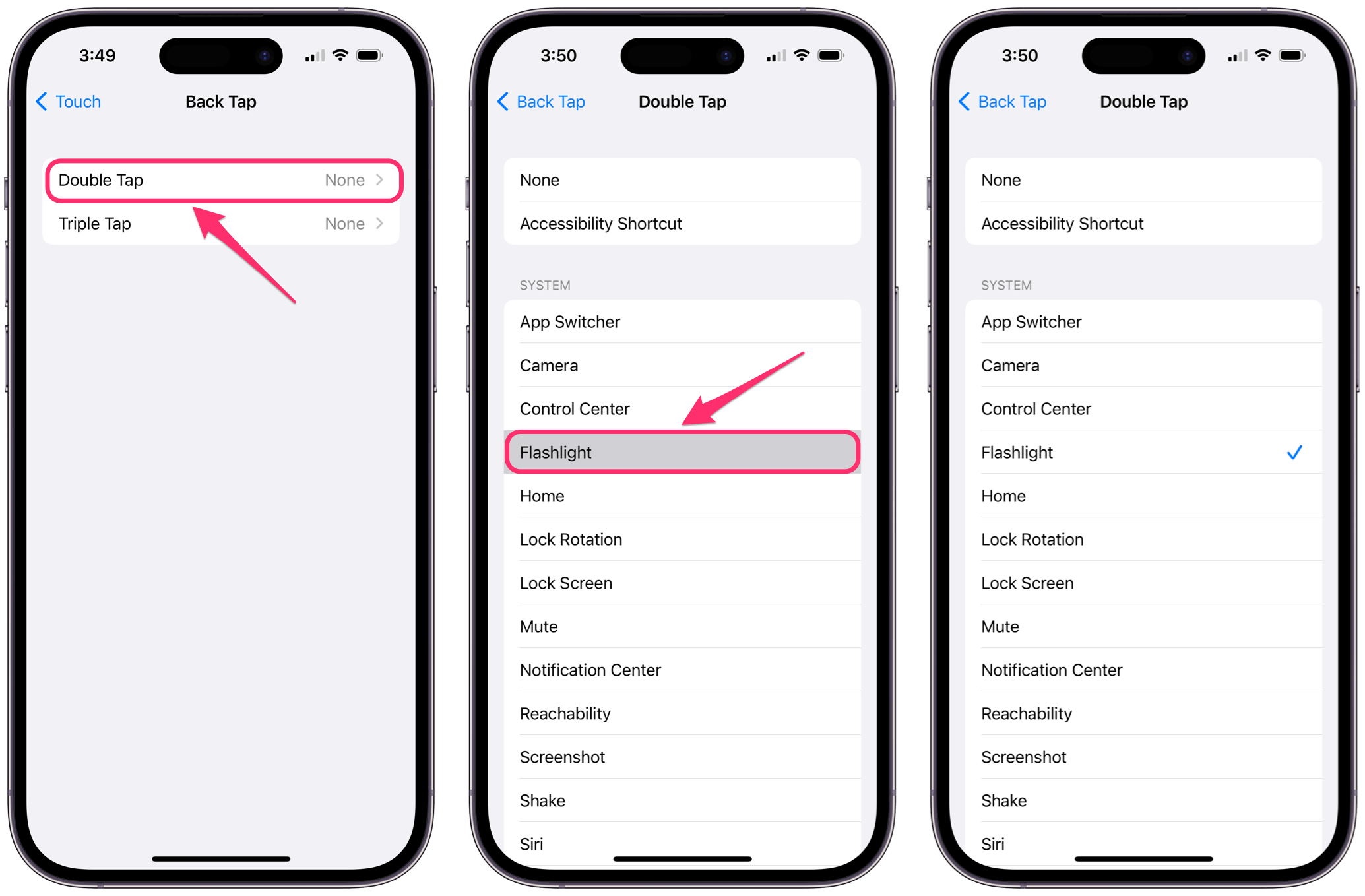 Select either Double Tap or Triple Tap. Double Tap will be a little easier. It can take some practice to get the right tap speed.
Select Flashlight. Then exit Settings.
How to use Back Tap
To use Back Tap, you'll just double or triple tap the back of your phone with a finger. Some things to note about using Back Tap:
First of all, make sure you can get the right tap speed to turn the Flashlight on and off.
A thick case may make this gesture more difficult.
In order to use Back Tap, your iPhone must be awake. The easiest way to wake up your iPhone is to press the Side button. This works well in a situation where you may not have your other hand free to tap the screen; you can hold your iPhone in one hand and use that hand to press the Side button and then to tap the back of your phone.
Related articles