Android Not Seeing and Connecting to iPhone Hotspot, How to Fix
A friend of mine is an Android user. He was visiting me and did not have an Internet connection and wanted to use my iPhone's hotspot, also called tethering, to connect to the Internet. However, the Android phone was not seeing the iPhone's hotspot and, thus, was not connecting to it. In this article, I explain what we did to fix this problem. If you are having a similar issue, this may fix the problem for you as well.
Using Personal Hotspot on iPhone
A hotspot is like a Wi-Fi oasis. It is a device that provides Internet access to other devices around it. You can turn your iPhone into a portable Wi-Fi hotspot to share its cellular data connection with other devices, including other iPhones, Android devices, computers and more. This is a really easy process; first, turn on Personal Hotspot on iPhone by going to Settings > Cellular > Personal Hotspot or Settings > Personal Hotspot and then the other user should be able to connect to it just like a Wi-Fi connection. If you need more information on the basics of hotspots, we've previously explained how you can set up and use hotspot on iPhone.
iPhone hotspot not appearing in Android device's list of Wi-Fi options
When we experienced this problem, we tried some basic troubleshooting steps to fix it: restarting the iPhone, restarting the Android phone, turning on and off Airplane Mode, changing the iPhone's name and more. None of them worked.
We ended up fixing the issue by turning on Maximize Compatibility in iPhone settings, and then the Android phone connected quickly.
You can turn on Maximize Compatibility by going to Settings > Personal Hotspot. Please note that this option is only available for Phone 12 or later, iPad Pro 11-inch (3rd generation or later), iPad Pro 12.9-inch (5th generation or later), and iPad mini (6th generation).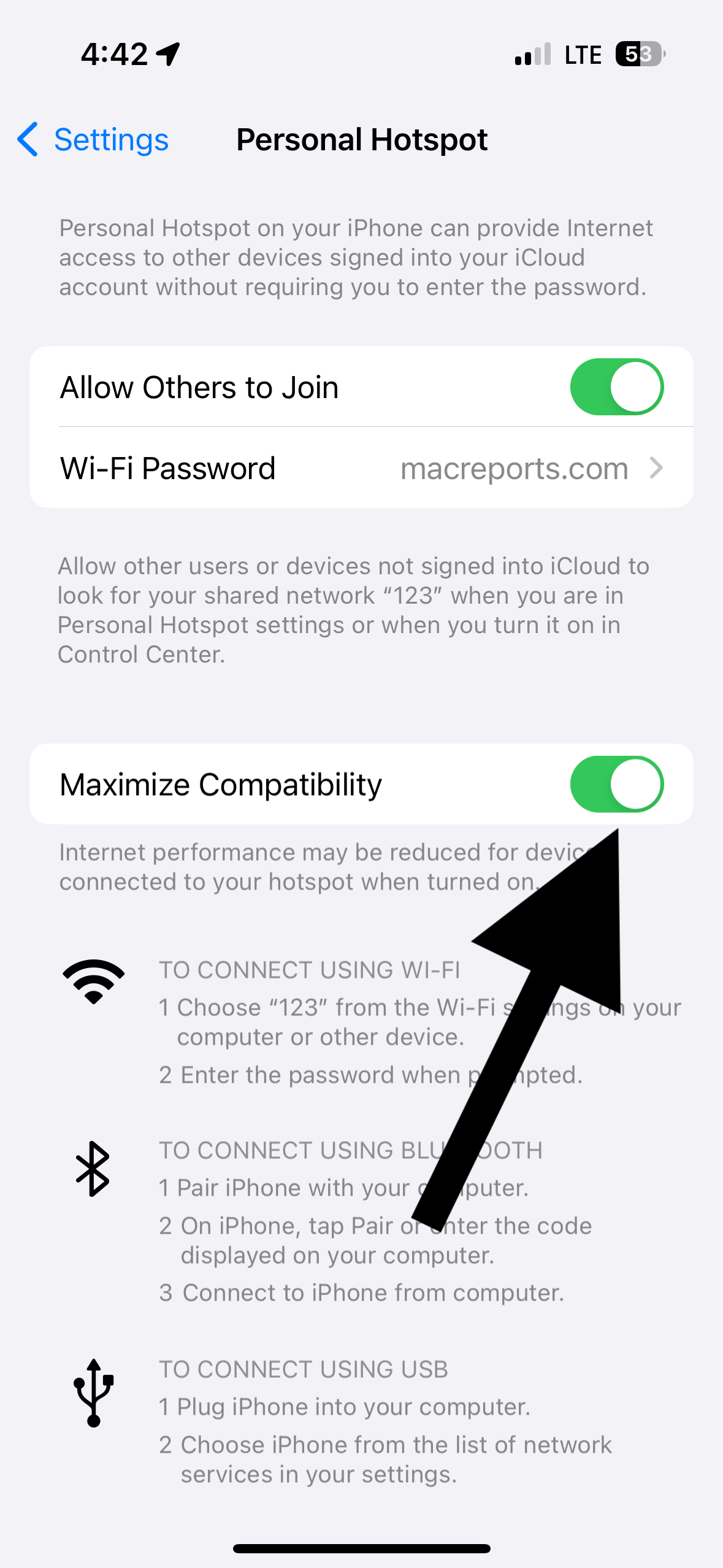 What is Maximize Compatibility?
By default, iPhone Personal Hotspot operates on a 5 GHz connection. If you're using an iPhone 12 or newer model, you have the option to activate Maximize Compatibility for Personal Hotspot, allowing it to utilize a 2.4 GHz connection. It's important to note that enabling Maximize Compatibility may lead to a potential decrease in Internet performance and may compromise Wi-Fi security for devices linked to the hotspot. According to Apple, "When you turn on Maximize Compatibility, Internet performance and Wi-Fi security might be reduced for devices connected to the hotspot."
Related articles