Firefox Crashes or Won't Open On Mac, Fix
In this guide, I will go over common fixes for Firefox problems in macOS that will help you get your browser back to running smoothly.
If Firefox crashes, freezes (stops responding), or won't start, you will not be able to use it to visit websites. A crash occurs when Firefox stops responding and quits unexpectedly. Firefox may crash as soon as you open it (at startup) or it may crash while in use.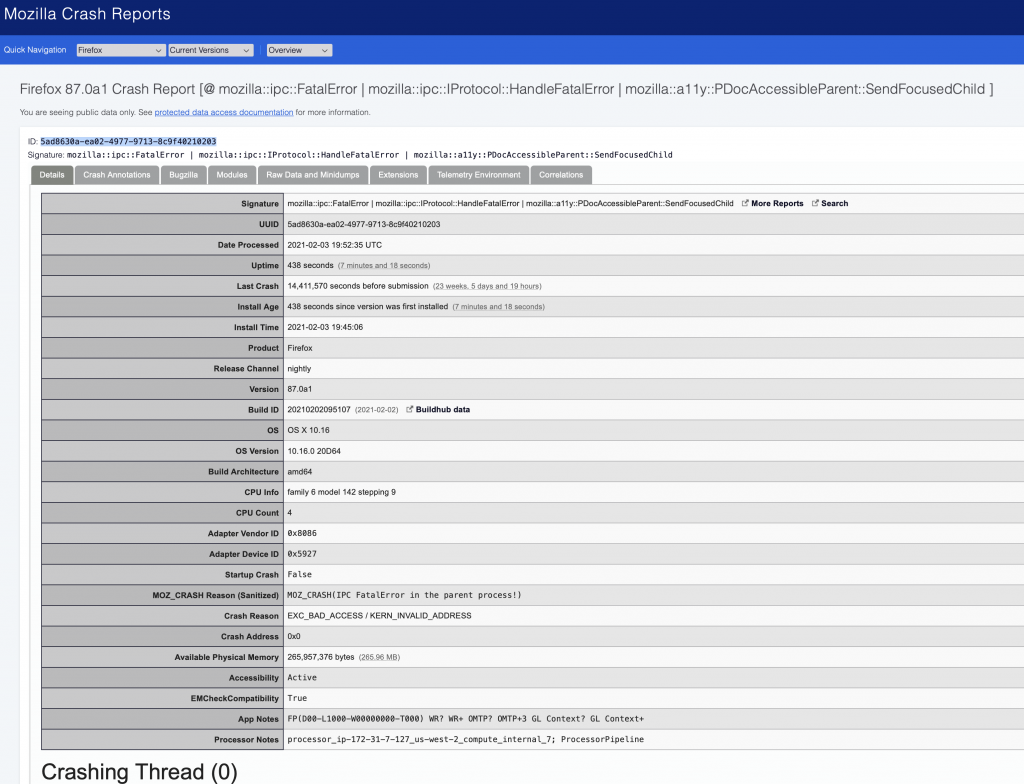 Mozilla Firefox is one of the most popular browsers in the world today. Many people view it as a good alternative to Safari. So a lot of Mac users are using it to browse the web. So why is Firefox not working as expected? This can be caused by different issues. For example, your Mac may have run out of memory. The good news is that the following suggestions will help you fix this problem.
See this article if Safari keeps crashing.
Close and reopen Firefox
Try closing Firefox and then reopen it. In Firefox, you can press the "Command" and "q" keys together to quit. Or alternatively, you can click Firefox in the menu bar and then select Quit Firefox. If Firefox is unresponsive, then try to force close it. Press "Option", "Command", and "Esc (Escape)" together (or select the Force Quit option from the Apple menu) and select Firefox and then click Force Quit.
And then reopen Firefox and test your problem.
See also: Chrome Won't Open On Mac, Fix
Restart your Mac
Sometimes restarting your Mac is all you need. Simply restart your Mac by reselecting the Restart option from the Apple menu. After restarting, simply open the Firefox app. Is it working now?
Check for updates
Ensure that you are running the latest version of macOS and Firefox:
Update to the latest version of macOS, go to System Preferences and Software Update. Then follow the onscreen instructions.
To update Firefox, in the menu bar, click Firefox and then click About Firefox. This page will let you know if the app is up to date. If there is an update, it will be automatically installed. You can also go to Firefox > Preferences > General to update the app.
Delete and reinstall
Simply remove the app from your Mac by uninstalling it. To uninstall Firefox for Mac, open your Applications folder, select Firefox and drag it directly to the Trash. Then visit the Firefox download site and download and install it again.
Crash reports
You may want to review the crash logs to attempt to figure out why you are having this problem. Here is how:
In Firefox, type about:crashes in the URL bar and press Return. This page will show all crashes. You can view or submit these reports. Please also note that you can also access this cash log by going to the following folder (in the Finder, click Go and Go to Folder and type the following pathname):
~/Library/Application Support/Firefox/Crash Reports/
If there are reports that are not submitted, submit them.
Then you may get help in the Firefox Community Support forum.
Safe Mode
Startup your Mac in Safe Mode and try to open and use Firefox in Safe Mode. This depends on what kind of Mac you have. Here is how you can do this:
Intel-based Macs
Turn off your Mac (Apple menu > Shut Down). Wait for your Mac to fully turn off.
Turn off your Mac and immediately press and hold the Shift key.
Release the Shift key when you see the login screen and then login.
Apple silicon Macs
Turn off your Mac and wait for it to completely turn off.
Press and hold the power button until the startup options screen appears.
Select a startup disk (e.g., Macintosh HD).
Press and hold the Shift key.
Click Continue in Safe Mode and then you may release the Shift key.
Note: If you do not know what type of Mac you have, go to Apple menu > About This Mac. Click the Overview tab and check the item named Chip.
In Safe Mode, open Firefox, does your problem occur in Safe Mode also? In any case, exit Safe Mode by restarting your Mac normally and open Firefox and test again.
Restarting your Mac in Safe Mode may fix your issue. If not, and if your issue does not occur in Safe Mode, try the following tips:
Turn off hardware acceleration: Go to Firefox (menu bar) > Preferences > General. Find the Performance section and uncheck the "use recommended performance settings" box. This will reveal additional settings. Then uncheck the "use hardware acceleration when available" box.
Disable all of the extensions you have by going to Tools > Add-ons. Then quit Firefox and open again. Now test Firefox. Does it work now? If it does, this means that one or more of the extensions were causing this. Try enabling your extensions individually. And after enabling each extension test Firefox. Repeat this process until you find the faulty extension.
If you are having your problem, contact Firefox.