How to Call for Emergency Help on Apple Watch
Being able to dial for emergency services is a great feature of Apple Watch. But, do you know how to activate it? You will want to know how to call for help before you actually need it. This article will go through the steps needed to make an Emergency SOS call from your Apple Watch.
With Emergency SOS, you can call for help from your local emergency services and alert your emergency contacts as well. There is one important restriction for Apple Watch users who do not have cellular service on their watch; they must either be near their iPhone or connected to a Wi-Fi network and have Wi-Fi calling enabled.
What happens when you use Emergency SOS
Your Apple Watch will call your local emergency services and automatically share your location with them. For Emergency SOS calls outside of the U.S.:
If you are located in your home country, and there are separate numbers for the different emergency services, you may need to choose which emergency service to use.
If you are traveling outside of the U.S., you will only be able to use your watch to contact the local emergency services if you have a newer (SE or Series 5 or later) Apple Watch with GPS + Cellular.
Your watch will also text your emergency contacts upon entering Emergency SOS mode and will send updates on your location to your emergency contacts for a period of time afterward.
How to call for emergency services
There are two ways to activate the emergency services call.
Side button + slider
Press and hold the side button until you see three sliders appear.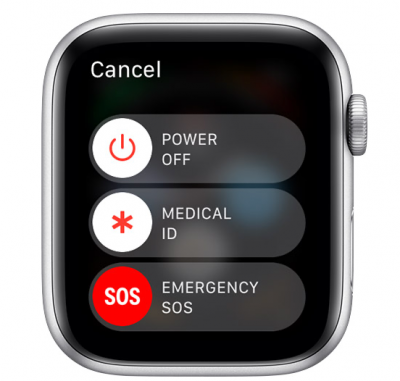 Drag the bottom, Emergency SOS, slider to the right. This immediately activates the emergency call.
Side button only
Press and hold the side button.
Your watch will begin a countdown. Keep holding the side button until the countdown has finished. Your watch will enter Emergency SOS mode at the end of the countdown.
How to end an Emergency SOS call
First, if you have made an emergency call and no longer need your emergency contacts to be updated, you can stop sharing your location with them. Your Apple Watch will display a notification reminder every four hours. You can tap on Stop Sharing in the notification to stop sharing your location.
What to do if you accidentally call Emergency SOS
If you have accidentally triggered the emergency call countdown by pressing the side button for too long, you can stop the call from happening by simply releasing the side button before the call is made.
If the call has already begun:

End the call by tapping on the End Call button (the usual red disk with a phone receiver). You will need to tap Yes to confirm.
Your watch will ask if you want to notify your emergency contacts. Tap No.
Turn off automatic dialing
If you have accidentally dialed Emergency SOS by pressing the side button, you may want to turn off the feature.
On your iPhone, open the Watch app.
Select the My Watch tab at the bottom of your screen.
Tap on Emergency SOS.
Toggle the switch next to Hold Side Button to Dial.
Related articles