What Is Fall Detection And How To Turn It On Or Off
This article explains what fall detection is, how it works, and how you can turn it on or off on your Apple Watch. This feature was first introduced with the Apple Watch Series 4.
This feature is available on Apple Watch Series 4 and later. Falls can be very dangerous for everyone, especially for the elderly population.
This is an important feature as it may help save lives. Research shows that falling is a common and significant cause of injury in elderly adults. Falling can cause disability or even death. It is a known fact that more than one-third of elderly people over 65 years old fall at least once per year. Some of these fallers may not be able to get up by themselves. Often the fall process produces injuries but late medical help and long lying periods may greatly worsen the situation.
Falls can cause significant health problems, but also another key problem is increased hospitalization costs. New technologies like fall detection, may support users' health, independence, and safety.
See also: Exercise Ring Is Not Working, Fix
How fall detection works?
Basically, the fall detection feature of your Apple Watch is designed to detect falls and connect Apple users to help. This feature uses multiple technologies to detect falls accurately:
The accelerometer: This sensor is used to measure acceleration forces when a fall occurs.
The gyroscope: This sensor is used to detect orientation. And this can help detect body orientation after a fall.
Advanced fall detection algorithm: This is used to help identify if a fall is real or not. It is essential to isolate falls from activities of daily living.
These technologies help your Apple Watch accurately detect many types of falls.
The Health app will record your confirmed falls. This lets you check your fall history. Simply open the Health app on your iPhone and then go to Health Data > Results.
See also: How To Find Your Missing Apple Watch
What happens when your watch detects a fall?
If this feature is enabled and if you are wearing your watch, your watch will detect a hard fall. Then your watch:
Will tap you on the wrist (haptics).
Will sound an alarm.
Will show a message saying "it looks like you've taken a hard fall".
You have a few options when you have taken a fall:
You can dismiss the alert message if you want. You can do this if this is not a hard fall or if you are ok. Simply tap Close or I'm OK.
If your watch detects that you are not moving after a fall, it will automatically call emergency services. Your watch will wait for one minute before it makes the call. If you are moving, your watch will not make the call automatically. It is very important to mention that your watch will not make this call automatically if you turn off wrist detection. You can turn on wrist detection by going to Settings > Passcode, then turn on Wrist Detection on your watch.
You can also choose to contact emergency services if you need help. You can do that by dragging the Emergency SOS slider in the alert.
If you have "Medical ID" set up, then your watch will send a message to your emergency contacts. This message will include your location. You can set up Medical ID by going to Health > Medical ID on your iPhone.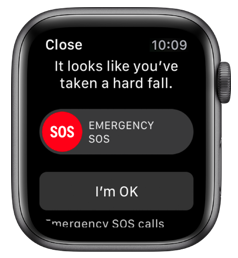 See also: Call Failed: Unable To Make or Answer Calls On Apple Watch? Fix
How to turn on and off fall detection
You can easily turn this on. If you are 55 or older, this feature will be enabled automatically for you. This is true if you entered your age during the watch setup process or in the Health app. Make sure that your age is correct in your Medical ID and your Health profile. You can access your Health profile by opening the Health app on your iPhone.
Here is how you can turn fall detection on or off:
On your iPhone, open the Apple Watch app.
Tap My Watch.
Tap Emergency SOS.
Then you can turn Fall Detection on or off.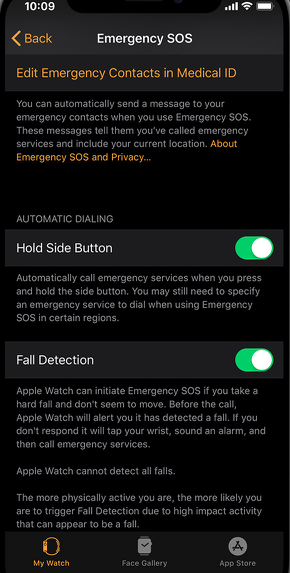 See also: Apple Watch Workout Route Not Showing in the Activity App, Fix