Hot Corners Not Working on Mac, Fix
Some users have said that Hot Corners are not working and thus they are unable to use the four corners of their Mac screen to trigger their previously configured actions. For example, nothing happens when users mouse over any corner of the screen to activate the "Hot Corners" functions. Sometimes this issue may occur after a macOS update.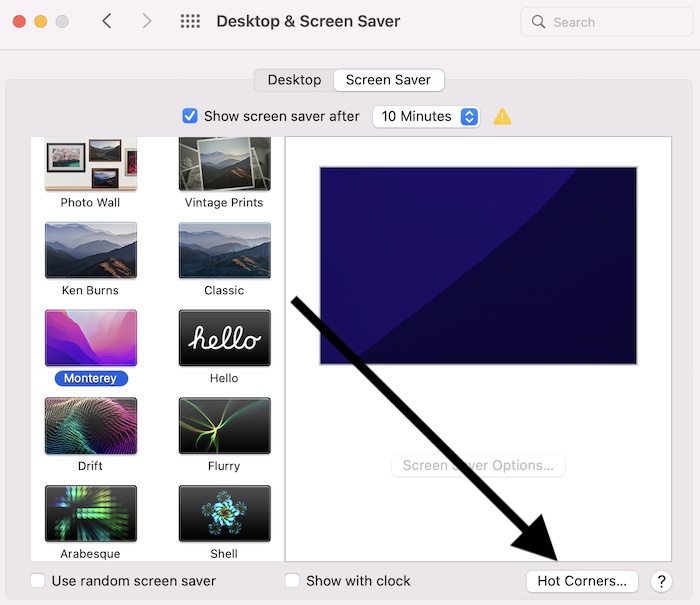 A lot of Mac users, including me, think that this Hot Corners feature is one of the most useful tools for using a Mac more effectively. For me, for example, the most common use of this feature is to trigger a screen saver. There are ten options you can choose from:
Start Screen Saver
Disable Screen Saver
Mission Control
Application Windows
Desktop
Notification Center
Launchpad
Quick Note
Put Display to Sleep
Lock Screen
If Hot Corners are not working for you as expected, this may affect your workflow negatively. Thus it is important that you fix it.
If you're having issues using hot corners on your Mac, before you are going further, I recommend that your Mac is updated to the latest version of macOS.
How to fix Hot Corners issues
If you are having issues with Hot Corners after setting up, the following steps may help you fix it.
Turn off, restart and turn on
The first steps I recommend is to follow this specific steps:
On your Mac, choose Apple menu > System Preferences > Desktop & Screen Saver > Screen Saver and then click the Hot Corners button.
And turn off hot corners. For each corner, select the "-" option.
Now restart your Mac. Go to Apple menu and Shut Down.
After your Mac turns on, again go back to System Preferences > Desktop & Screen Saver and enable Hot Corners.
Do your Hot Corners work now?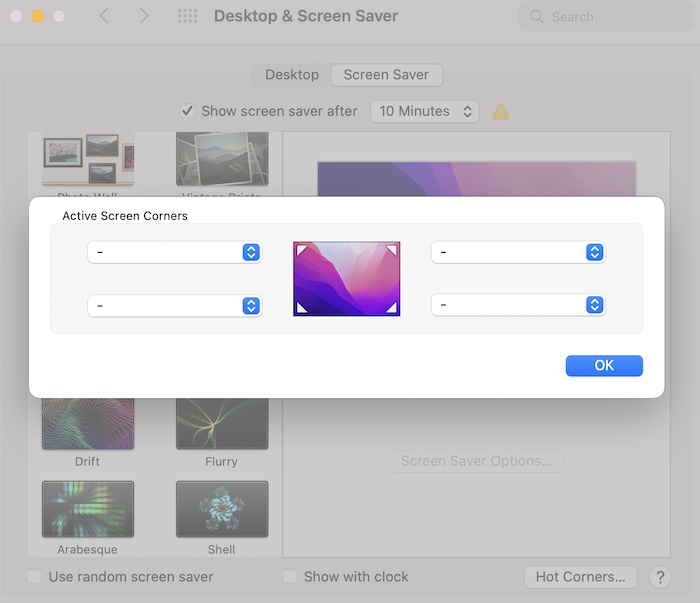 Kill the Dock
Some users who were having this hot corner problem told us that restarting the Dock fixed the problem. You can do this as well. Follow these:
Open Terminal on your Mac (Applications > Utilities).
In Terminal, enter the following command and hit enter:
killall Dock
The Dock will restart. This can fix the issue as well.

Safe Mode
Restart your Mac in Safe Mode. Safe Mode can be a good option to fix this Hot Corners feature. Safe Mode checks your startup disk.
How you start your Mac in Safe Mode is slightly different on the Apple silicon Macs than it does on an Intel-based Mac. If you are not sure your Mac type, go to Apple menu > About This Mac > Overview. This screen will let you know your processor type.
Apple silicon Mac
Turn off your Mac. Wait for your Mac to turn off.
Press and hold the power button until the startup options screen appears.
Select your startup disk.
Press and hold the Shift key and click "Continue in Safe Mode."
Log in to macOS. You may be asked to login more than once. This is normal.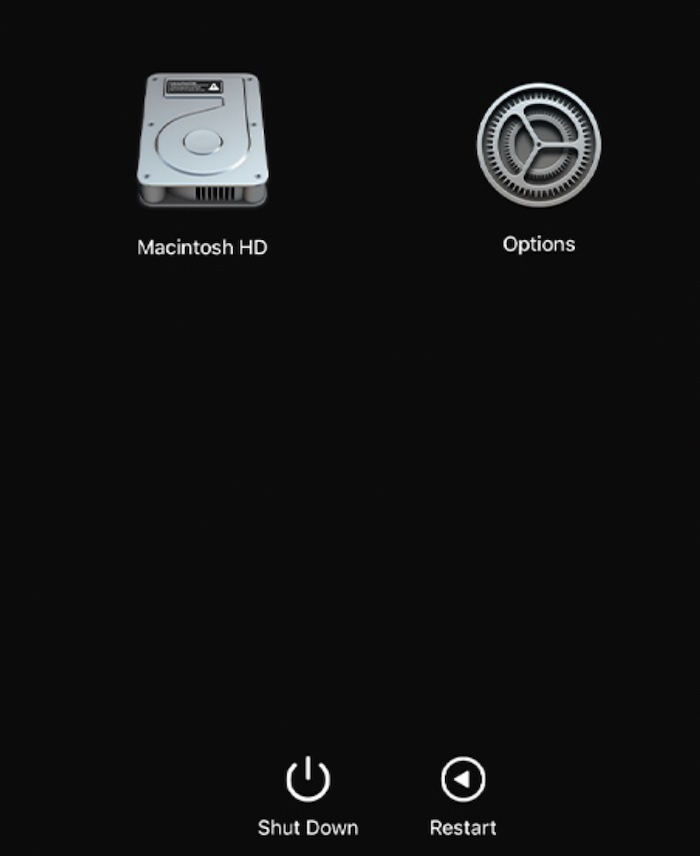 Intel Mac:
Turn off your Mac. And make sure that your Mac is turned off.
Press the power button to turn on your Mac and then immediately press and hold the Shift key.
Release the Shift key when you see the login screen.
Login. Again you may be asked twice to login.
Now, your Mac is in Safe Mode. Does your problem occur in Safe Mode? Test your hot corners.
Restart your Mac. This will exit Safe Mode. And then test to see if the hot corners are working again.
Reset NVRAM or PRAM
If you are still having this issue, try this. Reset NVRAM or PRAM. You can reset this if your Mac is an Intel based device. Follow these steps:
Turn off your Mac.
Locate these keys: Option, Command, P, and R. (You will need to press them quickly after you turn on your Mac).
Turn on your Mac and immediately press and hold the above keys for about 20 seconds.
Your Mac will restart. Release key keys when you hear the second startup sound or when you see the Apple logo for the second time.
Your Mac will start up.
Now point your cursor to a corner, does it work?
If you are still having issues, I recommend that you reset the SMC on your Mac.
See also: