How to Change Mac User Login Image to a Memoji
You may be getting tired of using the default image (the gingerbread man, maybe a snowflake). You can change your user login image on your Mac; you can choose from a Memoji, an emoji, a monogram, a photo or another one of macOS's default images. In this article, we will tell you how you can create and use a customized Memoji for your login image. This image will also show up as your Apple ID picture and be attached to your contact information in Contacts on your Mac.
Change your login image on the Mac Lock Screen
Open your user account settings
From the menu bar at the top, click on the Apple  menu, then choose System Preferences.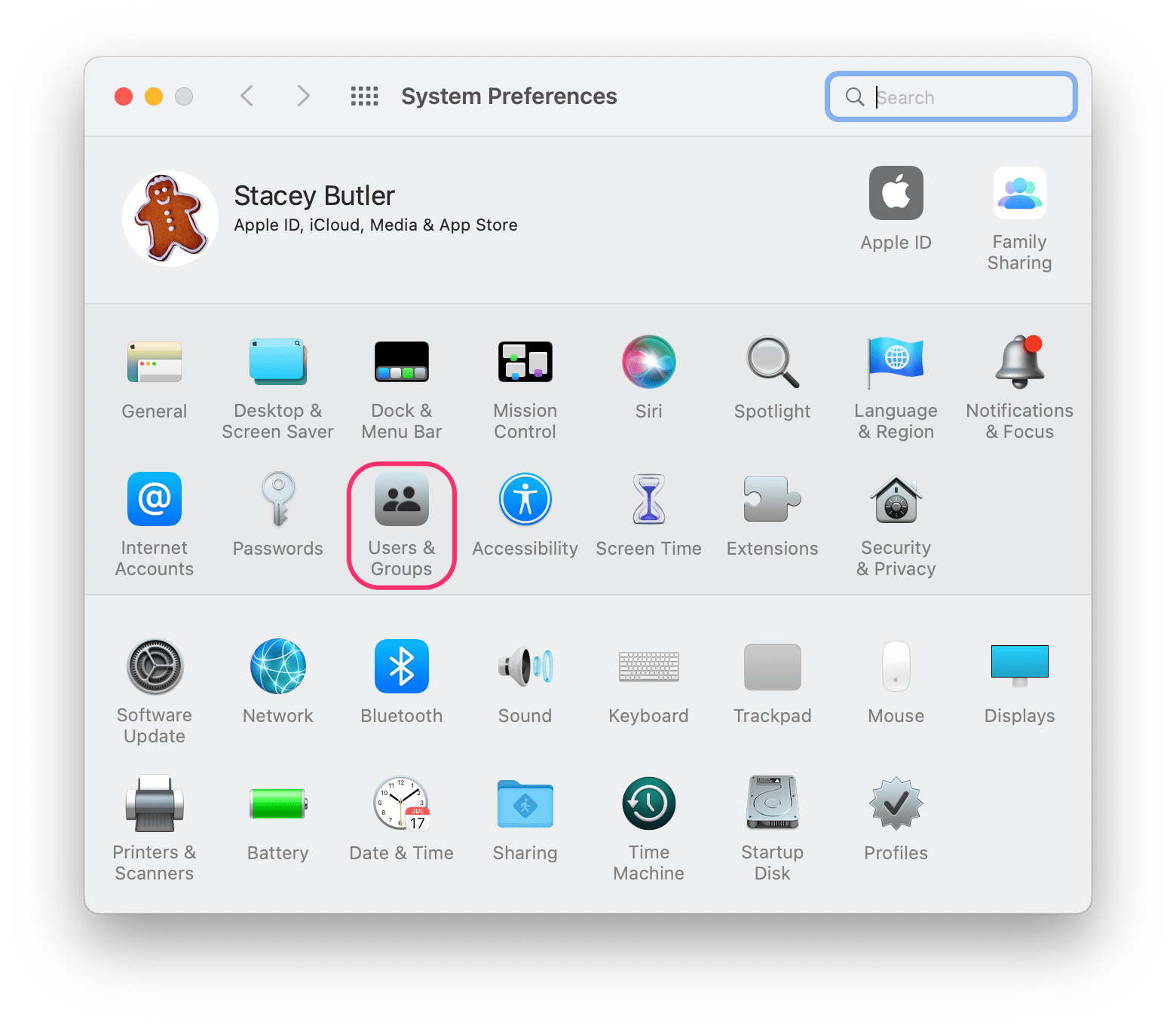 Click on Users & Groups.
Click the lock in the lower-left part of the window, enter your user password and click on Unlock.
Select the user account from the list of users on the left. This won't work if you select a user who is currently logged in (other than your own currently logged-in user account).
To edit the login/Apple ID image, click on the current image to the left of the username in the main part of the window. You will see the window of options for customizing your Mac user login image.
Customize your Memoji
From the window of login image options, make sure Memoji is selected and click on the plus sign.
On the left, you will see all of the different things you can customize for your Memoji. You can select them in any order and go back and make changes to any of the features.
Memoji features
You can customize your Memoji's skin, hairstyle, brows, eyes, head, nose, mouth, ears, facial hair, eyewear, headwear and clothing. Most of these features involve both a color and a 'style.' Some of the features have several different options to further customize the feature. Some have options for accessories, such as earrings for ears. Some tips for customizing:
For some features, like skin color, after choosing the color, you can use the slider to refine the hue.
For each of the features, scroll down to make sure you have seen all of the sub-features you can customize.
Choosing clothing style means you will also be choosing a pose. The clothing and pose don't show in the Lock Screen image, however.
Finish setting your Memoji as your login image
After you have finished your Memoji, click on Done.
With your new Memoji selected, you can click on Pose to choose a different pose and Style to choose a different background color for your Memoji.
Underneath your login image in the lower-left part of the window, you can adjust the slider and zoom in on your Memoji if you prefer. If you are unhappy with your Memoji, you can click on the Edit button to go back and change your Memoji.
Finally, click on Save to set your Memoji as your login image for your Mac Lock Screen.
Related articles