How to Change your AirDrop Name on iPhone, iPad and Mac
This article explains how you can change your AirDrop name on your iPhone, iPad, iPod touch and Mac.
AirDrop lets you wirelessly share and receive files, documents, videos, photos, locations, and more with people nearby with an Apple device within Bluetooth and Wi-Fi range. Please note that you can also share content using Universal Clipboard.
You can share any type of content using AirDrop. Just click the Share button and select AirDrop and then select the people whom you want to share content with.
Changing your AirDrop name can be easily done. Your AirDrop name is also your device name. This means that we are actually changing your device name. It can be said that your AirDrop name is like your profile name.
When your device name is changed, this name will be displayed:
The other user will see this name when he/she want to AirDrop,
In other words, if the other user changes his/her device name, you will see this name when you want to share content.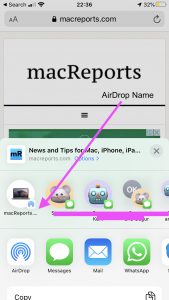 Please see this article if AirDrop is not working properly.
Change the AirDrop name on iPhone, iPad and iPod touch
There are two ways. Please follow the steps of your choice:
Use Settings
On your device, tap Settings.
Tap General.
Tap About.
Tap Name.
Delete the current name and enter a new name.
Tap done.
Use Finder or iTunes 
Connect your device to your computer (Mac or PC) using your USB cable.
Open iTunes or Finder:

macOS Catalina 10.15 or later: Finder.
macOS Mojave 10.14 or earlier and Windows: iTunes.

In iTunes or Finder, click your Device.
Click the name of your device to edit.
Then edit your name, for example, enter a new name.
And press enter.
Change the AirDrop name on Mac
There are two ways to change your Mac's name:
Use System Preferences
On your Mac, click System Preferences from the Apple menu.
Click Sharing.
Find the Computer Name box.
Enter a new name or change the current name.
Please note that you may have to unlock this setting by clicking the lock icon.
Use Terminal
You can also use Terminal to change your AirDrop name on your Mac.
Open Terminal (Applications > Utilities).
Enter the following command and hit return.
scutil --set ComputerName "macReports.com"
Please replace "macReports.com" with a name that will identify your Mac.
You will be asked to enter your admin password.
Note: You will see his or her contact name if the other user is in your Contacts. Or your contact name will be displayed if you are in other user's Contacts.