How to Check your AppleCare Warranty Status & How to Buy
The purpose of this article is to explain how you can check your AppleCare plan. More specifically, this article details how you can learn if you have AppleCare. This article further explains how you can buy the AppleCare protection plan if you decide to protect your device with AppleCare. Please note that you can cancel your AppleCare purchase and get a refund.
Apple customers can get extended warranty coverage, it is called AppleCare. AppleCare is Apple's brand name for its warranty service.
Check AppleCare coverage
Is your product covered under the AppleCare warranty? Follow the steps below:
Open a web browser.
Visit the Apple Warranty Coverage web site (direct link).
Enter your device's serial number. Here is how you can find your serial number:

On your Mac: Click the Apple menu and select About This Mac.
On your iPhone, iPad, iPod touch, Apple Watch, or Apple TV: Settings > General > About.
You can also find your serial numbers by checking iCloud settings. This is also called the Apple ID device list. You can view all of your devices and their serial numbers that you're currently signed in to with your Apple ID.

iPhone, iPad: Tap Settings > [your name], and scroll down and find your device then tap.
Mac: System Preferences > Apple ID.

You can also view all of your devices by going to the Apple ID website. Simply go to the appleid.apple.com web site and sign in. And scroll down and find the devices section.

Click Continue. You will be redirected to a summary page that lists all of your warranty options.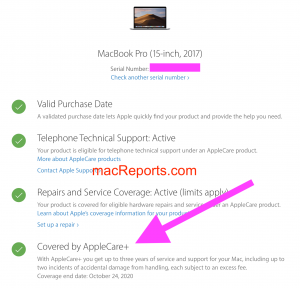 As you can see above, if you have already purchased the extended AppleCare warranty, it will be shown on this page.
How to buy AppleCare
So you have learned that you are not covered. You may be able to buy the AppleCare plan. You can buy the protection when:
You purchase your device. You can purchase AppleCare+ at the time of your purchase. Or,
If you have recently bought a device, you can add AppleCare to your device after purchase. It does not matter where you bought your device, Apple, a carrier, or another retailer:

iPhone, iPad, Apple Watch, Mac, or HomePod: within 60 days of purchase.
Apple TV: within 12 months of purchase.
So you may be asking yourself if AppleCare is worth the additional price. Here are some benefits:
24/7 priority access to Apple team members via chat or phone.
Express replacement service.
It's transferable. (If you pay monthly, this is not available).
There are several options to buy after purchase:
On your iOS or iPadOS device: go to Settings > General > About and choose AppleCare+ Coverage Available. And then follow the onscreen instructions.
You can also buy online by visiting the add coverage website.
You can buy it at an Apple Store if you go there.
You can also buy by calling 800-275-2273 (800.APL.CARE).
Please note that online and phone options require you to complete a remote diagnostic.
If you need help, you can contact Apple.