iPhone Says Connected But No Wi-Fi Icon and No Connection
From the users' comments and complaints I read, It appears that some iPhone users are experiencing a strange problem where their iPhone appears to be connected to Wi-Fi in Settings but there is no Wi-Fi icon that supposed to show up at the top of the screen representing the active Wi-Fi internet connection, because the iPhone is not really connected to Wi-Fi.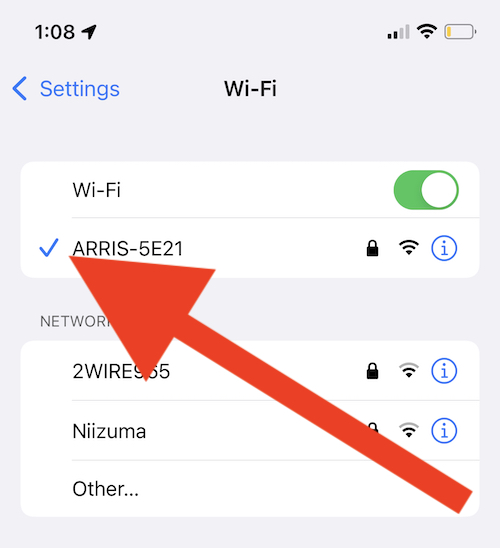 On your iPhone, you can check your Wi-Fi status by going to Settings > Wi-Fi. If you are connected to a Wi-Fi network, you will see the Wi-Fi network that you are currently connected to directly beneath the Wi-Fi switch with a blue check mark to the left. This indicates you are successfully connected. Another indication of the Wi-Fi connection is that the Wi-Fi status symbol will appear at the top of your screen. If you are having this issue, you will not see this symbol. Obviously, this issue will prevent you from connecting to the Internet. This means that the apps and services that require the Internet connection to function such as Mail, iMessage, Safari, iCloud, will not work. This further means that you cannot access the Internet on your iPhone via an app or a website.
Sometimes you may see an error message in Settings saying "No Internet Connection". This problem is different from that one. This error message is causing the Wi-Fi symbol to disappear.
Wi-Fi problems may occur frequently on iOS and macOS devices. Stacey and I wrote many articles on related topics that you may want to check:
Update
This issue may be caused by a software bug. There may already be an upgrade or update addressing that bug. Thus updating your iPhone may fix your Wi-Fi problem.
On your iPhone, tap Settings > General > Software Update and complete the steps if there is an update.
Check your router
I was experiencing this problem too. The cause of my problem was that the Wi-Fi signal was too poor because I was too far from my Wi-Fi router. I recommend that you're within range and you are close to your router so that you get a strong signal.
The second thing about the router you can do is to restart. Restart your router to see if this can fix the problem by following these steps:
Unplug your router and then your modem, if you have a separate modem.
Wait at least 30 seconds.
Plug your modem back in and then your router.
And after restarting, the last thing you can do is to update the firmware on your router. The updating process may differ. You should contact its manufacturer if you do not know how to do this.
Airplane Mode
Another simple step is to enable and then disable Airplane Mode. Go to Settings and turn on Airplane Mode. Wait a few seconds. Then turn it off.
Restart
You may think that this is too simple but sometimes your iPhone needs a restart to fix a bad connection. Restarting your iPhone can clear glitches that may be causing this.
VPN
Some users who were having the same problem told me that their VPN was causing the problem. If you have a VPN, disable it. You can do so by going to Settings > VPN and ensure that VPN is disabled. Go to Settings. and VPN again and delete your VPN profiles. Then try to connect to Wi-Fi again.
If this fixes the problem, and if you need to use your VPN service, contact the app developer and tell them that their VPN is causing this problem. They may have to update their app.
Forget Wi-Fi
Are you having this problem with certain Wi-Fi networks? For example, if possible (you can go to a friend's house, or your public library etc), try to connect to a different Wi-Fi network. Does the other Wi-Fi network work? Do you see the Wi-Fi symbol on your screen? If the answer is yes, then obviously the problem is with your network. As I explain above, you may want to read the router section. Make sure that you do those steps.
Furthermore, you may want to forget your Wi-Fi network. This can be a useful strategy when troubleshooting wireless network problems like this one. Follow these:
On your iPhone, go to Settings > Wi-Fi.
Select your Wi-Fi network and then click the blue information (i) symbol next to the name.
Then tap Forget This Network.
Now restart your iPhone and then reconnect the network.
Reset Network Settings
If all else fails, try resetting your network settings. This will clear away your network settings such as Bluetooth or Wi-Fi. This is easy to do but a bad thing about this option is that your Wi-Fi passwords will be erased. If you are sure to proceed, go to Settings > General > Transfer or Reset iPhone > Reset then choose Reset Network Settings. Then follow on-screen instructions.
If nothing else has worked, you should contact Apple.