How to Check Your Cellular Data Usage on iPhone and iPad
It is easy to use a lot of data on your iPhone or iPad. Unless you are connected to a Wi-Fi network, your iPhone or iPad will use cellular data to access the Internet. Cellular data usage is the amount of data your iPhone or iPad uses while uploading or downloading data over the Internet wirelessly. You may want to watch your data usage to avoid overage fees.
iOS and iPadOS have built-in features to track your cellular data usage. You can easily learn the following:
How much data each of your apps are using. For example, if you are using apps like Reddit, Twitter, WhatsApp, Photos, FaceTime, Instagram, etc., you will know how much data each of them is using. If you need to limit your usage, you can also disable an app's cellular data usage.
You can see how much data each System Service is using. For example, you will be able to figure out how much Siri, Find My, Software Updates, iCloud Backup, AirDrop, etc., are consuming cellular data.
If you are using Hotspot, you can view how much Hotspot data was used.
If you have multiple SIMs, you can see cellular data usage for each line.
How to check your data usage on iPhone or iPad
Tap Settings.
You will see Cellular or Mobile Data or Cellular Data, depending on your device or location. Tap it.
Scroll down and find the Cellular Data section. You will see how much data each app has used in the current period. Their order is based on the amount of data used, high to low. System Services or Personal Hotspot, if used, are in the list.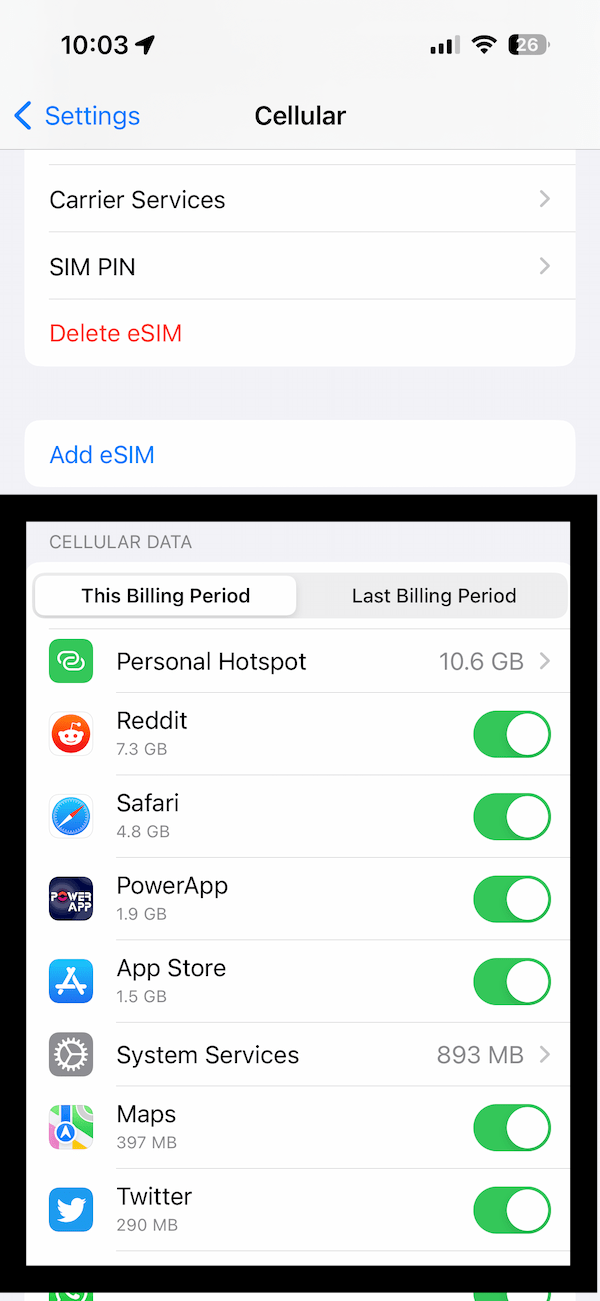 Depending on your carrier, you may need to manually reset the "current period." In the screenshot above, right under the Cellular Data heading, you see "This Billing Period" and "Last Billing Period." In this case, the data you see should represent the current billing period. If you don't see those tabs under Cellular Data, you may need to reset your current period manually:

Scroll to the bottom and tap on Reset Statistics.
You will need to reset the statistics manually anytime you want to start a new "current period."

If you do not want an app to use cellular data, you can turn off its cellular data access. You can re-enable it later if you prefer. If you disable cellular data for an app, it will access data over Wi-Fi only. Just toggle the switch next to the app name to turn off cellular data for that app.
If you tap System Services, you will see more details about which System Services are using how much data. You cannot turn off Cellular Data for System Services.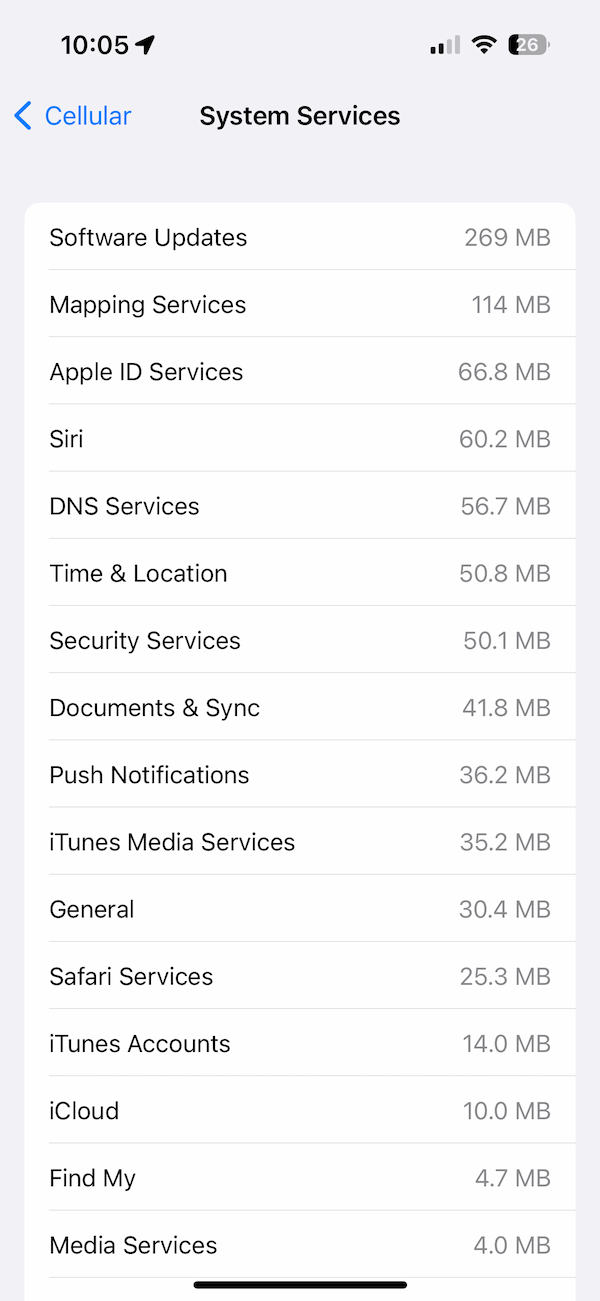 Related articles