How to Clean your iPad Screen
Is your screen dirty and you want to clean it? This article explains how you can thoroughly clean your iPad's touchscreen. It is very important you follow certain guidelines for cleaning your iPad's display. Regular cleaning is essential. And sometimes you may want to disinfect your iPad. It is also important that you should keep your iPad clean and sanitary without damaging your device and screen to ensure that you're getting the best experience from your iPad. Here is how: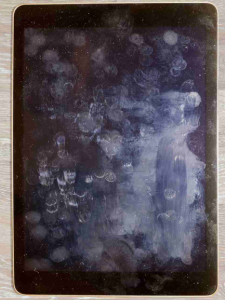 If your screen is unresponsive, see this article.
Before you do anything, make sure that:
Your iPad is unplugged. Make sure that all cables are unplugged.
Your iPad is turned off. Here is how you can turn off your iPad:

iPad with Face ID models: Press and hold the power (side or top) and the volume up (or down) buttons together until you see the power off slider. Then drag the slider to turn off your iPad.
Other iPad models: Press and hold the side or top button until you see the power slider and then drag the slider.
You can also turn off your iPad by going to Settings > General > Shut Down.

Do not use excessive force when cleaning. Do not apply much pressure. Be gentle.
There are no liquids nearby.
See this article if your iPad is running slow.
General cleaning
To clean, gently wipe your screen for fingerprints, dust, and lint.
Use a soft, lint-free cloth. The best option is a lint-free microfiber cloth. You may also use a camera lens cleaning cloth.
Do not use paper towels, washcloths or similar items as they may cause damage, for example, they may scratch your screen.
Do not use compressed or canned air.
Stubborn stains cleaning
This cleaning includes cleaning ink, oils, lotions, makeup, food stains or similar. Clean your iPad's screen immediately if your screen comes into contact with these types of stains.
Again use a soft lint-free cloth. This time lightly dampen a section of the cloth with distilled or tap water. And gently wipe the dirty area. Then dry the area with another soft, lint-free cloth.
if the material is still present, you may use a soft, lint-free cloth with warm soapy water. Wipe it over the iPad.
Make sure that you do not get moisture in any openings like the Lightning port, the speaker or mic.
Absolutely never submerge your iPad in a cleaning liquid or solution.
How to disinfect the display
It is important to note that your iPad's screen is an often overlooked source of microbes. Is your iPad screen covered in germs? Probably yes. This means that you should clean and disinfect your iPad but not compulsively.
You may want to disinfect your iPad's display especially if multiple people are using it. According to Apple, you can use a 70 percent isopropyl alcohol wipe or Clorox Disinfecting Wipes to clean your screen.
Gently wipe your screen.
As stated above, do not use bleach.
If you are using a disinfectant (containing 70% isopropyl alcohol), do not apply these liquids directly to your iPad. Instead, moisten a soft cloth or a microfiber cloth until it's damp. Then wipe your iPad.
Don't use Dettol wipes.
Never use bleach, harsh chemicals or cleaning solvents, ammonia, or abrasives on your iPad. Never spray cleaners directly onto the screen.
Another important point is that you should use a microfiber cloth as it has the ability to collect bacteria and it can remove microorganisms.
Furthermore, you may want to change your iPad usage habits. For example:
Wash your hand before using your iPad.
Stop taking it into the bathroom yes we know you are doing this.
Do not share your iPad with others.
Here is what you can do if you get your iPhone wet.
See also: iPhone Screen Not Rotating? Fix