You Dropped Your iPhone in Water? What To Do
This happened to me too. While I was washing my car, I dropped my iPhone in water. The phone stayed in the water for about 10 minutes before I realize my phone was completely submerged. Although this was a pretty horrible feeling, fortunately, I was able to avoid permanent damage.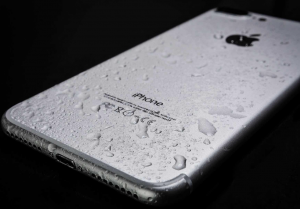 The good news is that iPhone 7 and later models (iPhone 8, iPhone X, iPhone 11, etc) are water-resistant but not fully waterproof. This means that you should still avoid water to prevent damage.
See also: iPhone unresponsive, dead
It seems that a lot of users are suffering from the 'dropped in the toilet' issue. This is likely because a lot of users also like to use their phones in the bathroom. Did you accidentally get your iPhone wet? If this happens to you too, then this article is for you.
See also: iPhone Stuck On Apple Logo With Spinning Wheel
In this article, we explain what you should do if you get your iPhone wet.
Things to do when your iPhone is wet
Please do these steps in order. Also note that timing is everything:
1. The first thing you do is not to panic. Obviously, take it out as soon as humanly possible. You should remove your iPhone from the water as quickly as possible.
2. Unplug all cables or accessories, if anything is plugged in. Do not plug in anything until your iPhone is fully dry.
3. Turn off your iPhone immediately (do not try to turn on to see if it is working before it is fully dry):
iPhone X, 11 or later: Press and hold the power (side or top) and the volume up (or down) buttons together until you see the power off slider. Then drag the onscreen slider. Wait until your device turns off.  (To turn on, which you should not until it is completely dry, press and hold the power button until you see the Apple logo).
Other iPhone models: Press and hold the power button (side or top) until the power off slider appears. Drag the slider. (To turn on, which you should not until it is completely dry, press and hold the power button until the Apple logo appears).
You can also turn off your device by going to Settings > General > Shut Down.
4. Remove its case if your phone has a protective case.
5. If you drop your iPhone in seawater, rinse it with tap water because saltwater is corrosive.
6. Carefully shake your iPhone with the charging port facing down. This will help you get rid of excess water.
7. Wipe your iPhone off. Wipe it down with an absorbent fabric like a cloth or a soft towel. Wipe around the holes in your phone (like the charging port), the switches, and the buttons.
8. Wait. Place your phone in a dry warm place with some airflow. Be patient and just wait. If possible, leave your phone in front of a fan blowing cool air.
Things not to do
Please do not these as they may cause permanent damage.
Do not use a hair-dryer.
Do not use any other device that heats it up.
Do not press any buttons.
Do not place your phone in an oven. The heat can damage your device. And no microwave oven too.
Do not use compressed air.
Do not charge your iPhone until it is completely dry. This includes wireless charging. (see also: What to do if your phone won't charge).
Do not blow on your iPhone.
Do not put your phone in a freezer, yes it happens.
And no, do not use rice.
Please note that it may take up to 24 hours for your phone to completely dry.
Also, note that water damage to your iPhone is not covered by Apple's warranty.
See also: How To Optimize And Extend The Battery Life On iPhone