iPhone Screen Not Rotating? Fix
This article explains what you can do when your iPhone screen does not rotate. Your iPhone's screen has two screen orientation (as you can see the image below):
Landscape mode
Portrait mode
When you tilt your device on its side, the screen is supposed to follow and rotate to landscape mode. Your screen is supposed to rotate based on how you are holding the device, meaning when you move your device between portrait and landscape, the screen will reorient. Your iPhone uses an internal accelerometer to identify the angle at which it is being held by sensing movement and gravity.
See also: Touch ID not working?
There are, however, some exceptions:
Some apps or screens only support landscape or portrait mode, for example:

Your Home Screen layout along with your apps can only be rotated on an iPhone Plus (e.g., iPhone 6 Plus, 6S Plus, 7 Plus, and 8 Plus). Other iPhone models' Home Screen can only be viewed in portrait mode. If you have an iPhone Plus and if you wanted the Home Screen to rotate, then go to Settings > Display & Brightness and then set Display Zoom to Standard.
Settings app only support portrait mode.
App Store only support portrait mode.
Some apps will have different layouts for different screen orientation. However, these layouts may not be available when you enable Display Zoom. Not all iPhone models support Display Zoom. The following models support Display Zoom: iPhone Xs Max, iPhone Xr, iPhone 8, iPhone 8 Plus, iPhone 7, iPhone 7 Plus, iPhone 6s, iPhone 6s Plus, iPhone 6 and iPhone 6 Plus. You can turn on Display Zoom by going to Settings > Display & Brightness and chose Zoomed and tap Set.

Make sure that you have screen rotation enabled. If you turn on Portrait Orientation Lock, this will lock the screen rotation and your screen will not rotate. The screen will stay in portrait mode, always, until you disable this. You can change this by opening Control Center (find the circle arrow with a padlock icon, as you can see below). When you lock the screen orientation, the lock icon will appear in the status bar.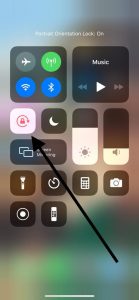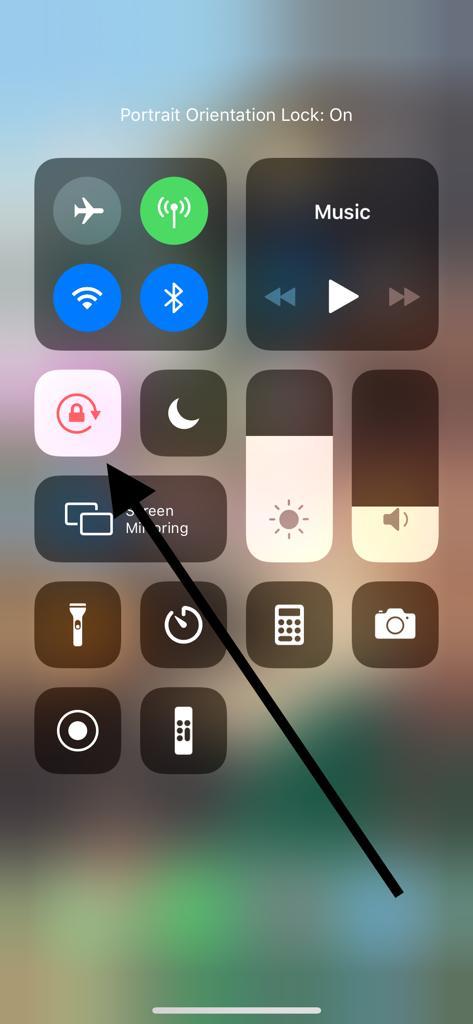 If your screen is still not rotating, please try the following tips:
1-Restart your iPhone. You can power off your device by going to Settings > General> Shut Down. And then turn it on. It is highly likely that after restarting, rotation will start working again.
2-Check for iOS software updates and update your iPhone, if there is an update.
3-Try another app to see if screen rotation works. You may try Safari, Calculator, Mail, Calendar, etc. Is your screen rotating properly? If it is, that means that your iPhone's screen rotation is working. This means that the app you were using does not support only one orientation, the landscape mode or the portrait mode, and does not support rotation. Or it may also mean that the app you were having orientation problem with is having a temporary issue. Try force closing the app and then reopen it. This will probably resolve the problem. Here is how you can do that:
iPhone X and later models: go to Home Screen and swipe up and this will reveal the recently used app. Simply swipe up on the app's icon. And reopen the app.
iPhone 8 or earlier models: double press the Home button and then swipe up on the app's preview icon. And then reopen the app.
4-Force restart your iPhone. This is also called hard reset. But do not worry, your content or settings will not be deleted. Different iPhone models require different steps. Here is how:
iPhone 8, iPhone 8 Plus and iPhone X and later: Press and release the volume up button and press and release the volume down button and then press and hold the side (on/off) button until you see the Apple logo and then release the button.
iPhone 7 and iPhone 7 Plus: Press and hold the volume down and side (on/off) buttons together until you see the Apple logo.
Other iPhone models (iPhone 6, iPhone 6s, iPhone 5, iPhone 5s etc): Press and hold the side (on/off) and the home buttons together until the Apple logo appears.
If you are still having this issue, it is possible that you are having a hardware failure. You may want to contact Apple support.
See also: iPhone Proximity Sensor Not Working?