How To Delete Photo Albums On iPhone and Mac
This article explains how you can delete photo albums on your iPhone and Mac. Do you have too many albums that you want to delete some of them? Or if you have a lot of albums that you never open, then this article is for you.
The Photos app lets you organize pictures and videos you have taken or downloaded. You may want to organize your pictures with Albums. To do that, you can easily create albums. Third-party apps (e.g., Whatsapp, Instagram, Snapchat, Twitter, etc) may also create albums on your iPhone.
It seems that there is some confusion when it comes to managing albums, particularly, deleting photo albums. If you feel this way, then this article will help you. Deleting albums is a very simple process.
See also: How To Transfer Photos & Videos From iPhone & iPad To Computer (Mac or Windows)
How to delete iPhone albums on iPhone
Before we start, please note that:
If you sync via iCloud, albums are stored in iCloud and this means that deleting an album will delete the album from all of your devices.
The photo(s) within the album will not be deleted once you delete it. This means that you can delete albums without deleting photos.
There are some built-in albums, such as Camera Roll, Favorites, etc. You cannot delete these albums.
Follow the steps below to delete albums in the Photos app:
1. Open the Photos app on your iPhone.
2. Tap the Albums tab in the bar at the bottom of the screen.
3. Tap See All.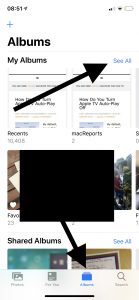 4. Tap Edit in the upper right-hand corner of the screen.
5. Find the Album you want to delete and tap the red (-) minus icon.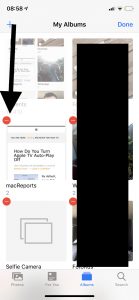 6. A menu will appear from the bottom of the screen asking you if you really want to delete the album. Tap Delete Album to confirm.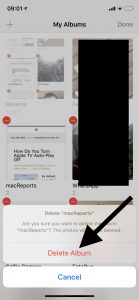 You can keep deleting albums by tapping the red minus icon, when you finish, tap Done.
See also: How To Remove Location Data When You Share Photos and Videos
How to delete photo albums on Mac
Do you also want to delete albums on your Mac? This is also an easy process. Here is how:
1. On your Mac, open Photos
2. Click My Albums from the left side menu to expand this section.
3. Find, select and then right-click (control-click) the album you wish to remove
4. From the menu that appears, click Delete Album.

That's it. You just deleted an album.