How to Fix macOS Sonoma Wallpaper Problems
Users are using X (formerly Twitter) and Apple Discussions to complain that they are unable to change the wallpaper on their Macs. You can switch up the desktop picture by selecting from Apple's array of images and colors or using your own pictures. You will need to go to the Apple menu > System Settings, then click Wallpaper in the sidebar to customize your wallpaper. If you notice that your wallpaper is not working as expected after upgrading to macOS Sonoma, you can fix it.
The wallpaper issues that users are reporting include but are not limited to:
Changing a new wallpaper does not stick, and the Mac still shows the default vineyard wallpaper.
Users are unable to use one of their photos as a wallpaper.
Changing the wallpaper is extremely slow.
Wallpapers do not show up.
Launchpad does not show any wallpaper.
Downloading wallpapers does not work; downloading them takes a lot of time.
If the wallpaper is missing on some screens
A common issue is that the selected wallpaper does not appear in some screens, such as in Launchpad, as shown below: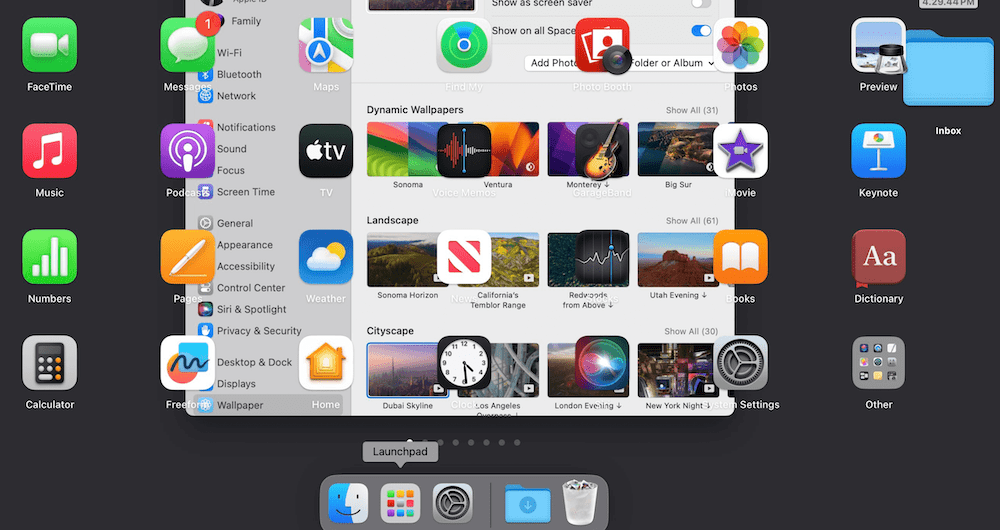 If you are having a similar issue, follow these steps:
Open Mission Control on your Mac. To do this:

Trackpad instructions: Swipe up with three fingers to enter and swipe down to exit. You can adjust or disable this gesture in Trackpad settings.
Keyboard instructions: Press the Mission Control key (or use the Control Strip) or press Control–Up Arrow to enter or leave Mission Control. You can modify the keyboard shortcut in Desktop & Dock settings.

Go to the top-right corner of the screen and then click the add (+) button to add a new virtual desktop.
At the top of your screen, move your cursor over the default desktop image (the one you had been using) and then click the (X) delete icon to delete it.
Restart your Mac
Restarting your Mac may fix your wallpaper problem. Restarting is always a good first step when troubleshooting. When you restart your Mac, macOS closes all running processes and applications, clears temporary files, and reloads the operating system. This helps resolve minor glitches, frees up system resources, and this may fix the wallpaper.
Open the Apple menu in the top-left corner of your screen.
From the dropdown menu, click Restart.
Wait for your Mac to restart, and then when it restarts, log in and see if the wallpaper problem has been resolved.
Use Safe Mode
Safe Mode on a Mac is a diagnostic mode designed to help troubleshoot issues with your computer such as this. Safe Mode performs certain system checks and prevents some software from automatically loading. Test the wallpaper issue in Safe Mode and then exit Safe Mode (by just restarting your Mac) and test the wallpaper again. Here is how to start your Mac in Safe Mode:
The first step is to determine what kind of Mac you have. Is it Intel or Apple Silicon? Go to the Apple menu > About This Mac to see your Mac type. Then follow the appropriate instructions below:
If you have an Intel Mac:

Turn off your Mac. Ensure that your Mac is completely powered off.
Turn on your Mac by pressing the power button and immediately press and hold the Shift key until you see the login window.
Then log in. You may be asked to log in twice; this is normal.

If you have an Apple silicon Mac:

Turn off your Mac.
Press and hold the power button until you see the Loading startup options screen.
Select your startup volume, usually Macintosh HD.
Press and hold the Shift key, then click Continue in Safe Mode.
Log in to your Mac.
Related articles