How To Organize Your Mac Desktop
A  lot of Mac users find that the desktop is a convenient place to store shortcut icons, files and folders. If you don't keep your desktop it organized, it can get quite cluttered really fast.
Not only the cluttered desktop will look messy but also it will overwhelm you.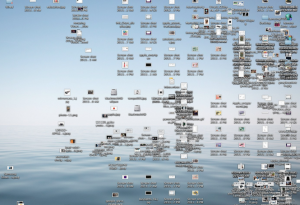 The purpose of this article is to teach you to make your desktop cleaner because it is important to have a clean and organized desktop:
The messy desktop will impact your productivity negatively
It may slow your Mac down and may cause freezing, this is because files and folders on your desktop use a lot more system resources.
See also: Screenshots Not Working On Mac, Fix
Use Stacks
You can now organize your desktop automatically with Stacks if your Mac is running macOS Mojave or later (e.g., Catalina). Stacks will organize your desktop instantly if you turn in on. Stacks put files and folders into stacks.  Here is how you can turn on Stacks on your Mac:
Go to Finder
Click View
Click Use Stacks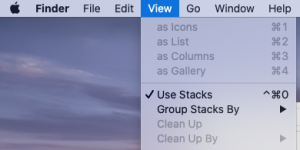 Or alternatively, on your desktop, right-click or control-click on your desktop and then click Use Stacks.
By default, once you turn this on, you Mac will create Stacks the group files by Kind. Everything will appear on the right side of your screen. However, you can change how these groups are stacked. Here is how:
Go to Finder and click View
Click Group Stacks By
There are many options, choose one.
The stacks options are:
Kind (default option)
Date last opened
Date added
Date modified
Date created
Tags (if you are already using tags to organize your desktop), see the next section below.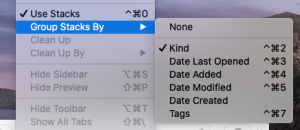 To view files in Stacks, just click the Stack and it will expand, then double click the file to open it, when you click again, it will collapse back down.
See also: Relocated Items Folder
Use tags
You can use tags to organize your files and folders on your Mac. There are several ways to tag a file or folder with colors or keywords. The easiest way to tag an item on your desktop, simply right-click (control-click) and find the Tags section and choose a color. Note that you can add multiple tags (colors) to any file or folder.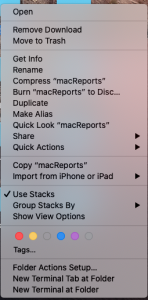 To remove a tag from a file or folder, again right-click (or control-click) and then click the tag that you want to remove. It will be unselected.
You can also customize your tags. You can add custom tags. Here is how you can do that:
Go to Finder
Click Finder (top menu bar)
Click Preferences
Click the Tags tab
Now you can add custom tags by clicking the plus (+) icon. Then you can drag the new tag to the favorite tags area so that you can use this new tag quickly when you want to. You can also use the minus (-) icon to remove tags. You can here edit the current tags also.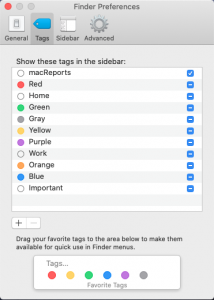 Use Finder Preferences
You may adjust your Finder preferences to organize your desktop. Go to Finder and click Finder > Preferences.  There are four types of preferences:
General: You can choose what items to be shown on the desktop
Tags: You may create custom tags
Sidebar: You can choose what items to be shown in the sidebar
There are also advanced options, like showing all file extensions etc.

Use iCloud
This will let you view your files and folders everywhere. Here is how:
On your Mac, click the Apple menu
Click System Preferences
Click Apple ID
Click iCloud
Find the iCloud Drive and click the Options button
Make sure that the Desktop & Documents Folders option is selected.
See also: Dock Not Working?