Relocated Items Folder, MacOS Catalina
So, you updated to macOS Catalina, and you realize that there is a new folder shortcut, named "Relocated Items", created by macOS on your desktop. And you are trying to figure out where this new folder came from and why it is there and what's in it. This article explains what you can do If you see a Relocated Items folder on your Mac.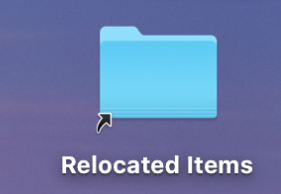 Relocated Items
macOS may create this folder during an update process. Basically, macOS reviews all of your files to ensure that your files are undamaged and some of them may be placed in this new folder. macOS may relocate some of your files that could not be handled by the update and macOS moved these files to this folder. If you open this folder, you will see a PDF file explaining the content of the folder. It is located in the Shared folder.
See also: Can't Accept Updated iCloud Terms & Conditions (macOS and iOS)?
Theoretically, this folder is supposed to include junk items that were found in the root folder. They aren't loaded. What we recommend is that carefully review the content of the folder. Do you have anything there you may want? For example, some users have said that their relocated items folder includes their entire photo library. If this is the case, do not delete this folder. Keep this file.
See also: Mac: This Item Is Temporarily Unavailable. Please Try Again Later
Deleting Relocated Items Folder
After examining, if you think there are items you may need, you may delete this folder. It can be deleted without messing up macOS.
You can delete it by dragging the item to the Trash in the Dock then empty the Trash.
Please note when deleting this folder, you may have some problems. You may get error messages saying something like "….can't be modified or deleted because it's required by macOS" or "The operation can't be completed because the item "…" is in use".  If you are getting a message like this while trying to delete this folder, you will need to turn off System Integrity Protection on your Mac (and you should turn in on again after). Here is how you can delete this folder.
Turn off your Mac
Turn off your Mac and immediately hold down Command-R
This will reboot your Mac into Recovery Mode
Click Utilities
Click Terminal
And enter the following command and hit enter:
csrutil disable
Now restart your Mac normally (without pressing any keys)
Now you can delete this folder and then empty trash. After this what you want to do is to re-enable System Integrity Protection which you really should.
Follow the same steps and reboot into Recovery Mode
Open Utilities and Terminal
And enter the following command and hit enter
csrutil enable
Then restart your Mac normally again without pressing any keys.