Mac Keeps Freezing? How To Fix
Does your Mac keep freezing and stop responding, randomly and unexpectedly? There can be a number of reasons that can cause your Mac to become unresponsive to any user input from the keyboard or mouse or to freeze altogether. By freezing, it is meant that nothing happens. Sometimes you may start having this problem after updating to the latest version of the macOS software.
This article explains what you can do when your Mac freezes and stops responding, meaning how you can unfreeze your Mac. This can be a big issue if this occurs frequently. If you are having this problem, then you can troubleshoot using the steps listed below. So what causes freezing? You should know this so that you can fix it.
If your computer is crashing, you may use Crash Reports to figure out why.
See also: macOS Messages Freezes or Crashes, Fix
Unfreeze your Mac
Before you do anything, give your Mac a few minutes to finish what it is doing. Your Mac may unfreeze itself if you wait a few minutes.
If your Mac freezes, an unresponsive app may cause your Mac freeze. You may have to force quit apps that are not responding to unfreeze your Mac. Here is how:
On your Mac press the Option, Command, and Esc (Escape) keys together
This will open the Force Quit window
Select the unresponsive app and then click Force Quit
Did your computer unfreeze?
If the force quit option does not work, try to restart your Mac by going to the Apple menu > Restart.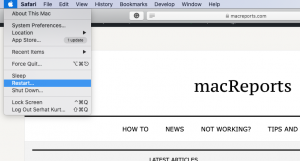 If this option does not work, you can force your Mac to restart by pressing and hold the power button until your Mac shuts off (note that you may lose any works that are not saved).
If your Mac freezes frequently, you should figure out why your Mac is freezing. Here are the most common mac slow and freeze reasons and fixes:
Software-related problems
Update your Mac. Make sure that your Mac is completely updated, this includes the third-party apps. Update macOS and all apps:
Go to the Apple menu > System Preferences > Software Update. If there is an update available, update your Mac.
Open the Mac App Store app > then click Updates (left menu) and click Update All
Furthermore, restart your Mac in safe mode for Symptoms.
Turn off your Mac
Turn on your Mac and immediately press and hold the Shift key
Keep holding the keys until you see the login screen, and then release the keys
Log in using your username and password, you may have to log in more than once.
Now your computer is in safe mode.
If the symptoms exist in safe mode, please continue the steps below.
Too many open apps
Another common cause is running out of free memory if you are running multiple apps at the same time. Furthermore, quit apps when you are done with them. To quit an app, click the App name and then click Quit App, for example, if you want to quit Safari:
Click safari
Click Quit Safari
You may also want to use Activity Monitor (Applications / Utilities) to find the apps and processes that are using a lot of resources. And then you may choose to quit them in Activity Monitor.
Not enough space
Your Mac can freeze if there isn't enough open space. To check your Mac's free hard drive space, go to the Apple menu > About This Mac > and click the Storage tab. Click the Manage button to optimize your storage. You may also consider emptying your Trash can. You may also use iCloud.
There are many tips that you can try to free up space on your Mac.
Overheating
One common reason is that it's overheating, especially if you are having this problem with a MacBook. Check air vents. Blocked air vents can cause not only performance issues but also system freezing problems. Check the vents on your Mac to see if they are blocked with dust or dirt. Make sure that vents are allowing heat and air to pass through so that your Mac does not overheat.
We previously wrote an article about the overheating problem. Please read this article.
Hardware-related problems
Run a diagnostic test. This test will help you determine if your Mac is experiencing a hardware problem. Here is how you can do the hardware/diagnostics test on your Mac:
Disconnected everything from your computer (except your mouse, keyboard, and display). Furthermore, make sure that your Mac is connected to a power outlet and is connected to the Internet.
Turn off your Mac
Turn on your Mac and immediately press the D key
Keep holding the D key until you see the language screen
Release the key when you see the language screen
Select your language and follow the onscreen instructions.
Did this test determine any problem?
Malware
Check for malware. Malware or malicious software (viruses, spyware, etc.) can cause your Mac to freeze or appear to hang. We previously wrote about these topics:
Cluttered desktop
A cluttered desktop can slow down and/or freeze your Mac. Organize your desktop. Delete files or folders that you do not need. macOS offers a feature for this called Stacks. Turn on Stacks on your Mac (if your Mac is running macOS Mojave or later). Here is how you can enable Stacks on your Mac:
Go to Finder
Click View (top menu bar)
And select Use Stacks
What Stacks does is that it groups your files and folders automatically based on their types.
If none of the above options work, you may want to contact Apple.