"HPDeviceMonitoring.framework" will damage your computer, Fix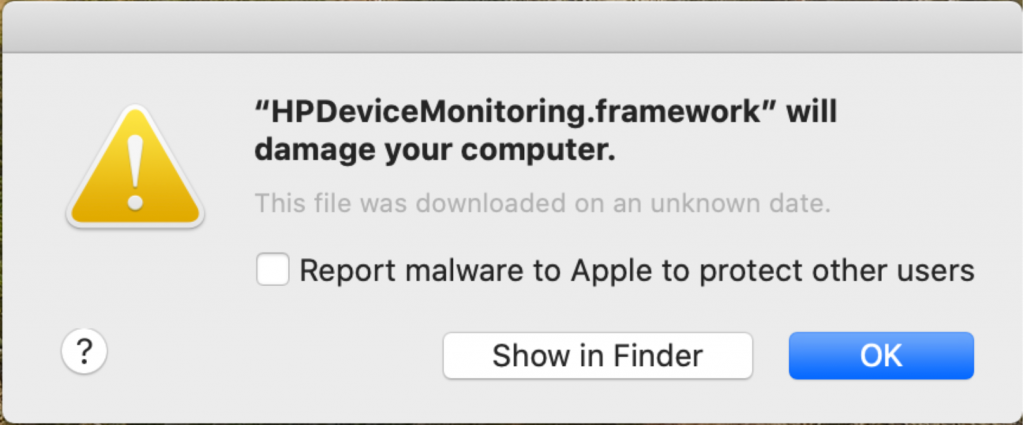 Users have reported this pop-up message appearing due to an HP printer driver certificate issue. Other possible messages related to this issue are:
Report malware to Apple…
One or more components of the HP printer software are corrupted or missing
'Filter' failed
Failed to open a connection to the device (-21345)
Software for "%@" failed to run. (-9927)
Can't open "/private/var/spool/cups/tmp/…"
Users with these pop-ups also cannot print to their HP printers. In this article, we will tell you what causes this problem and what you can do to fix it.
This error message comes from a Mac feature called Gatekeeper. Gatekeeper is designed to prevent untrusted software from running on your computer. When you download and install apps from the internet, macOS checks the Developer ID signature to make sure that the software is from an identified developer, and that the software has not been altered. If macOS detects a malicious app, you get an error message like: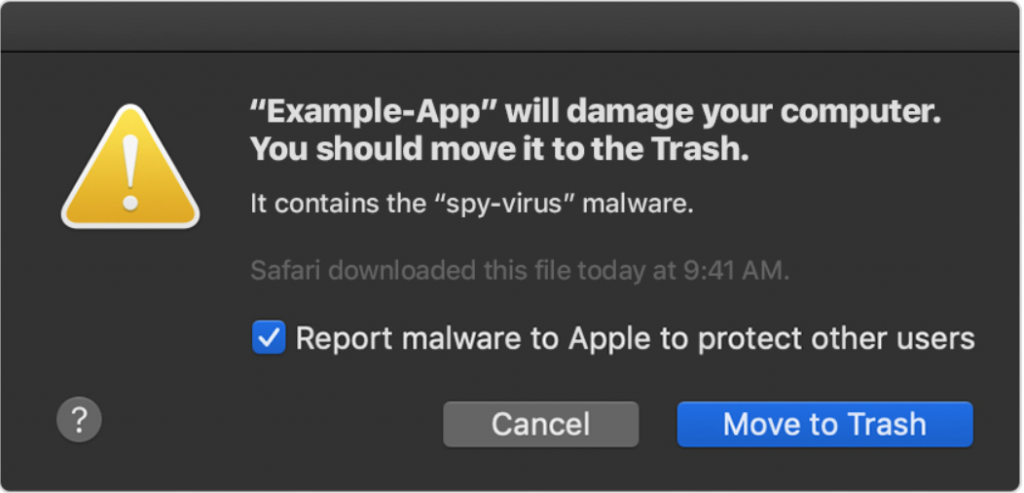 Gatekeeper performs online checks to see if third-party software contains malware or if the software developer has a current, valid signing certificate.
With the HP printer issue, it seems that, in late October, HP unintentionally revoked credentials on some drivers.
Fixes
To fix the problem, you can get rid of the bad drivers. You will remove the HP files from Library/Printers and delete the HP printer from your printer list. After that, you can either choose to use AirPrint if your printer supports it, or you can download and install new drivers for your printer.
See also: How To Uninstall Apps On Your Mac
Open Finder. Go to the menu bar at the top of your screen and select Go, then hold down the Option key and select Library.
In Library, find the Printers folder. Select the HP files in your Printers folder and move them to the Trash.
Open System Preferences and click on Printers & Scanners.
Highlight your HP printer, then click the minus (-) sign. Click Delete Printer.
Use AirPrint Instead
If your printer is AirPrint capable, you can uninstall the HP driver and use AirPrint instead.
In order to use AirPrint:
Make sure the printer is connected to the same wireless network as your Mac. You may need to refer to documentation for your printer model for information on connecting to Wi-Fi.
You should be able to print to your AirPrint printer by simply opening a document and choosing File > Print and then choosing your HP printer.
If you don't see your printer in the list, you can add it:

Go to System Preferences > Printers & Scanners. Click the plus (+) button.
Wait a minute for your printer to appear in the list. Select your printer, then click Add.
If your printer did not show in the list of printers available on your local network, see: No AirPrint Printers Found, Fix.
For more information on setting up AirPrint, see Print wirelessly from your Mac to an AirPrint printer. You may also find help on using AirPrint at HP's support site, support.hp.com.
Install Drivers
There are a couple of options for installing new drivers for your HP printer. Before installing drivers, you should make sure your Mac has the latest software updates by going to System Preferences > Software Update.
Let macOS Find Drivers
The first option involves simply connecting your printer to your Mac via USB and letting macOS detect the printer and install the driver it finds for you.
Connect your printer to your Mac with the appropriate USB cable.
You should see a pop-up asking if you would like to install software for your HP printer. Select Install.
Download Drivers from Apple or HP
Depending on your printer model, you may be able to download printer drivers from Apple or from HP. If your printer is from pre-2017 you can download HP Printer Drivers v5.1 for OS X. Otherwise, go to HP's site at support.hp.com and search for your printer model to find the driver.
For More Help
If you are still having trouble, you can reset your Mac printing system. This will remove all of your printers, scanners and faxes from your system and run some checks on the system.
For more help on this issue, you can go to Apple's support page on this topic where you will find a link to HP's support page. There, you can download an uninstaller for your HP software, and find more details on locating your printer driver.
Recent Articles: