How To Use Bedtime On iPhone and iPad, The Complete Guide
Like children, having a regular bedtime has a lot of health benefits for adults. For example, poor sleep can also increase the risk of anxiety, memory loss, obesity, high blood pressure, and diabetes. It is very important that you maintain consistent bedtimes and sleep routines. This is in fact very easy. Just set up your alarm clock (a) to go to bed at the same time every night and (b) to wake up at the same time each day, including weekends. This may seem difficult to do for a lot of people.
See also: iPhone Alarm Clock Not Working, Fix
Thankfully, your iPhone and iPad can help you maintain consistent sleep patterns. Your iPhone can also track your sleep and wake times. This will increase your understanding of your sleep patterns. The Bedtime feature in the Clock app can help you have a regular bedtime. This article explains how you can use Bedtime in the Clock app on your iPhone or iPad.
See also: What Does Alarm Clock Icon On An App Mean (iPad)?
What Bedtime does
When you set up Bedtime:
You will be reminded to go to bed.
Automatically sets alarms for you to wake you up.
You can track your sleep history.
Do Not Disturb will be enabled when you are supposed to be in bed. You can disable this if needed.
Track Time will be enabled. This will check if and when you use your iPhone during the night. This can also be disabled if wanted.
You can monitor your sleep history in the Health app.
See also: How to Make the iPhone Alarm Volume Louder
How to set up a bedtime
Follow the steps below:
1. On your device, open the Clock app. Then tap the Bedtime tab. If this is the first time you are opening this, you will see a welcome screen saying "Consistent sleep is better sleep. Schedule your wake up alarm, bedtime, and bedtime reminders on your iPhone. You can also track your time in bed and choose the sound you'll wake up to." Tap Set Up.
2. The next screens will help you choose your settings. You can always change these settings later. First, you will be asked to set your wake up time. Choose a time and tap Next.
3. The next screen will ask you to choose your alarm. Then tap Next.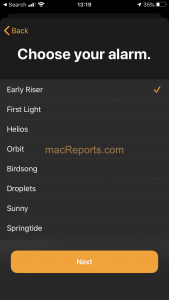 4. The next screen will ask you to enter you a bed time. And tap Next.
5. And finally, you will be asked to enter your bedtime schedule days. What days you want this. It is important to point out that the more consistent means the better sleep. Tab Next and Done.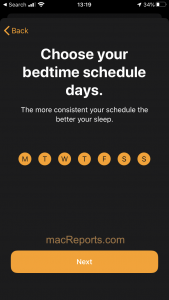 How to turn off and on Bedtime
This is very easy. You can turn off or on Bedtime easily anytime you want. Here is how:
1. Open the Clock app and tap Bedtime.
2. Tab Bedtime or Wake Up.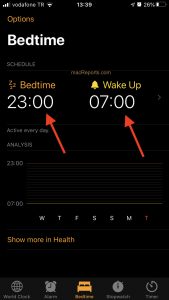 3. Then turn off or on Bedtime Schedule. This will turn off or on Bedtime.
Other Bedtime settings
You can change all of your settings. Here is how:
To change your bedtime or wake up time, open the Clock app, and tap Bedtime. Then tap Bedtime or Wake Up. You will see a big, dial like, clock icon. You can drag the moon icon to adjust your bedtime and you can drag the bell icon to change your wakeup time. You can also adjust the days of the week. Orange days are the ones that are active.
To see your sleep stats, open the Clock app, and tap Bedtime. Then tap Show More in Health.
To change other settings, open Clock and tap Bedtime and tap Options (top-left corner). There a few settings you can adjust:
You can adjust your bedtime reminder. An alarm will go off right when you should be going to bed, or with a few minutes' notice.
You can turn off or on Track Time in Bed.
You can turn off or on Do Not Disturb During Bedtime. If you turn this off, the calls or messages will not be silenced.
You can adjust the alarm level.
You can also change your wake up sound.