iMessage Read Receipts, How To Enable Or Disable On iPhone, iPad, and Mac
A read receipt confirms that your iMessage was opened. There may be scenarios where you may not want to send read receipts. There are two gray/blue status messages that will appear under each iMessage you send:
Delivered. This means that the message was successfully delivered to your recipient's phone.
Read. The recipient has opened (presumably read) your message. This read message will appear only if the recipient has his or her read receipts turned on. This note will also include the time you read the message.
See also: iMessage Frequently Asked Questions
Read receipts are not going to work if you or your recipients are using a non-Apple device. Unless this is turned off, iMessage delivers read reports that say a contact you have read the message you have received. Several people want to turn this feature is off because this feature will let someone know that you view the messages he or she send but not necessarily respond in a timely manner.
You can turn on or off read receipts on your iPhone or iPad from the settings menu. You can also change this setting on your Mac. Additionally, you can turn this off or on for specific contacts or across the board. This article details how you can do this.
When this feature is enabled, people will see when you've read their messages. When this feature is disabled, messages you send will only show up as "Delivered," not "Read" and the people will not know when or if you read their message.
See also: Messages Read Receipts Not Working, Fix
Please also note that, like iMessage, many other messaging services such as WhatsApp, Facebook Messenger, Instagram, support read receipts.
How to enable or disable read receipts for all conversations
Follow the steps below. This will enable or disable read receipts for all messages. In other words, this will enable or disable this for everyone who texts you.
iPhone or iPad
Open Settings.
Tap Messages.
Scroll down and find the "Send Read Receipts" option.
Toggle this option on or off depending on what you prefer.
Mac
On your Mac, open the Messages app.
In Messages, choose Messages > Preferences, then click the iMessage tab.
And then check or uncheck the "Send read receipts" box.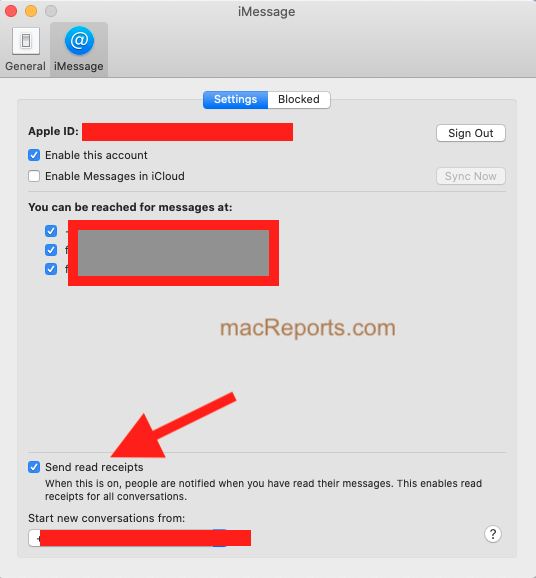 See also: iMessage Effects Not Working (iOS), Fix
How to enable or disable on a per-contact basis
These steps will enable or disable on a person-by-person basis. In other words, this will enable or disable this for select people. This way you can control which contact knows when their texts have been opened and read. This will override your per-account setting.
iPhone or iPad
Open Messages.
Open a text conversation with a person for whom you want to disable or enable read receipts.
Tap the info button on the top right corner.
Then you can turn off or on the switch for Send Read Receipts.
See also: How To Turn Off iMessage On Your Mac
Mac
Open the Messages app on your Mac.
Open the message conversation in question.
In the top right corner, you will see Details. Click it.
Select or unselect Send Read Receipts.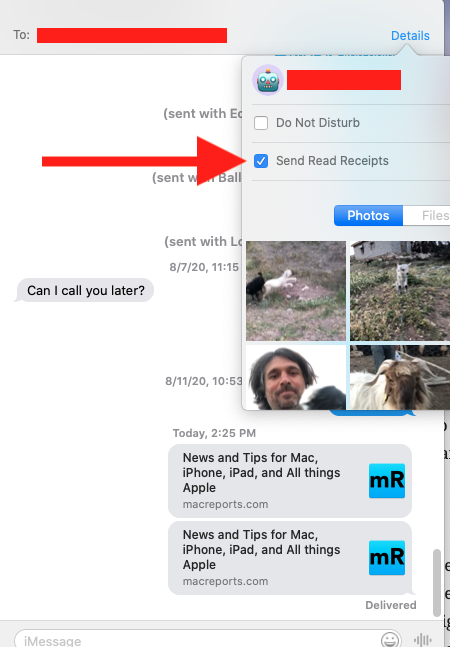 See also: iMessage Not Working? How to Fix