What Exactly Is Thunderbolt and How Is It Different From USB-C?
If you own a Mac, you have probably heard of Thunderbolt. But what is a Thunderbolt port or Thunderbolt cable, and how are they different from a regular USB-C port or cable? Many people are confused about what it means for something to be Thunderbolt. In this article, we'll explain what Thunderbolt is, how it is different from USB-C, and what that means for using various ports, cables, monitors and other accessories with your Mac.
What is Thunderbolt?
A basic definition of Thunderbolt
Thunderbolt is the name of a brand. Thunderbolt interfaces are used in Apple products, such as Macs, where you will find Thunderbolt ports. These ports are capable of transmitting multiple signal types through one cable, including PCI Express (PCIe), Display Port (DP) and power.
A little history
Thunderbolt was developed by Intel and Apple and first used in 2011. There have been five versions of Thunderbolt. Here are the years that the different versions of Thunderbolt have been used in Macs:
Thunderbolt 1: 2011-2014
Thunderbolt 2: 2013-2017
Thunderbolt 3: 2016-2022
Thunderbolt 4: 2021-present
Thunderbolt 5: Set to show up in some computers and accessories in 2024
Your Mac may have Thunderbolt ports, USB-C ports or a combination. It is not always possible to identify them by looking at them, so you can check out Identify the ports on your Mac for help.
What you need to know about Thunderbolt
Thunderbolts 1 and 2 used the Mini Display Port (MDP) connection type.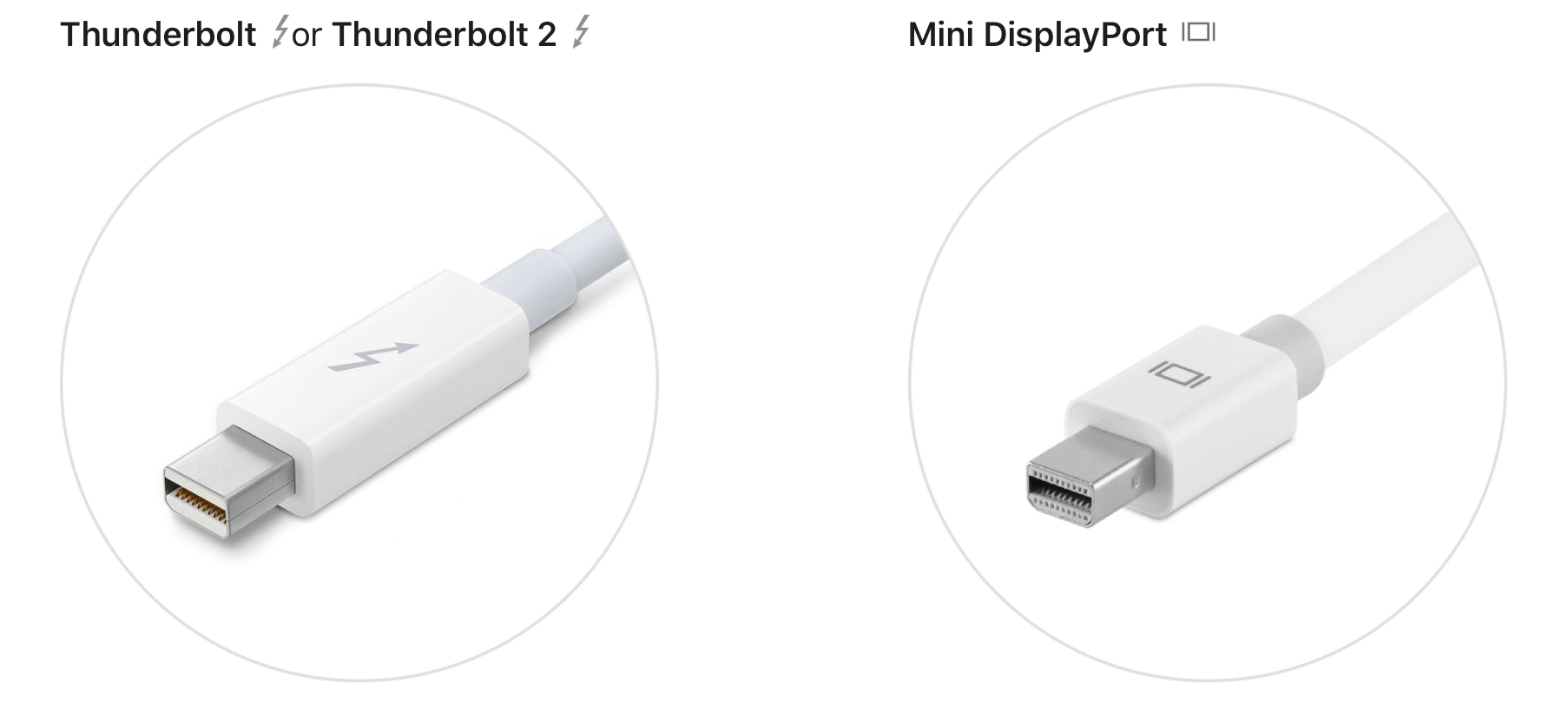 Thunderbolts 3, 4, and 5 use a USB-C style connection. It is for this reason that many users do not realize that there is a difference between USB-C and Thunderbolt.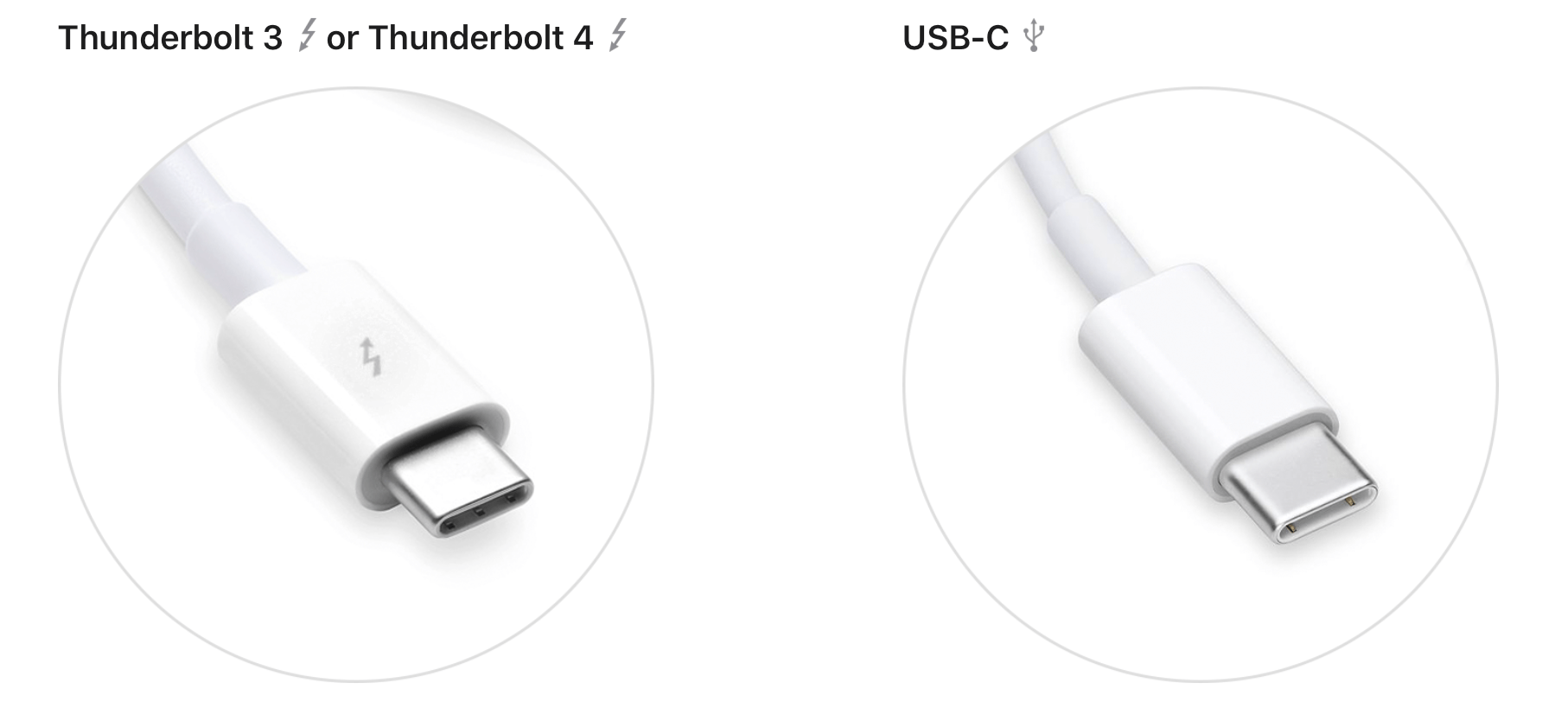 The different versions of Thunderbolt use different protocol versions (PCIe, DP) and are capable of different data transfer speeds.
One of the main differences between Thunderbolt 3 and 4 is that Thunderbolt 4 must be capable of supporting two 4k monitors (or one 8k), while Thunderbolt 3 is only required to support one.
For example, many M1/M2 MacBooks (Thunderbolt 3) are only capable of using one external monitor. Although, you can work around this and set up more than one.
Thunderbolt vs USB-C
Well, USB-C and Thunderbolt 3 and 4 ports look exactly alike, although you can sometimes find a little lightning bolt symbol to indicate a Thunderbolt port. However, they aren't always labeled in such a way that helps you tell them apart. Essentially, Thunderbolt 3 and 4 use a USB-C connection type, but the capabilities are different. Generally speaking, USB-C doesn't mean much other than to describe the type of connection. Thunderbolt 3 and 4 ports must meet certain speed and video signal requirements.
What you need to know
If you need to connect a device that transmits data or especially a video signal, you will need to make sure you are using a cable with those capabilities. There are many USB-C cables out there, but they will not all do everything you would like them to.
External displays: USB-C cables need not support external displays. There are many that are only meant for charging or data transfer. If you are purchasing a cable to connect an external display, look for a reputable brand and indication that the cable will handle video signals. You can choose a Thunderbolt 3 or 4 cable, depending on your needs. If you choose a non-Thunderbolt cable, the details should specify what resolution and refresh rate the cable supports, such as 4k 60Hz.
External drives: If you often need to transfer large amounts of data from external drives, you will want that drive and the cable you use to support fast transfer speeds. Thunderbolt 3 and 4 can transfer at 40Gbps. If you are just connecting a basic external drive for backups, the speed may not matter much, and you can use a less expensive cable.
Related articles