How to Use Schooltime for Apple Watch (It isn't Just for Kids)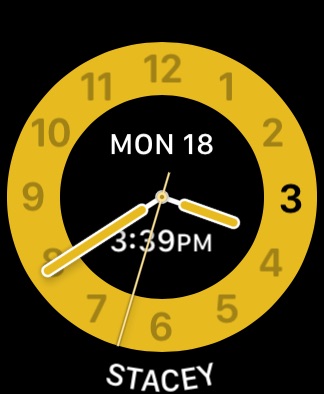 The Schooltime feature on Apple Watch is designed to limit your child's watch usage based on a schedule you enter when you set up Schooltime. Schooltime helps with focus by turning off Apple Watch features that can be distracting. With Schooltime on, apps and notifications are blocked. Enabling Schooltime also automatically enables Do Not Disturb. The watch face you see, like the one in the picture above, only tells you the time and the date… and the watch owner's name, in case they forget. For adults, rather than running during a prescheduled time, the Schooltime feature is accessible from the Control Center.
In order to use Schooltime on Apple Watch, you will need:
watchOS 7 or later, if you are using Schooltime on your own watch.
An Apple Watch set up with Family Setup, if you are using Schooltime on your child's watch.
How to Set Up Schooltime (on your Child's Watch)
How to Set a Schooltime Schedule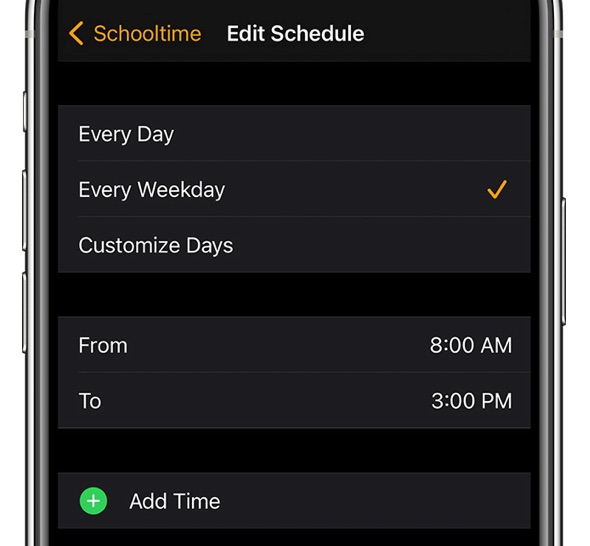 On your iPhone, open the Watch app and tap on All Watches on the top-left. Choose your child's watch and tap Done.
Tap on Schooltime.
Tap to turn on Schooltime, then tap on Edit Schedule.
You can schedule Schooltime for Every Day, Every Weekday or you can choose Customize Days and pick which days of the week you want to use Schooltime.
Choose the From and To times. If you would like more than one block of time for your Schooltime schedule, tap on Add Time to add another block of time.
How to Exit Schooltime (Temporarily)
For a child's watch, they can exit the Schooltime mode and do other things, like check a message, with their watch. After they are finished, Schooltime will resume automatically. To temporarily exit Schooltime:
Turn the Digital Crown.
Tap Exit.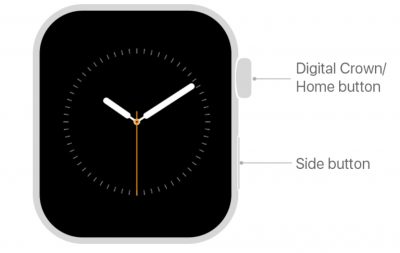 View Schooltime Reports
Reports are available for the parents; They show when Schooltime was exited, and for how long. To check the reports:
Open the Watch app on your iPhone.
Tap on All Watches, then select your child's watch.
Tap on Schooltime.
You can also view the reports from your child's watch by going to Settings > Schooltime.
Schooltime on your own Apple Watch
For adults, you can use Schooltime on your own watch to help you focus. With Schooltime enabled, your notifications will be silenced, so you can use Schooltime mode as an alternative to Do Not Disturb. When Schooltime is enabled, Do Not Disturb is automatically turned on, both on your Apple Watch and on your iPhone. To use Schooltime:
Add the Schooltime button to your watch. First, open the Control Center on your Apple Watch by swiping up from the bottom of the screen.
Scroll down until you see Edit. Tap Edit. Tap to Add the Schooltime button, then tap Done.
After you have the Schooltime button in your watch's Control Center, you can turn on Schooltime whenever you like by tapping the button. When you want to exit Schooltime, turn the Digital Crown and tap Exit. You can also turn off Do Not Disturb from your iPhone, and this will cancel Schooltime on your Apple Watch.
Related Articles: