Does your iPhone's Screen Keep Dimming? How to Fix
Several users have reported that the iPhone's brightness keeps dimming on its own. your iPhone's screen is designed to adapt to different lighting conditions. Your iPhone has an ambient light sensor. This sensor detects the light conditions around you and automatically adjusts your display if auto-brightness is enabled, which is on by default. However, users have said that their device's screen randomly and unexpectedly goes dim for several minutes for no reason. This article explains what you can do if the dimming feature is not working as expected on your iPhone.
Please note that your iPhone is designed to get dim under certain conditions. For example, your screen will dim, if your iPhone gets too warm.
See also: Apple Watch Always On Display Not Working? Fix
1. Attention Aware Features
Some iPhone models support Attention Aware features. iPhone X and later models have this feature. If you turn on this feature, your iPhone will not dim your display, if you are looking at your screen. If your screen dims while looking at your device, this may mean that this feature may be disabled. Or maybe you had previously turned this off and you forgot about it. On your iPhone, tap Settings > Face ID & Passcode, scroll down and turn on or off Attention Aware Features.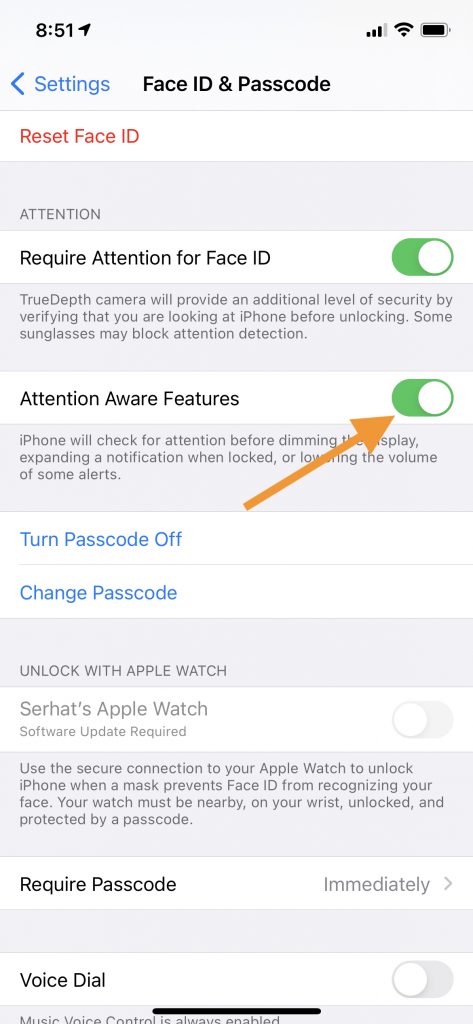 2. Test the ambient light sensor
Let's first check to see if the ambient light sensor is working or not on your iPhone. This is simple. Here is how:
First, on your iPhone, go to Settings > Accessibility > Display & Text Size and scroll down and ensure that Auto-Brightness is on.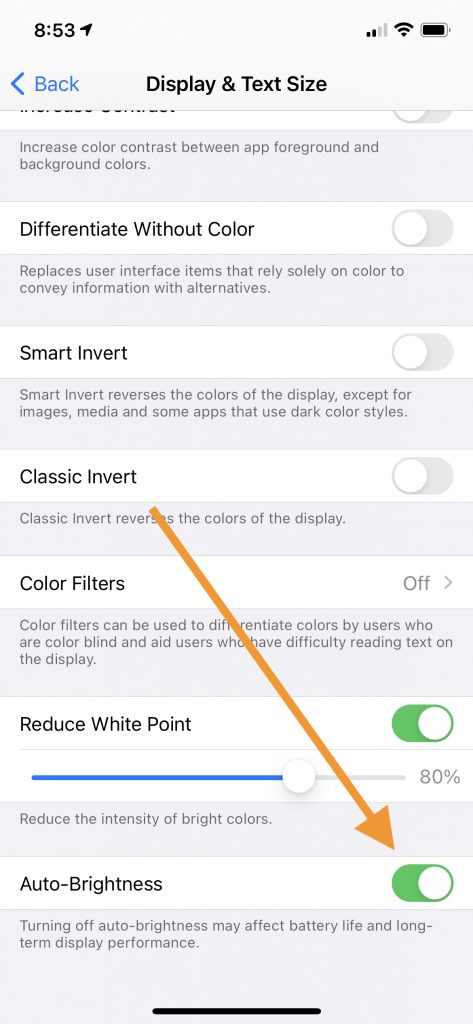 Now go to Settings > Display & Brightness. Find the brightness section and closely watch the brightness slider. Now, go to a dark room and then go to a brighter room. The slider should move automatically, and the screen brightness will go down and up. Does this happen? If yes, then your ambient light sensor is working. If not, then you may have a hardware issue. You may want to make a reservation with a Genius to get this fixed, if nothing else helps you after trying the tips in this article.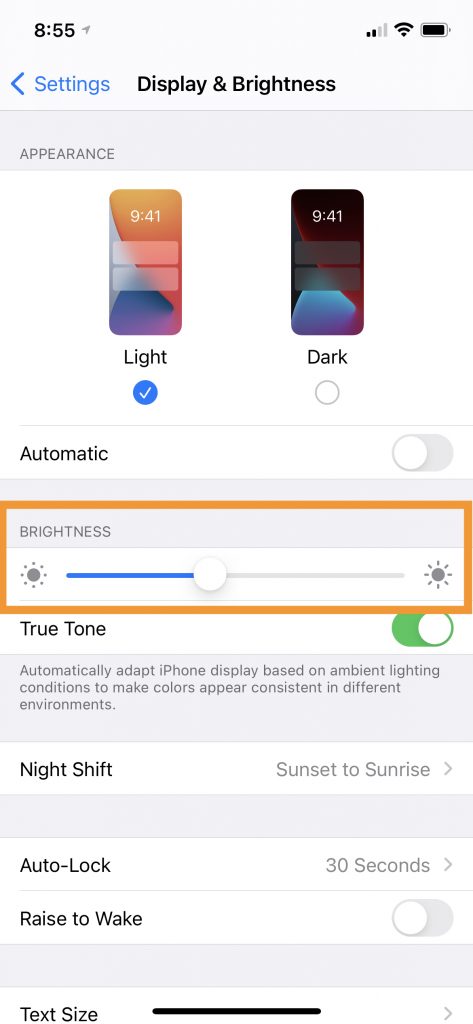 3. Clear the ambient light sensor
One of the reasons you may be having this problem is because the sensor may not be able to detect the amount of ambient light. This may be because it is blocked by dust, a case, or a cover on your screen. The sensor is invisible and located near the iPhone's speaker. Ensure that your screen is clean. Remove your case and screen protector and then test your problem again. Please ensure that nothing (dust, debris, water, etc) can interfere with the sensor.
4. Turn off automatic dimming
If you do not want your device to automatically dim, turn off Auto-Brightness and True Tone. Here is how:
Go to Settings > Accessibility > Displays & Text Size > and turn on Auto-Brightness.
Go to Settings > Display & Brightness and turn off True Tone.
If you do not want to turn off Auto-Brightness but if you think that the auto-brightness feature is not working because your iPhone dims the screen completely, you may want to reset the auto-brightness setting. This is easy. Simply turn Auto-Brightness off, then restart your device, and then turn it on. This will reset it.
5. Restart
Simply restart your iPhone. Here is how you can restart your iPhone:
iPhone X and later: Press and hold the volume up (or down) and the side buttons together until the power off screen appears. Then drag the slider. Wait for your iPhone to turn off fully. Then press and hold the side button until the Apple logo appears.
Other iPhone models: Press and hold the power button (side or top) until you see the power-off screen. Then slide the slider. Wait for your device to turn off. Press and hold the power button again to turn it on.
6. Update
Ensure that your iPhone has the latest version of iOS. You can update your phone by going to Settings > General > Software Update.
7. Reset all settings
If you are still having this problem, try resetting all settings. This will erase all of the settings, returning them to the defaults. This will not delete your data such as your photos, apps, etc. To reset all settings, go to Settings > General > Reset > Reset All Settings. Then follow the onscreen instructions.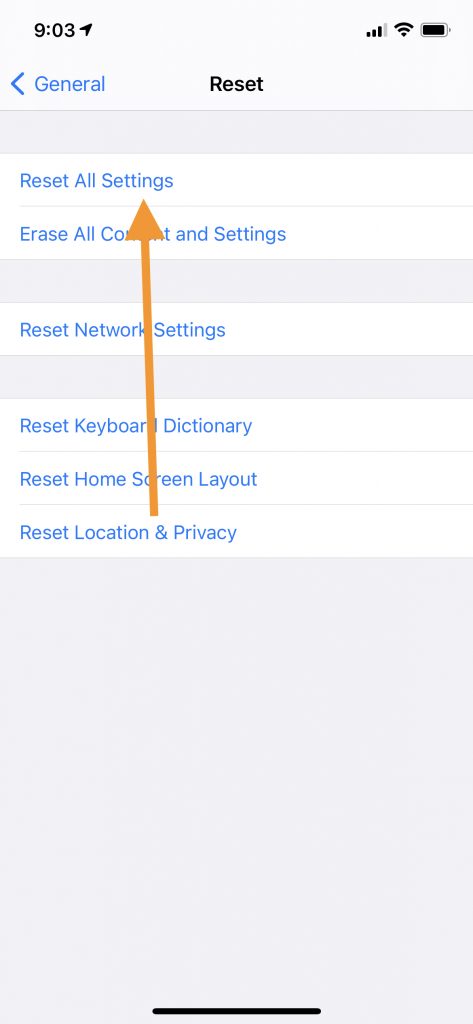 See also: