Fix Bluetooth Problems in macOS Catalina
This article explains what you can do if Bluetooth isn't working as expected on your Mac. Sometimes you may have issues while trying to connect to a Bluetooth device (keyboard, mouse, trackpad, headset, and other audio peripherals). These problems include:
Bluetooth connection problems
Bluetooth is unavailable
Pairing Bluetooth devices fail
Bluetooth stops working after a macOS update is downloaded and installed
You can use Bluetooth to connect devices to your Mac wirelessly. If you encounter problems, you will not be able to use your devices properly. When it stops working, there could be multiple reasons why. There could be hardware or software problems.
We previously wrote an article about troubleshooting various Mac Bluetooth problems. You can also read this article. This article is tailored more toward macOS Catalina.
Bluetooth not working? Try these fixes:
Please try the steps below. Make sure to check your Mac after each step to see if Bluetooth start working.
If you are having Wi-Fi problems, read this article.
1. Make sure that Bluetooth is enabled. On your Mac, click the Apple menu > System Preferences > Bluetooth and, if it says "Bluetooth: Off" then click the "Turn Bluetooth On" button. Alternatively, you can also do this by clicking on the Bluetooth icon in the Menu bar at the top of the screen. Also, you can ask Siri: Say something like: "Turn Bluetooth on."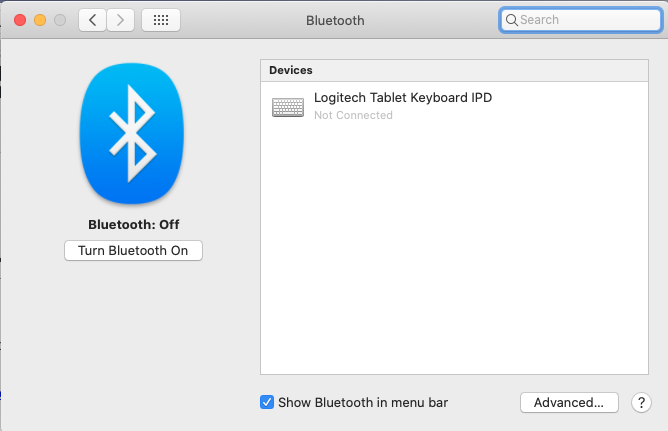 2. Ensure your Bluetooth device is turned on and discoverable. Make sure that your device has Bluetooth capabilities. Also, check that your device is charged or has batteries. And lastly, make sure that your device is in the range of the Mac you want to connect to.
3. On your Mac, try turning Bluetooth off and on. Click the Bluetooth status icon in the menu bar and then click Turn Bluetooth Off. Then wait a few seconds and turn it back on. As stated above, if the Bluetooth icon does not appear in the menu bar, then go to the Apple menu > System Preferences, choose Bluetooth, then select the "Show Bluetooth in menu bar" box.
4. Restart your Mac and your Bluetooth device. To restart your Mac, click the Apple menu and then select Restart. And then power off your Bluetooth device, wait a few seconds, and turn it back on.
5. Check for a macOS update. You can do so by going to the Apple menu > System Preferences > Software Update. If there is an update available, update your Mac.
6. You may want to reset NVRAM or PRAM on your Mac. Here is how:
Turn off your Mac.
Turn on your Mac and immediately press and hold the Option, Command, P, and R keys together.
Keep holding these four keys for about 20 seconds.
Then release the keys.
7. You may be having issues because of corrupted files. Removing the corrupted files may fix your problem. Here is how:
On your Mac, go to Finder.
Click "Go" in Menu Bar and "Go to Folder.
A window will pop up. Copy and paste /Library/Preferences and click Go.
A new window will pop up. Find the com.apple.Bluetooth.plist file and drag this to the Trash.
Now again go to Finder, click Go and Go to Folder and copy and paste ~/Library/Preferences/ByHost click Go.
Locate this file: com.apple.Bluetooth.xxxxxxxxxx (xxxxx=random letters or numbers)
And drag this to the Trash.
Now restart your Mac. Do not worry your Mac will automatically recreate these files.
8. If you are still having issues, you may want to reset your Mac's Bluetooth module. Here is how:
On your Mac, press and hold the Shift + Option (Alt) keys together.
While you pressing the keys, click the Bluetooth icon in the top-right corner of the macOS Catalina menu bar. (if you do not see the Bluetooth icon, go to System Preferences > Bluetooth and select "Show Bluetooth in menu bar.").
 This will reveal a new menu. Click Debug.
And now click Reset the Bluetooth module.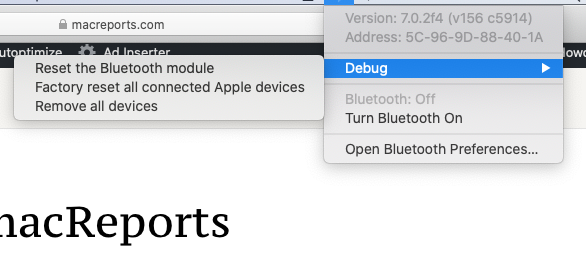 And now restart your Mac.
If resetting the module does not work and if you are having this problem with an Apple-branded device, you can easily factory reset them. What this will do is to reset back to the default settings. If you want to do this click the Factory reset all connected Apple devices button in the Debug menu.
Your Bluetooth device should start working again. If nothing above fixed your problem, then it is time to contact Apple support.
See also: Can't Turn On Bluetooth?