How to Send a Starbucks Gift Card by Text Message
You can send electronic Starbucks gift cards to other iOS or Android users via text messages. This article shows how you can do that in the Messages app. You can use this method to send Starbucks gift cards (also called Starbucks eGift Card) to your friends and family members in only a few steps. This is called Starbucks Gifts in iMessage.
Send Starbucks Gifts
Follow these steps:
1. On your iPhone or iPad, download the Starbucks app by going to the App Store if it is not already installed.
2. Open the Messages app and start a conversation or open an existing conversation. Please note that you cannot send a Starbucks gift card in group texts.
3. Once you've opened or started a text conversation with the person you want to send the gift card to, tap the Applications icon next to the text box. And this will open the Applications toolbar.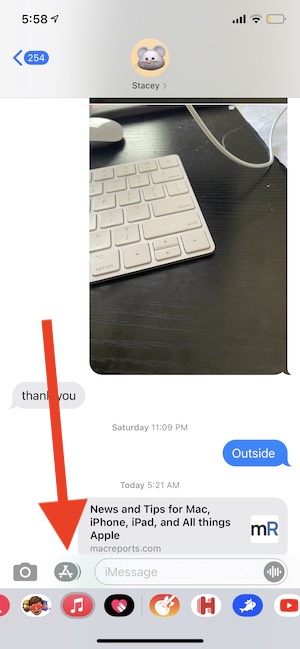 4. In the toolbar (this is also called the app drawer), select the Starbucks Gifts icon. You may want to scroll across until you find the icon. And tap the icon.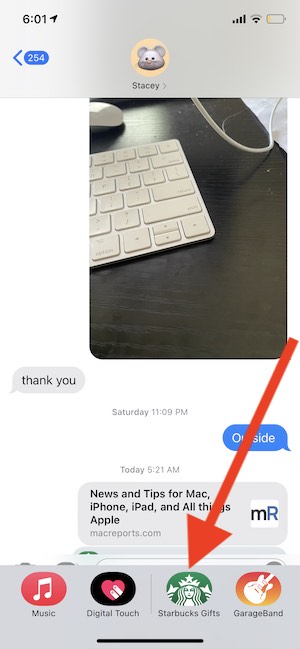 Please note that if you are unable to find the Starbucks Gifts icon, from the app drawer, then swipe left and tap the more (the three-dot icon) icon and tap Edit (in the upper-left corner) and find Starbucks Gifs and ensure that it is enabled.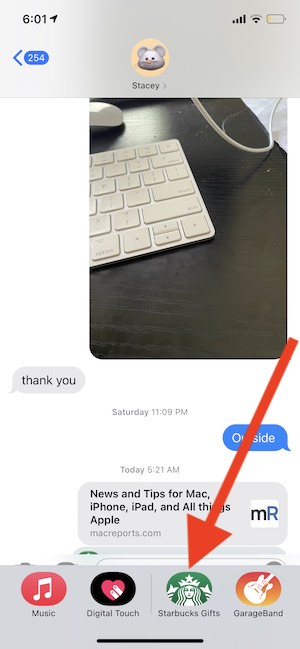 5. You will see a lot of styles of Starbucks gift cards. Select one when you find the style you want. You can scroll up or down to see more designs. There are many designs enabling you to choose to perfect card that matches the occasion.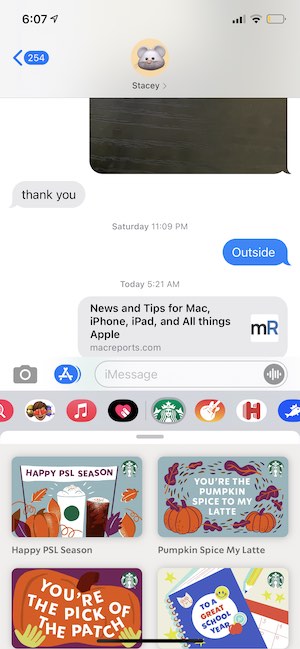 6. Select an amount. You can load $5, $10, or $25 and tap Buy.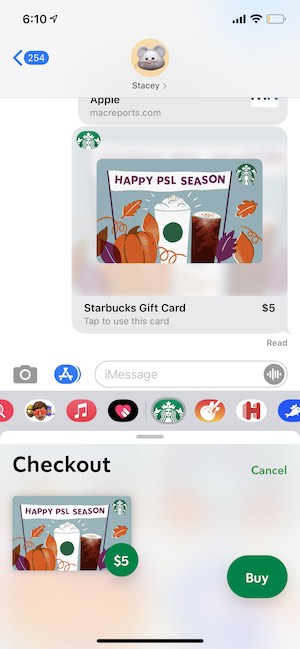 7. Then confirm your payment with Face ID, Touch ID, or your passcode. You can also add a comment if you want.
8. And you are done. The recipient will see the gift card within their text messages. The recipient will receive the selected Gift card icon saying "Tap to use this card". When the recipient taps this, the Starbucks app will open. If she or he does not have the app, tapping will open the App Store so she or he can download the app.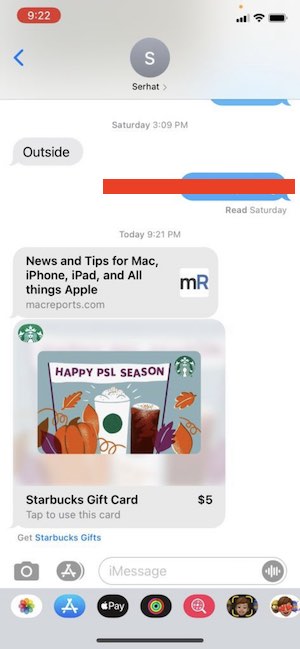 However, if the recipient is not an iPhone user, she or he will still receive the gift card. But instead of the gift card icon, she or he will receive a URL linking to the gift card. They can open the URL and use the card.
You will also receive an email (your Apple ID email) from Starbucks regarding the details of your order. It will also include your order number. You can use this order number if you need help and want to contact Starbucks regarding the order.
On your credit card statement, this will appear as STARBUCKS CARD EGIFT.
See also: