Netflix Error Code S7336 on Mac, Fix
Several Mac users have reported an issue where Netflix stops playing and it says "Pardon the interruption
Looks like there's an issue with your display. Please make sure your monitor is HDCP compliant and isn't mirrored using AirPlay. Contact Apple Support for more information. Error code S7336″
It appears that users are experiencing this problem when they want to watch Netflix on the Mac computer by visiting Netflix.com using Safari. Some users have said that they see this error message when they watch Netflix on an external monitor connected to their Mac computers.
Try the steps below if you are having this problem too on your computer.
1. Try these steps first
Please follow these tips first, especially if you have an external monitor:
As the error message indicates, your external monitor is HDCP compliant.
And ensure that your cable is supported.
Force quit Safari and try again (Apple menu > Force Quit > Safari > Force Quit).
Ensure that your monitor is correctly connected to your Mac.
Try these steps in this order:

Disconnect your external monitor.
Quit Safari and then open Safari.
Open Netflix and start playing your movie or show.
Then re-connect your external display.

If you are trying to use Netflix in Private Browsing mode, close it and open a regular Safari window and try again (Safari > File > New Window).
Restart your Mac in Safe Mode. Test your problem in Safe Mode. Exit Safe Mode and then test your problem again.
2. Restart
Simply restart your Mac. You can do so by going to the Apple menu > Restart. And then open Safari and try watching Netflix.
3. Update Safari
Ensure that you are running the latest versions of Safari. When you update the macOS software, Safari will also be updated. In other words, when you update macOS, all of the macOS apps, including Safari, will be updated. You can check for updates by going to System Preferences > Software Update. And if there is an update available, follow the onscreen instructions.
4. Delete Safari Netflix data
Follow the steps below, this will clear Netflix data from Safari:
In Safari, click Safari > Preferences.
Click the Privacy tab.
Click the Manage Website Data button.
In the search field, type Netflix.
Then select Netflix.com and click Remove.
Then Quit Safari and then open it.
Try to watch Netflix again.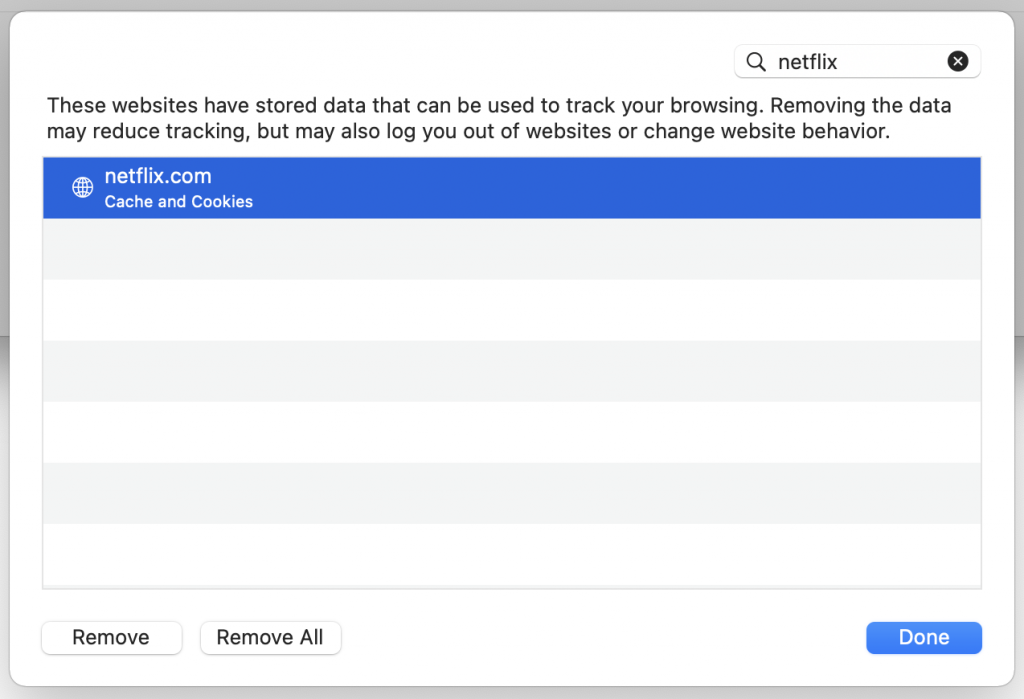 5. Delete Netflix Database
If you are still having this problem, try to delete the indexedDB files. Here is how:
Quit Safari (Safari > Quit Safari).
In Finder, open the Library folder:

Press and hold the Option key.
Then while the Option key is pressed, click Go and Library.

Find and open the Safari folder.
Click the Databases folder.
Click the ___IndexedDB folder.
Then find all Netflix items and drag them to the trash. You can use the search function.
Then empty the Trash.
Open Safari and try again.
6. More steps
If you are having this problem still, then you have the following options to fix it:
See also: