Messages Not Delivered to Groups If There is an Android User in Them, Fix
You can send an SMS message to more than one person. This is called group messaging. Some iPhone users have said that text and iMessages are not delivered to group members if one or more of the recipients are Android users.
On iPhones, group messages work in a way that if all group members are Apple device users with iMessage enabled, group texts are sent as iMessages. If a member is a non-Apple device (e.g., Android) user or is using an Apple device with iMessage turned off, messages are sent as SMS or MMS texts. SMS messages are shown in green bubbles instead of the blue bubbles.
If your group consists of Android members and you are experiencing this issue, you may get a Message Failed to Send error. Here is what you can do.
Basic checks
Android messages are sent through carriers as SMS or MMS. Thus, if you want to send or receive SMS or MMS messages, they need to be enabled on your iPhone. Ensure that they are enabled on your iPhone by going to Settings > Messages. Ensure that Send as SMS, MMS Messaging and Group Messaging are turned on. If they are already enabled, turn them off and then on again.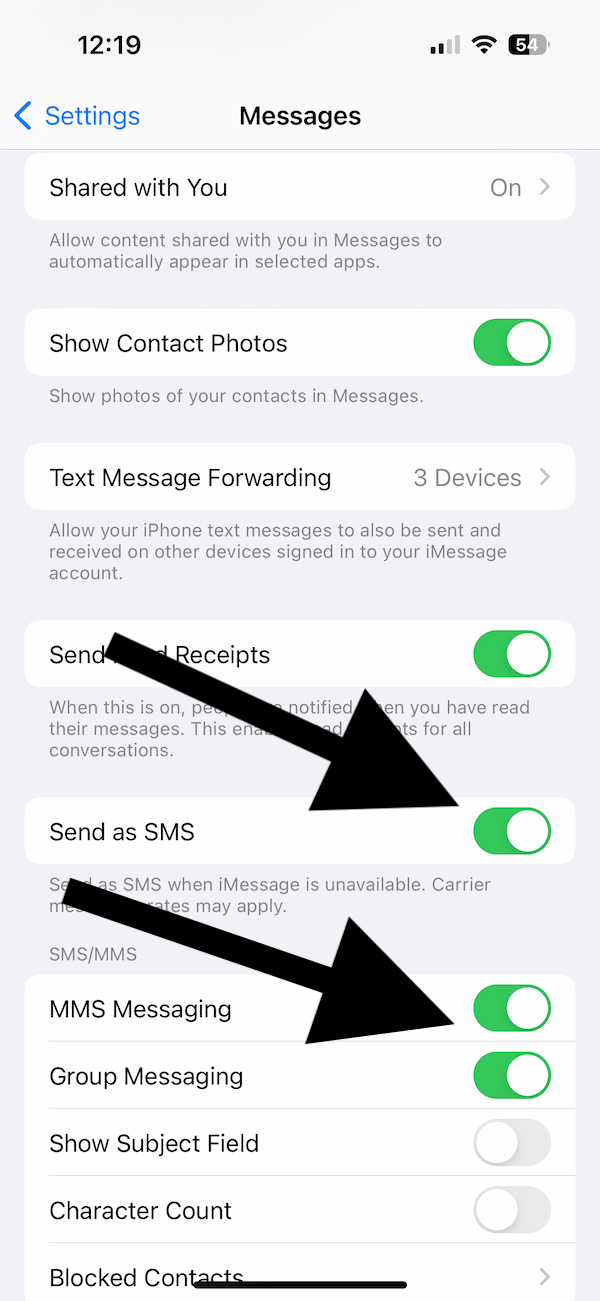 Ensure that your iPhone is updated to the latest version of iOS. You can check if there is an update by going to Settings > General > Software Update.
Turn on Airplane Mode, wait 30 seconds and turn it off.
Restart your iPhone.
Ensure that your carrier settings are up to date. On your iPhone, go to Settings > General > About. If there is a carrier settings update, you will see a prompt asking you to update. Follow the onscreen instructions to complete the update.
You may want to delete the group conversation and try again. Here is how you can delete it:

Open the Messages app.
Open the Group thread you are having this issue.
Swipe left over it.
Tap Delete.

Check your blocked list to ensure that the Android user is not blocked. To do this, go to Settings > Phone > Blocked Contacts.
VPN may cause this problem. Disable and Delete the VPN profile to see if the VPN service is causing this issue.
Check your carrier
SMS and MMS texts are carrier services. So the root of the problem may be the carrier. Possible issues include:
You can block people on your iPhone, but there is also carrier-level blocking. Check if any of the contacts are blocked at the carrier level.
Your carrier may have a temporary outage affecting the delivery of text messages. If this is the case, your carrier will be able to tell you the estimated time for fixing the issue.
You can enable or disable SMS or MMS messaging on your iPhone. Likewise, a similar setting may also be available for the carrier too. Contact your carrier to see if SMS or MMS messaging is allowed.
Some Verizon users have said that they fixed this issue by following these steps:

Log in to your Verizon account.
Then go to Account from the top of the screen, then select My Plan and Blocks.
Select Block Services.
Turn on Block Picture and Video Messaging.
Save your change.
Then wait a few minutes.
Then repeat the same steps and turn off Block Picture and Video Messaging.
Related articles