FaceTime Call Won't End? Fix
Is your iOS device (iPad or iPhone) stuck on FaceTime call ending? Does it keep saying "FaceTime Ending…" (see the image below). If your device becomes stuck and unresponsive when you attempt to end a FaceTime call, do not worry you are not alone. It seems that a lot of users are having this issue. It further seems that especially iPhone X users are experiencing this problem. This problem is especially frustrating because your device will not respond until the FaceTime call ends.
See also: FaceTime calling issues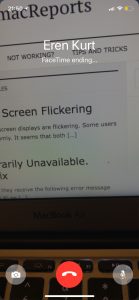 A lot of people use FaceTime to make video and audio calls. In fact, I use FaceTime daily. I use it because it is easy to use and it is reliable. This short article explains what you can do to troubleshoot if your faceTime call won't end. Please try the following tips:
See also: FaceTime Green Screen?
Remove the FaceTime app from your Home Screen and then restore. Here is how:Tap and hold the FaceTime app until it jiggles and then press the (x) icon and then tap Delete. Do not worry, you will still be able to use FaceTime. After deleting, go to the App Store, search FaceTime and download and install it again.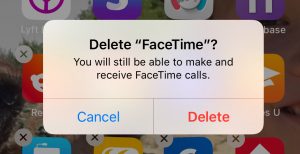 Hopefully, one of the tips above will help you resolve your problem. If now and if you are still having problems, you may want to chat with Apple support, or make a genius reservation.