Do Not Disturb Not Working on Mac, Fix
Several users have reported that Do Not Disturb is not working properly on the Mac. It appears that users may experience one or both of the problems below:
Do Not Disturb does not silence Mac notifications
Unable turn on or off Do Not Disturb
The Do Not Disturb setting turns on or off itself
With Do Not Disturb, you can limit interruptions and stay focused on your priorities on your Mac. It is a great feature. If it is not working as expected, notifications may steal your attention.
Please make sure to check your Mac after each step to see if Do Not Disturb starts working again.
Before continuing, please ensure that your Mac has the latest version of macOS. You can check for updates by going to System Preferences > Software Update.
Restart Notification Center
The first thing you should try is to restart Notification Center to see if this helps. There are two different ways to do this.
1. Use Activity Monitor
Open Activity Monitor on your Mac (Applications > Utilities). You can use Spotlight too to launch it.
Use the search field (upper right corner) to find the Notification Center process.
Then select it and click the Quit button, then choose Quit.
Notification Center will restart.
2. Use Terminal
You can also use the Terminal app to do this. Here is how:
Open the Terminal app (Applications > Utilities). You can also use Spotlight to open the app.
Enter the following command and hit Return.
killall NotificationCenter
Test to see if your problem is fixed or not.
Restart Control Center
If restarting Notification Center does not fix your problem, try restarting Control Center. You can again use the same methods.
1. Use Activity Monitor
Open Activity Monitor. (see this article if Activity Monitor is not working)
This time use the search field and find the "Control Center" process.
Select and quit it.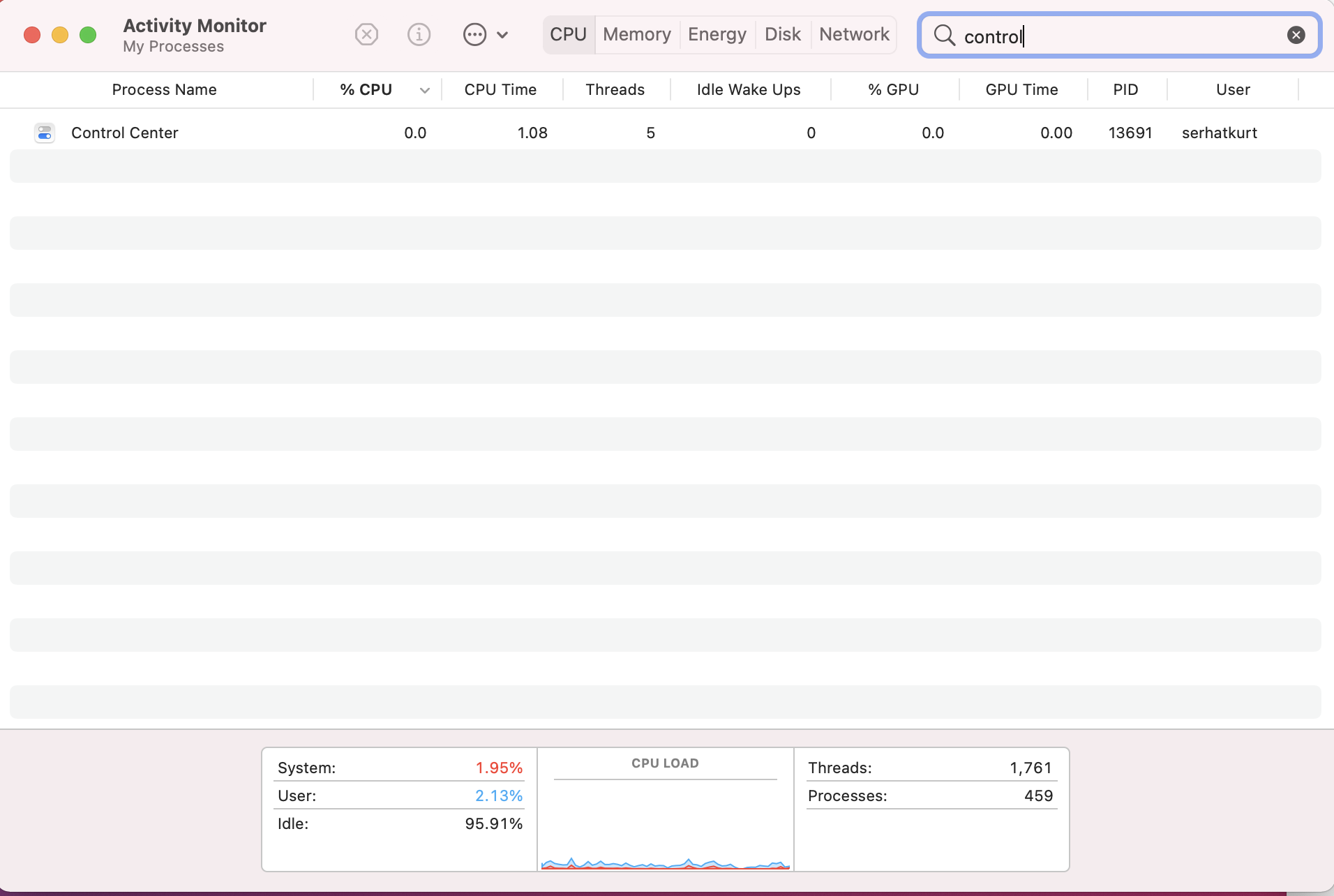 2. Use Terminal
Open Terminal on your Mac.
Type the following command and press return:
killall ControlCenter
Safe Mode
If your problem is not resolved, restart your Mac in Safe Mode to see if this fixes Do Not Disturb. Here is how:
Start your Mac in Safe Mode. The process differs depending on the type of Mac you have: Intel-based Mac or Apple silicon. If you do not know, go to the Apple menu > About This Mac > Overview and the Processor line will tell you this.:

Intel Macs: Turn off your Mac. Ensure that your Mac is completely turned off. Then turn on your Mac and immediately press and hold the Shift key until you see the login screen and then login.
Apple processor Macs: Turn off your Mac. Press and hold the power button until you see the startup options screen. Select your startup disk. Then press and hold the Shift key and select Continue in Safe Mode.

Once you are in Safe Mode, test your problem. Does Do Not Disturb is working now?
Now exit Safe Mode. Simply restart your Mac and do not press any keys.
Test your problem again.
See also: