Netflix Network Error Says Wi-Fi Only, How to Fix
Netflix has tons of shows and movies to watch. Since it is a streaming service, it requires an Internet connection to work. Of course, you can also download and watch shows later when you have no connection. Most of us watch Netflix on a TV or other device using a Wi-Fi connection instead of over cellular. This is because Netflix may use a lot of data. How much data you use depends on two things:
How often you watch something on Netflix.
The video quality of movies or shows you are watching. You can customize the video quality. Higher quality, like high-definition, means more data.
According to Netflix, it may use up to 7 GB of data per hour or more. You can watch Netflix on your iPhone or iPad using the Netflix app over Wi-Fi or cellular. I recently attempted to watch a Netflix show on my iPhone, but I could not due to a network error; see the screenshot below. This was because, by default, Netflix is disabled and won't play when you are connected to the Internet over cellular. Some data plans come with a data cap. If you are in a plan like that, using Netflix, or similar streaming services, may not be a good idea for you. You may end up having to pay extreme overage fees. If needed, you can also manage and limit your cellular usage by changing your device settings.
If you are not worried about using too much data and you wish to watch Netflix over cellular, you can. However, you may see a message saying, "Network Error – You have selected to playback on Wi-Fi only. Go to App Settings to change. (40101)" In this article, I explain how you can change your settings so that you can watch Netflix over cellular on your iPhone or iPad.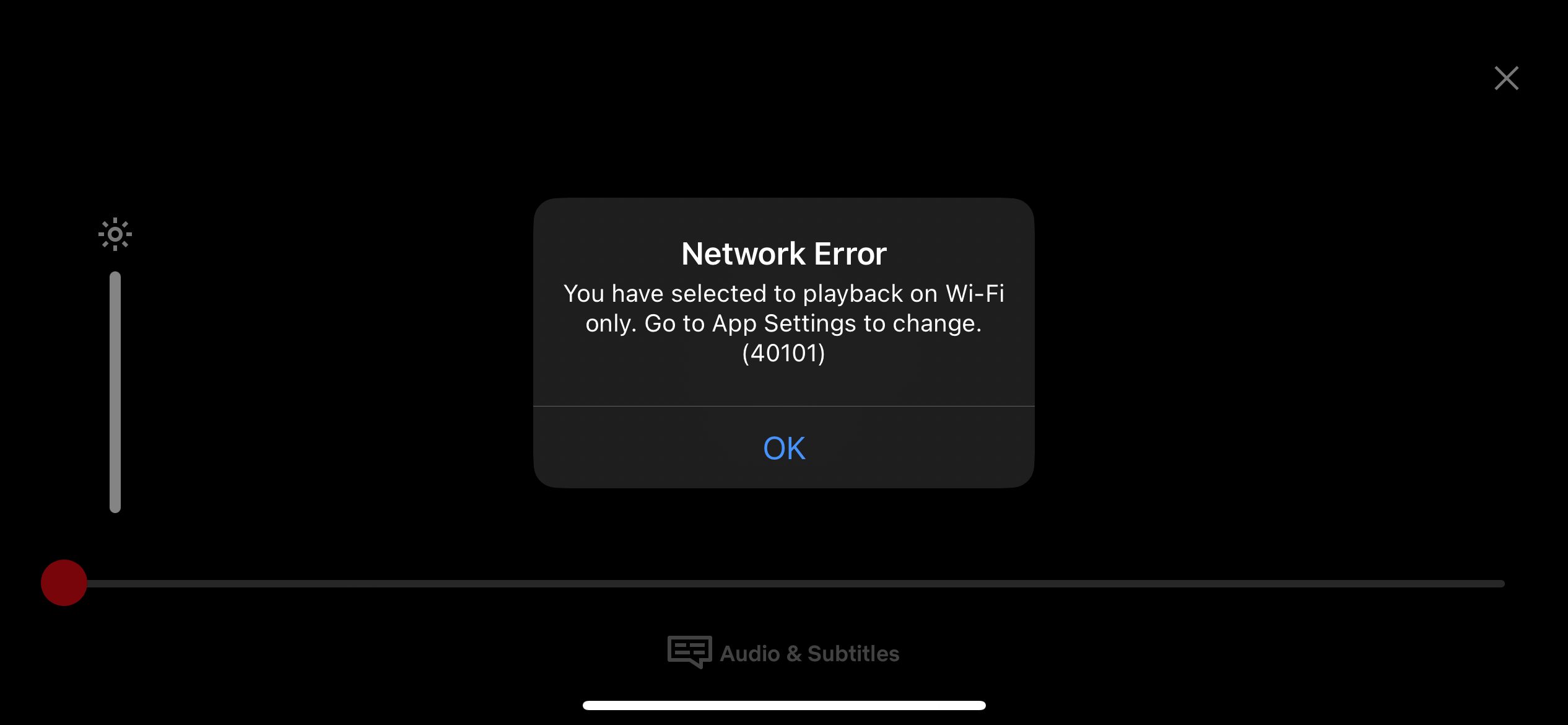 Change playback settings on iPhone or iPad
Follow these steps to change the playback settings on your device:
Open the Netflix app on your iPhone or iPad.
Tap your username under "Who's Watching?" if you have multiple profiles.
Tap your profile icon, located at the top-right corner of your screen.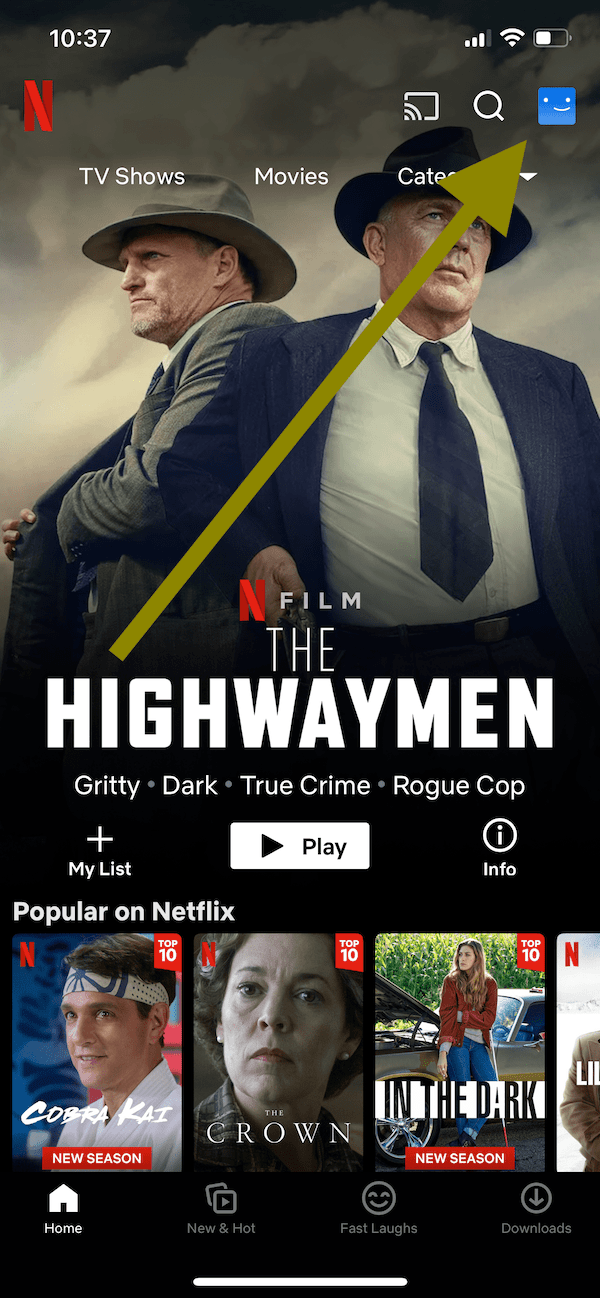 Tap App Settings.
Tap Cellular Data Usage under Video Playback.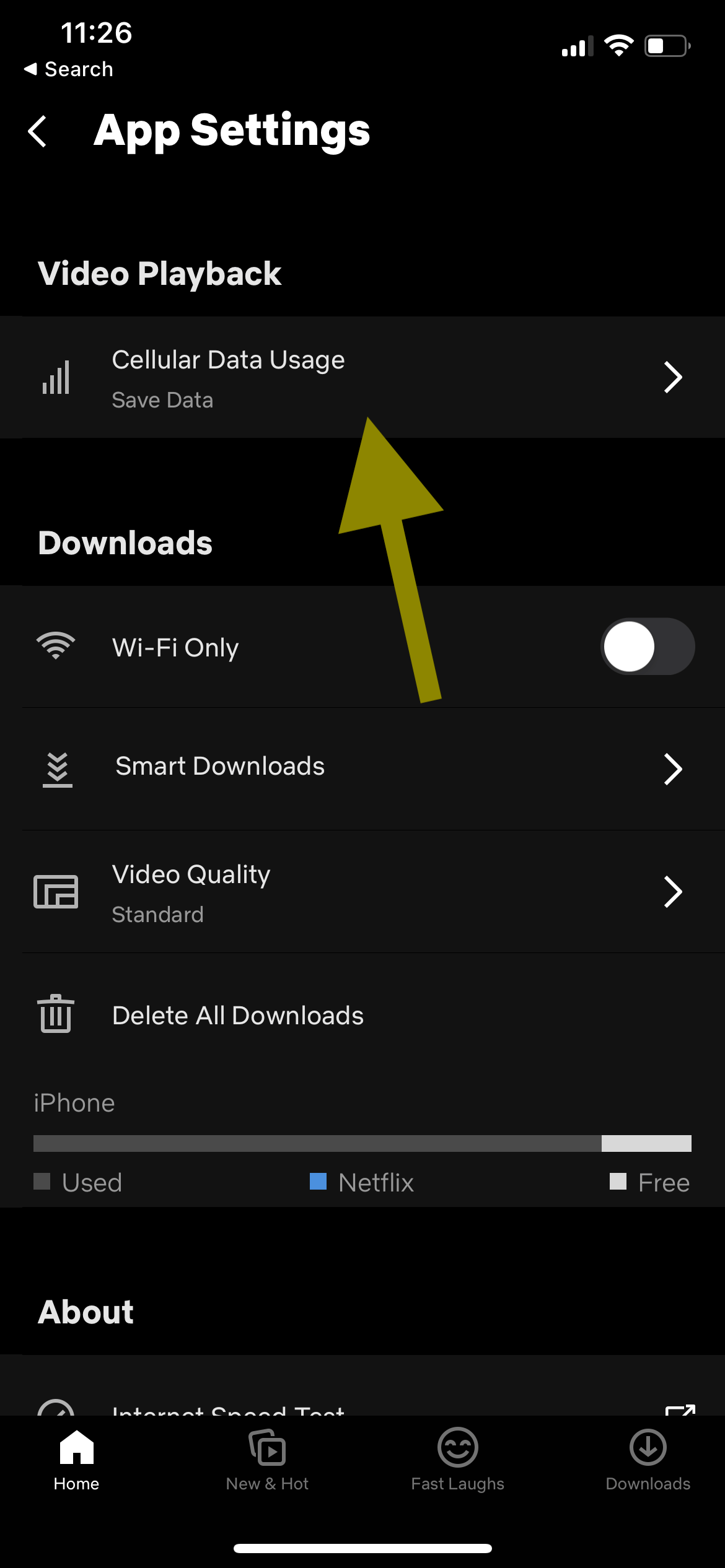 On the Cellular Data Usage screen, you will see four options:

Automatic: This is the only toggle button. If you turn this on, the other options will be disabled. This will let Netflix automatically set the video quality. According to Netflix, under this setting, Netflix consumes about 4 GB per hour. This will allow Netflix to work on Wi-Fi or cellular.
Wi-Fi Only: If you select this option, Netflix won't work when your phone is only connected to a cellular network. You should choose this if your cellular data plan is limited to a certain number of GBs. A good option for you to avoid overage charges, then, would be to download the shows or movies you want to watch while connected to Wi-Fi, then watch them later when you have no Wi-Fi and are offline.
Save Data: This can be an ideal option. Netflix will work when your device has a Wi-Fi connection or a cellular-data connection. This will use about 6 GB of data per hour. This is the option I choose.
Maximum Data: If you select this, you will be able to watch Netflix in the highest possible video quality, whether connected to cellular or Wi-Fi. This also means that this option uses the most data. This option may even use up your home Wi-Fi if you watch a lot of Netflix because many of them are not really unlimited, as they claim.
I should note that similar settings are available for downloads. You can allow or disallow Netflix downloads over cellular. To do this:
Open Netflix.
Tap your Profile photo and tap App Settings.
Under the Downloads section, turn on or off the Wi-Fi Only option. You can also customize the video quality. There are two options to choose from: Standard or Higher.
Related articles