AirPrint not Working: No AirPrint Printers Found Error, Fix
Are you having AirPrint problems? Several users have said that their printers do not show up and they get the error message saying "No AirPrint Printers Found" when they attempt to print documents or photos from the Mac, iPhone, or iPad. This error message occurs when your Apple device is unable to find your printer. You may also start experiencing this problem after a software update.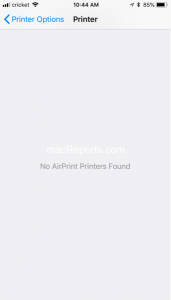 This guide will help you troubleshoot the most common AirPrint problems. More specifically, the focus of this article is on resolving the "No AirPrint Printers Found" issue. It can be a big problem for you if your printer won't print a document. With AirPrint, you can print from your iOS, iPadOS, or macOS device without installing drivers.
The steps below are in order. After trying each step below, try to print again to see if you've fixed your issue.
Basic checks
Before you proceed with any of the fixes on this list below, check the following:
Please make sure that your printer is connected to the same Wi-Fi network as your iPhone, iPad, or Mac.
Make sure that your printer has toner installed or enough ink.
Make sure that your printer is turned on. Some printers may take several minutes before it can print after you turn it on.
Make sure that your printer and your device are within range.
Make sure that your iPhone, iPad, or Mac is using the latest version of iOS, iPadOS, or macOS.

iOS or iPadOS: Go to Settings > General > Software Update.
macOS: System Preferences > Software Update. This is if you are using macOS Mojave or later. If you are using an earlier version of the macOS software, then you will need to open the App Store on your Mac to update.

Check with your printer's manufacturer to see if any firmware updates are available, if there are, update your printer.
Check with your router's vendor to see if any updates are available. If there are, update the firmware on your router. Most routers let you update it with a web browser.
Make sure that your printer has paper.
Make sure that your printer supports AirPrint. You can see the full list of AirPrint devices on Apple's website. Furthermore, some printers may have additional settings to turn off or on Airprint. Make sure that AirPrint is enabled on your printer. What you can do is to check your printer's documentation or contact the printer manufacturer for additional assistance.
Restart everything
Restart everything to see if this can help you:
Restart your printer. You can restart your printer easily: Unplug it, wait for one minute and then replug it.
Restart your Wi-Fi router. Unplug the power cord, wait for one minute and then replug.
Reconnect
Try to forget your WiFi network and then reconnect. This is a helpful step when you are having Wi-Fi problems. Here is how:
iPhone or iPad
Tap Settings.
Tap Wi-Fi.
Tap the (i) icon next to the Wi-Fi network you want your iPhone or iPad to forget. You will also see the blue check icon on the left.
And tap Forget This Network. A popup will appear saying "Forget Wi-Fi Network "macReports"? Your device and other devices using iCloud keychain will no longer join this Wi-Fi network". Tap the red Forget button.
Then reconnect again. Go to Settings > Wi-Fi and tap the name of the network and enter the password to connect.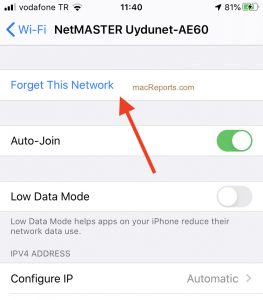 See also: Your iPhone Won't Connect to Wi-Fi? What To Do
Mac
Choose System Preferences from the Apple menu.
Click Network.
From the list on the left, click Wi-Fi.
Click the Advanced button. And click the Wi-Fi pane. This will list your preferred connections.
Select a Wi-Fi connection that you want to forget.
Then click the remove (-) icon to forget. Click again Remove.
Then click OK and then Apply.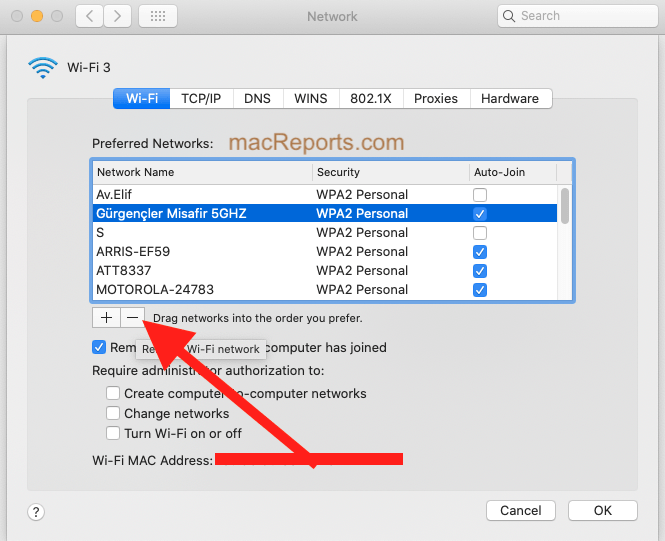 See also: Mac Wi-Fi Connected But No Internet Access
2.4 GHz and 5.0 GHz
Most routers support 2.4 GHz and 5 GHz Wi-Fi. But not all AirPrint printers may support both frequencies. The main difference is that while 2.4 GHz offers internet to a larger area, 5 GHz provides faster internet speeds to a smaller area. Most printers can only connect to the 2.4 GHz wireless band. Your printer will not see or connect to the router 5 GHz band.
Stick your wireless printer on 2.4 GHz. Some routers provide different network names (SSIDs) for each frequency. If this is the case, connect your printer to the 2.4 GHz band.
Reset the printing system
You can do this if you are having this problem with your Mac. This will reset all of your printers. You will need to re-add your printers. Follow the steps below:
Choose System Preferences from the Apple menu.
Click Printers & Scanners.
You will see a list of your printers.
Press and hold the Control key and then click in the list area.
This will reveal a menu. Select "Reset printing system".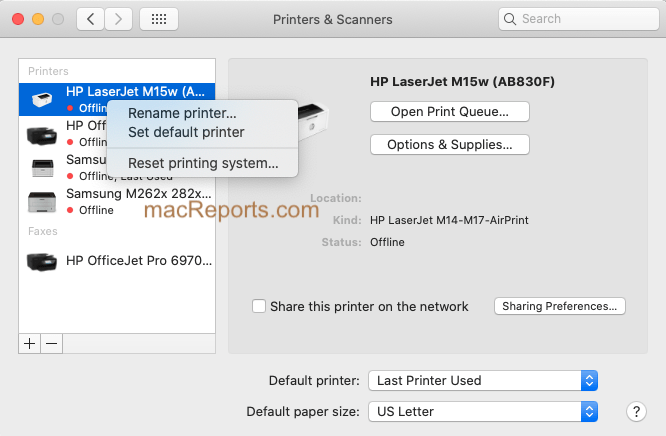 See also: ColorSync Not Working on Mac, Fix