There Is a Billing Problem with a Previous Purchase, How to Fix
You may be promoted with a popup message about a billing problem with a previous purchase. This message indicates that you have an unpaid balance. Unless you pay this balance, you won't be able to make purchases, download free apps, or use subscriptions. This includes anything that you buy from Apple, like from the App Store, iTunes Store, Apple Music, Games, Apple media and more. In this article, I will explain how you can fix this problem by showing you various ways to close your unpaid orders.
Why does this issue occur?
You may run into this message when you are trying to download an app, even if it is a free app. This issue may occur on your iPhone or iPad. This occurs because Apple had an issue withdrawing from the credit or debit card you have on file. Since Apple could not charge the card, your ability to make purchases and download free apps is suspended until you provide a new payment method and the old balance is paid.
Various issues may cause this. Your credit card balance may be full, your card numbers may have changed, or there may be some other issue with your financial institution. Whatever the reason is, your current method is not working, and you need to figure out a way to pay the balance you owe.
How much do you owe Apple?
You can easily figure out the amount you owe Apple. You will need to view your purchase history:
On your iPhone or iPad, go to Settings > [Your Name] > Media & Purchases.
Go to View Account and tap Purchase History.
You will see red text that says, Amount You Owe, as you can see below: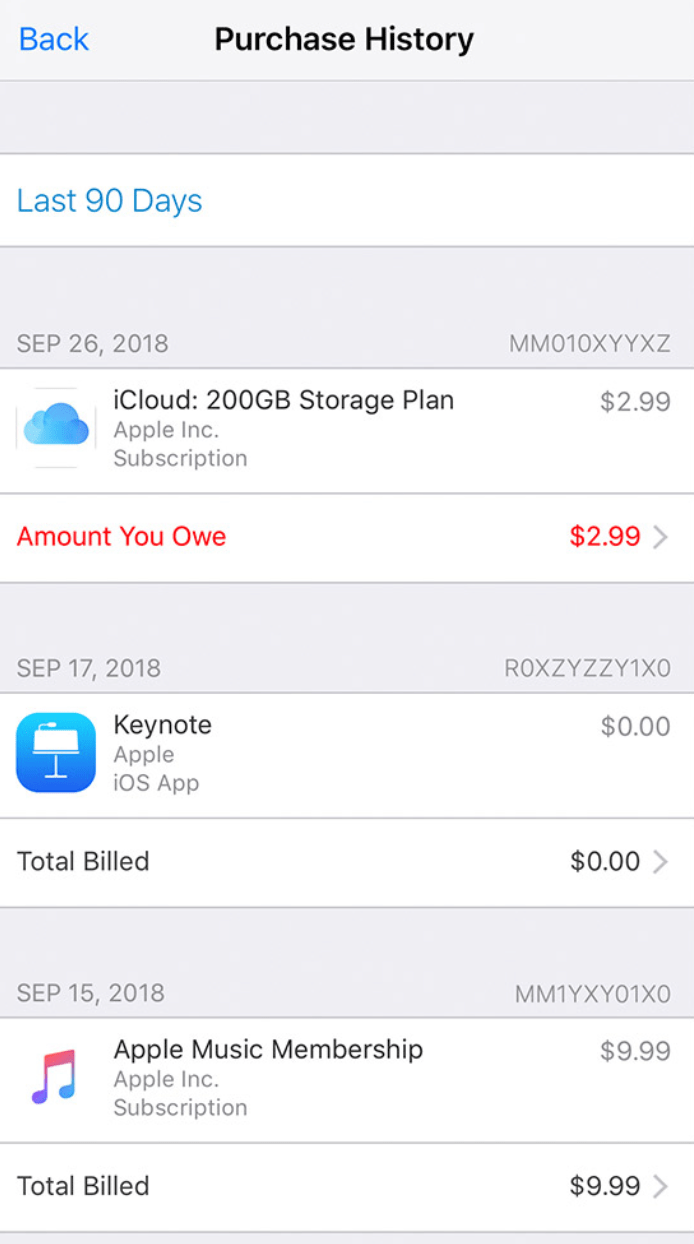 Pay your unpaid balance using a gift card
If you do not have a new valid payment method but you want to download free apps, this is the way to go. Buy an Apple Gift Card or App Store & iTunes gift card, and use it to pay the balance. However, you should note that gift cards are not available in every country.
Buy an Apple Gift Card. You can buy one online (Apple Store link) or in stores like Target or Walmart.
You will now need to redeem it to add it to your Apple ID.
Then go to the unpaid balance (Settings > [Your Name] > Media & Purchases > View Account > Purchase History). Tap the Amount You Owe order and then tap Pay with Apple ID Credit.
You can keep your gift card balance until you have exhausted the gift card balance.
Update your payment method
The one is a more permanent option. Simply change your payment method. If you use this option, you can pay your old balance and continue to use this payment method for further purchases. Here is how:
On your iPhone or iPad, go to Settings > [Your Name] > Payment & Shipping (sign in if asked) > Add Payment Method.
Add the new payment details. This can be a debit card, credit card, or you can select PayPal. You will need to enter the card number, CVV code, expiration date and the billing address.
After you add the new payment method, go back to Payment & Shipping. Tap the non-valid payment method and then tap Remove Payment Method.
Once a new payment method is added, your balance will automatically be paid.
Related articles