Unable to Edit Text Messages Before Sending Them, Fix
Sometimes, while you are composing a text message (or just before sending it), you may want to edit some part of it. You may want to add, remove or paste text. For example, you may write a long text message and then scroll to the top to edit something at the top of the message. To do this, you will need to move the cursor to where you want to edit, and then you can select and edit text in the text field of the Messages app.
A number of users have been complaining that they are unable to edit text messages as they compose them using the onscreen keyboard because they are unable to move the cursor or select text by tapping the screen. Users have said that they are unable to control or drag the cursor, as the cursor appears in random places instead of where it is supposed to. Or, sometimes, the cursor just disappears. Users have also said that touching and holding the message (to bring up a menu) does not seem to be working. If this is something you are experiencing, here is what you can do.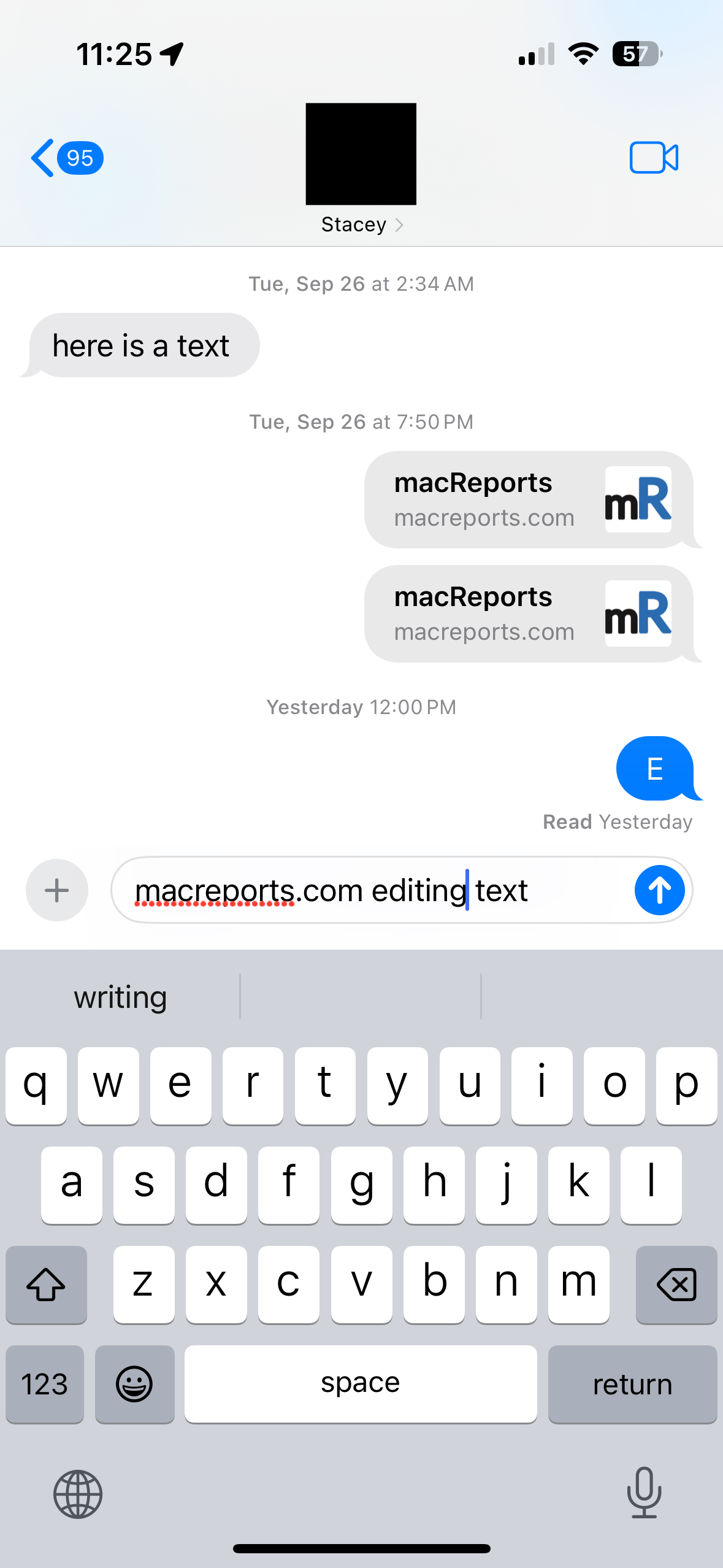 Please note that you can also edit messages within 15 minutes of sending them. This article focuses on editing the unsent messages.
How to fix the problem of select, cut, copy, paste, insert not working in Messages
Quit the Messages app and open it again: Simply restart the Messages app. If your iPhone has a Face ID, go to the Home screen, swipe up from the bottom of the screen and stop in the middle to open the App Switcher. If your iPhone has Touch ID, double press the Home button to open the App Switcher. Swipe up on the Messages app, then open Messages and try again. You may worry about losing the unsent message draft. I tested this myself, and when you open Messages, your draft will be there. You can continue editing the message.
Restart your iPhone: Simply restarting your iPhone may fix this, as this may be a temporary glitch. If you are using an iPhone X and later, press and hold the Side button and one of the Volume buttons until the power-off slider appears. Then, drag the slider. Wait about 30 seconds, and then press and hold the Side button until the Apple logo appears. If you have an iPhone 6, 7, 8, or SE (2nd or 3rd generation), press and hold the Side button until you see the power-off slider. Drag the slider and wait for 30 seconds. Then, press and hold the Side button again to turn on your iPhone.
Update your iPhone: First, check for software updates, and then if there is an update, update your iPhone to the latest version of iOS. To do this, go to Settings > General > Software Update. If there is an update, follow the instructions to update your iPhone.
Return iPhone settings to their defaults: Erase all of your iPhone settings, including your keyboard settings. Resetting all settings on an iPhone essentially reverts your iPhone to its factory default state without erasing your data. This means that while your settings, including your Wi-Fi passwords, wallpaper, and other personalized preferences, will be erased, your apps, photos and more will remain. To do this, go to Settings > General > Transfer or Reset iPhone > Reset > Reset All Settings. Before you do this, you can view and save or write down your Wi-Fi passwords so that you can re-enter them after the reset.
Related articles