Voicemail Not Working On iPhone? Fix
Are you having issues with visual voicemail on your iPhone? One of the commonly reported problems is that your voicemails and/or your voicemail transcripts are not showing up. Or sometimes it may seem that your voicemails have suddenly vanished. Sometimes you may see your voicemails but they won't play. Sometimes, you may experience that voicemail stops working for no apparent reason following an iOS update. This article explains how you can troubleshoot thee issues.
The following is a handful of tips that you may try to troubleshoot voicemail issues with your iPhone.
Please note that you can use the visual voicemail feature if your carrier supports this, in the USA, most carriers, if not all, support this.
Have someone call you, can he or she leave a voicemail message? If not, make sure that you set up your voicemail (Phone > Voicemail). Another problem is that the inbox of your voicemails may be full, and sometimes seem full. You may need to delete some voicemails.
Greeting
On your iPhone, open the Phone app, tap the Voicemail tab and tap Greeting. What settings you have there? If it is Default, change it to Custom and it is Custom, change it to Default.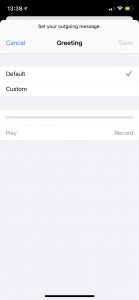 Restart the Phone app
You may be having this issue because the Phone app may not be working as expected. You may try restarting to the phone app to see if this helps:
If iPhone X or later: Go to your Home screen, swipe up from the bottom of the screen. If this is another iPhone model, double press the Home button. This will reveal the app switcher. Swipe left or right until you find the Phone app preview and swipe up on the preview. This will close the Phone app.
Now reopen the Phone app and test to see if you can see your voicemails.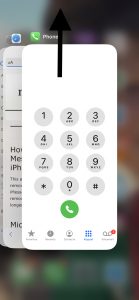 Reset your password
Try resetting your voicemail password. On your iPhone, you can do this easily. Here is how:
Go to Settings > Phone and tap Change Voicemail Password.
Enter a new password.
Tap Done. You will be asked to reenter the new password. Enter again and then tap Done.
Update your iPhone
Make sure that the iOS software on your iPhone is up to date. Update to the latest version of iOS. You can update your iPhone wirelessly by going to Settings > General > Software Update.
You can also turn on automatic updates by turning on Automatic Updates (Settings > General > Software Update > Automatic Updates).
Airplane Mode
On your iPhone, turn on Airplane Mode, wait for about a minute and turn it off. Airplane Mode will disable all of your device's wireless functions. Turning on and off may fix your problem. If this does not work, also try this in the following order:
Turn on Airplane Mode.
Restart your phone (see the next section about how you can restart your phone).
Then when your phone is on, turn off Airplane Mode now.
Restart
Restart your iPhone. Here is how you can restart your iPhone:
iPhone X, 11 or later: Press and hold the side (on the side of your iPhone) and the volume down or up buttons together until you see the red slider. Drag the slider. Wait for about a minute and then press and hold the side button until the Apple logo appears.
Other iPhone models: Press and hold the side or top button until you see the power off slider. Then drag the slider. Wait until your phone is completely turned off and then press and hold the side button to turn on your device back again.
Cellular connection
Make sure that your iPhone is connected to a cellular network. See this article, if you see a No Service error. Visual VoiceMails require a strong cellular connection to work effectively. You can check this easily. Turn off Wi-Fi on your iPhone (Settings > Wi-Fi) and call someone. If the call works, your cellular connection is working.
You may also try the following tips:
Settings > Cellular > and turn off Cellular Data. Wait for one minute. And then turn it on.
Remove your SIM card, and place it again. You need to open the SIM tray. To do that insert a paper clip into the tray hole. Gently pus the paper clip toward the phone. This will open the SIM tray.
See this article, if you see a No SIM card Installed message.
Contact your carrier. Maybe there are outages in your area that your carrier is experiencing.
Carrier settings
Update your carrier settings. You can check for pending carrier updates on your iPhone, go to Settings > General > About. If there is a carrier update, you will see an option to update. A popup will appear asking you if you want to update. Tap Update.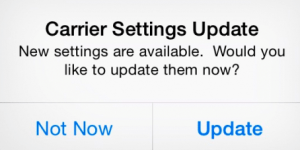 Carrier updates include updates from your carrier to add new features or enhance the performance.
Voicemail transcripts not working
If you voicemail transcripts are not working, or if you are getting an error message like "Transcription not Available". Siri may be the cause. Follow the steps below:
Settings > Siri & Search.
Tap to turn off Listen for "Hey Siri".
And on iPhone X and later: turn off Press Side Button for Siri. On iPhone 8 and earlier:  turn off Press Home for Siri.
Restart your phone.
And now turn on these Siri settings by Settings > Siri & Search.
You may also want to troubleshoot if Siri is not working.
Reset network settings
On your iPhone, reset your Network Settings. Go to Settings > General > Reset > Reset Network Settings. Please note that your network-related settings will be erased like your Wi-Fi passwords etc.
Call voicemail directly
You can also check your voicemail messages by calling voicemail. Here is how you can do that on your iPhone:
Open the Phone app.
Tap Keypad.
Press and hold on the 1. This will call voicemail. Here is where you can check voicemails.