What Does Blue Dot Mean On My Home Screen?
You may notice that blue dots appear next to some of your apps. And you may wonder why these blue dots appear sometimes and what does that mean?
See also: App Review Popups?
These blue dots may appear next to some apps (left side of the app name – under the app icon, as you can see below) on the home screen or inside folders. This shows that apps with blue dots have recently been updated. In other words, when an app is updated (automatically or manually), little blue dots will appear next to the app name indicating that your app just updated. It further means that you have not launched the app since it was updated.
All apps release updates on a regular basis. These updates may include new features or they may include bug fixes. Thus, you may want to update apps. Sometimes, an app will not work until you update it. To update your iOS apps, you have two options:
You can manually update the apps. You need to do this by opening the App Store app on your iPad or iPhone and then tap Updates. You can update the apps individually or you can update apps in bulk by tapping "Update All".
You can automatically update your apps. You can turn on or off this option. To enable automatic app updates, simply go to Settings > iTunes & App Stores > and then toggle on "Updates" (under the automatic updates section). If this option is grayed out and not available, that is because your iPhone or iPad is in Low Power Mode. You may want to charge your device and you may want to turn off Low Power Mode by going to Settings > Battery >  and turn off  "Low Power Mode".
The blue dot will be removed after you open the app for the first time after an update. Also please note that, currently, there is no way to stop these blue dots for updated apps. Please also note that you may want to update apps over a Wi-Fi connection to avoid data charges, also note that cellular data downloads are limited to 150MB. If an update is bigger than 150MB, you will have to use a Wi-Fi connection. Lastly, if you do not want to automatically update your apps over your cellular network, you can turn this off by going to Settings > iTunes & App Stores and toggle off "Use Cellular Data".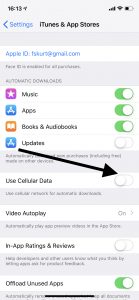 See also: