What to do if you see Account Offline in Mail
When you open your Mail app on your Mac, you might see Account Offline – along with a little lightning bolt icon – on the right side of your Favorites bar at the top of your Mail app. You may also notice that Mail doesn't seem to be fetching new emails for (one of) your email accounts. In this article, we will tell you how you can get your account back online.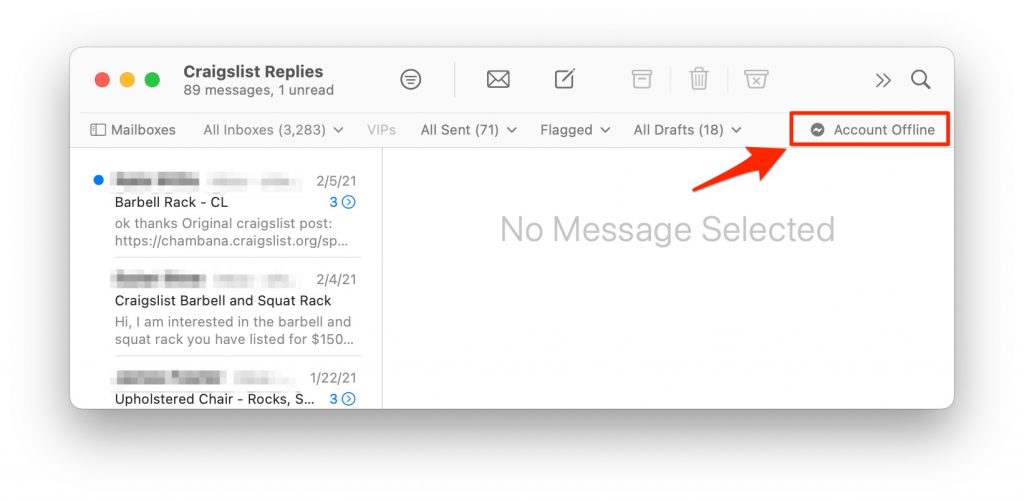 How to Get your Account Back Online
With your Mail app open, you can either:
Go to the menu at the top of your screen and select Mailbox, then click on Take All Accounts Online.
You can also choose to take just one account online. Go to Mailbox in the top menu bar and then select Online Status. Choose Take [your account] Online.
Troubleshooting
If the steps in the section above don't get your accounts back up, there are a few things you might try.
Connection Doctor
If you see a warning icon – an exclamation inside a triangle – next to your account name, you can click on the warning icon to open something called Connection Doctor. With Connection Doctor you can check your internet connection and also your email account's status. You may also open Connection Doctor by going to the top menu and selecting Window > Connection Doctor, while your Mail app is open.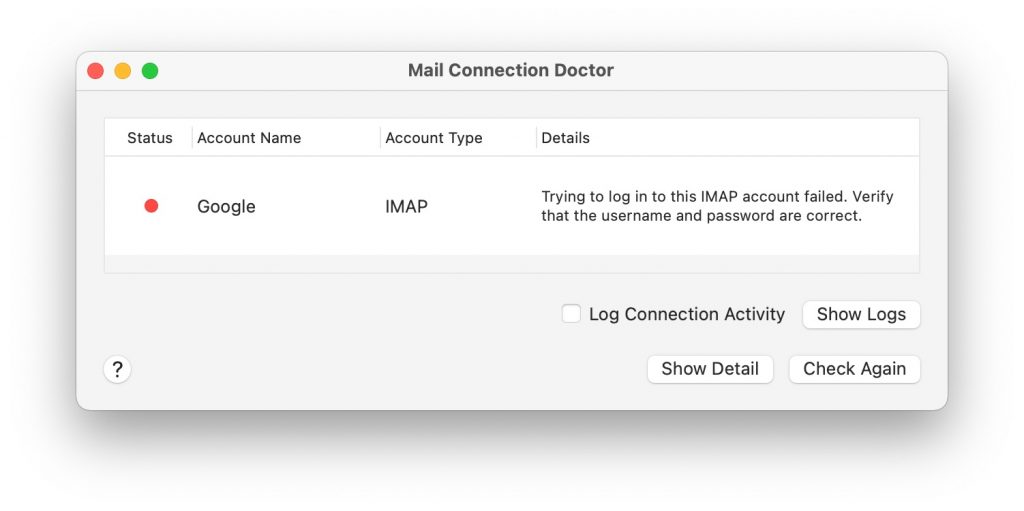 If there is a problem, the Details column will give you information about what is wrong.
Try following any suggestions you see in the Details column.
You can see more details regarding your email account by double-clicking on the text in the details column.
If you have made a change, click on Check Again to see if the problem is resolved.
If you can't Receive Email
You can check the following:
View Mail Activity: Go to Window > Activity in the top menu bar. Here you can see Mail's activity. This can help if Mail is busy trying to get an email with a large attachment.
Make sure you haven't set up any filters that are keeping you from seeing emails that you want to see. If filters are on, the filter icon will have a blue background. Click on it to unfilter the messages.

Try quitting and reopening Mail.
Contact your email account provider to check your user name, password and mail server information.
If you can't Send Email
Check the outgoing server: With Mail open, go to Mail > Preferences and select Accounts. Choose your account. Click on Server Settings. Click on the up-down arrow to open the drop-down menu and choose Edit SMTP Server List. Check that the settings are correct for your email account provider.
See also: Cannot Send Message: This Message Could not be Send Because Your Account Does Not Have a Preferred Outgoing Mail Server, Fix
Related Articles: