Why won't Spell Check Work on Mac? How to Fix Common Issues
If you run into problems trying to use the spell check feature on your Mac, then this article is for you. In this article I list some troubleshooting steps that you can try.
Your Mac has a built-in spell checker tool that you can use. This tool automatically corrects misspelled words and typos while you type. As I just said, this tool is part of macOS and it is enabled by default thus it works in many built-in apps, including Notes, Mail, and Messages.
How this feature works is that this tool checks spelling and grammar and when a misspelled word is detected, it is underlined in red. You will also be shown suggestions that you can accept or ignore. This feature may save you from embarrassing mistakes.
Sometimes you may notice that the spell check feature is not working properly. For example, this tool may not recognize misspelled words. Some users have also said that Autocorrection is not working. To fix this problem, use the following tips in the given order. This issue may occur for various reasons. For example, this feature may be disabled, or another language may be set as default.
Before you continue, ensure that your Mac has the latest version of macOS.
Spell checker or autocorrection issues
The first tip is to enable spell check on your Mac. On your Mac, open System Preferences, click Keyboard > Text and select the "Correct spelling automatically" checkbox.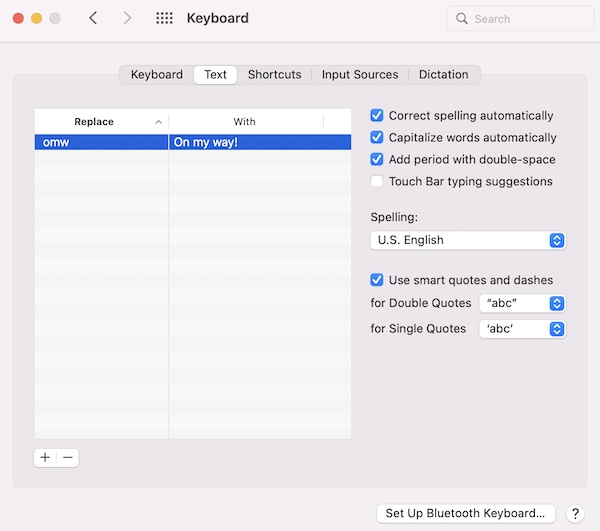 If this option was already selected, then follow these steps:
Deselect the "Correct spelling automatically" box.
Then restart your Mac.
And now again select the "Correct spelling automatically" box.
Furthermore, if you are having spell check issues in apps (e.g, Safari, Mail, Messages, etc), please ensure that this feature is enabled for the specific app. Here is how:
Open the app.
Edit > Spelling and Grammar > Correct Spelling Automatically. A checkmark will be shown if it is enabled.
And then you may also want to turn on these features:
Open the app and then check these:
Edit > Spelling and Grammar > Check Document Now.
Edit > Spelling and Grammar > Check Grammar With Spelling.
Edit > Spelling and Grammar > Check Spelling While Typing.
Lastly, ensure that the correct language is selected to spell check. Go to System Preferences > Keyboard > Text. Find the "Spelling" drop down menu. And choose your language. If you choose the "Automatic by Language" option, this will enable spell checking for multiple languages. You can click the spelling pop-up menu, choose Set Up and select multiple languages.
Safe Mode
If your issue continues, restart your in Safe Mode. Safe Mode may fix your spell check problems. Turn on Safe Mode, test to see if spell checking is working. Then exit Safe Mode and test again. Here is how you can do this:
Intel Macs:
Turn off your Mac.
Turn on your Mac and immediately press and hold the Shift key.
Keep holding the key until you see the login screen and then release the key.
Log in to your Mac.
Apple silicon Macs:
Turn off your Mac.
Press and hold the power button until the startup options screen appears.
Select your startup disk.
Press and hold the Shift key and click "Continue in Safe Mode".
Log in to your Mac.
Note: Go to Apple menu > About This Mac > Overview to determine if you have an Intel or Apple silicon Mac.
Third party apps
Do you have any third-party apps installed on your Mac that does spell or grammar checking? A third-party app may interfere with the normal operation of the macOS software. In other words, a third party may be causing this problem. This is especially true if the spell check and autocorrect features work in Safe Mode as Safe Mode starts macOS in a basic state. You may want to uninstall this third-party app to get spell checking working again.
See also: